With a market cap of less than $10 million, Golden Arrow Resources Corp. (TSX.V: GRG) just released a first-ever NI41-101-compliant resource estimate on its +100 million silver ounces Chinchillas Silver-Zinc-Lead Deposit which is just 30 km away from the productive Pirquitas Silver Mine (reserves: 84 million silver ounces; output: 9 million silver ounces per year) run by Silver Standard Resources (TSX: SSO; market cap: $560 million). The near-by El Aguilar Zinc-Lead Mine and the Palpala Smelter are both owned by mining giant Glencore Xstrata. In December 2012, Coeur d'Alene Mines (TSX: CDE; market cap: $1.5 billion) paid $1.78 per ounce for Mirasol Resources' 30 million ounces silver deposit which is also located in Argentina.
At a cut-off grade of 50 g/t silver equivalent (the Pirquitas Mine operates with same cut-off), the Chinchilla Deposit currently has an indicated resource of 7.2 million tons ore at surface (open-pitable) averaging 119 g/t silver, 0.5% zinc and 0.6% lead which sums up to a total of 33 million ounces silver equivalent. The inferred resource currently stands at a total of 72 million ounces silver equivalent and is poised not only to be expanded greatly but also to be upgraded to the indicated category within the next months of aggressive drill programs.
The Good News Don't Stop Here – More Sensations:
- 98.7% recovery of silver (first bench scale metallurgy tests: "The Chinchillas samples responded very well to flotation and were found not to be sensitive to grind size. Maximum rougher silver recoveries were 99.8, 97 and 99.3% in the Basement, Socavon and Silver Mantos composites, respectively. The lead recoveries were also very high, at between 96.5 and 98.1% for all rougher tests, while zinc recoveries were generally lower, between 66% and 96.1%.").
- Such high recoveries indicate that 2 separate saleable concentrates can be produced (silver and lead-zinc) especially when considering that conventional flotation methods with standard reagents were used successfully. Thus, mining costs can be low and predictable.
- The deposit is still open in all directions giving immense resource increment potential during the upcoming drilling campaigns.
- Golden Arrow can earn 100% of the Chinchillas Project by solely paying $1.8 million over 4 years and $1.2 million once commercial production commenced. There is no royalty attached to the property.
- With a current market cap of solely $12 million, the company is trading at cash levels. Thus, value appreciation of its well-selected project portfolio – foremost its flagship Chinchillas – has just started and equity dilution at low price levels can be avoided as being well cashed-up for the upcoming exploration and development programs. Besides Chinchillas, the company owns 5 other prospective exploration properties in Argentina.
- The company`s Executive Chairman is Joseph Grosso, who became one of the early pioneers of the mining sector in Argentina in 1993 when the sector was opened to foreign investments. He was awarded Argentina´s "Mining Man of The Year" in 2005. His intimate knowledge of Argentina and industry contacts was instrumental in attracting a world-class team which led to the acquisition of key properties in Golden Arrow´s portfolio. He has successfully formed strategic alliances and negotiated with mining industry majors such as Barrick, Teck, Newmont , Viceroy (now Yamana Gold) and Vale S.A., as well as government officials at all levels. Mr Grosso´s expertise is financings, negotiations, corporate development and marketing strategy. He is the founder and president of Grosso Group Management Ltd., which company is one of the largest shareholders of Golden Arrow – thus, a hostile take-over is unfeasible.
- The company`s CEO & President is Carlos Mazzi who was the CEO of Apex Silver in Bolivia exploring and developing the prolific San Cristobal Deposit successfully towards a world-class open-pit operation 4,000 m above sea level. Since 2009, the San Cristobal Mine is fully owned by Sumitomo Corp. from Japan and is now the world's 6th largest zinc mine and 3rd largest silver mine (according to Sumitomo). Interestingly, the geology of Chinchillas is similar to San Cristobal as the ore occurs within a similar diatreme volcanic complex and breccia environment. However, San Cristobal is home to relatively low-grade silver mineralization when compared with 112 g/t silver from Chinchillas: In mid-2011, San Cristobal had reserves of 285 million tons ore averaging 53 g/t silver, 1.4% zinc and 0.5% lead which sums up to a total of 484 million ounces silver, 4 million tons zinc and 1.3 million tons lead. As the San Cristobal ore body is still open both at depth and laterally, further reserve expansion potential is being valued broadly as "extraordinary". Considering that Chinchillas is relatively high-grade with more than twice as much silver as San Cristobal and geologic structures being similar, it is not unlikely that Golden Arrow Resources Corp. sits on one of the 3 largest silver mines in the world of the future.
- Insiders are buying the stock strongly (e.g. Mr Mazzi recently bought 750,000 shares at $0.30).
The Best Is Yet To Come:
The above resources of +100 million silver ounces in the Chinchillas Deposit are solely based on maiden drilling phases focusing on near-surface mineralization generally defined as the so-called Silver Mantos Zone (disseminated silver in flat-lying rock layers, aka mantos, in the western part of the basin that is hosted within volcanic tuffs and breccias) and the so-called Socavon del Diablo Zone (silver-zinc-lead mineralization in the eastern part of the basin that is hosted within same volcanics).The above stated reserves of 84 million ounces silver in the Pirquitas Mine (57 million ounces silver in proven reserves grading
- 181 g/t silver and 27 million ounces silver in probable reserves averaging 168 g/t silver) are based on the so-called Basement Schist Zone representing the bed-rock through which a volcanic complex (diatreme) erupted and at the same time mineralizing it widely with silver, zinc and lead ("Pirquitas-style"-mineralization). The Silver Mantos and the Socavon del Diable Zones are not existing anymore at the Pirquitas Deposit because they eroded away during the last millions of years – in contrast to the Chinchillas Deposit where both these zones still exist and thus can be mined easily and cost-effective before mining goes deeper to produce from the higher-graded zones in the basement schist and feeder systems thereunder.
- Hence, Golden Arrow may very well sit on a much larger deposit than Silver Standard's Pirquitas Deposit because the Basement Schist Zone was recently discovered being mineralized prospectively thus supplying immense exploration and resource estimation upside potential for the upcoming months.
- The meaning of "Chinchillas – A Deposit For The Times" has become manifest, namely that with such a superb flotation recovery of the highly enriched ore occuring right at surface, the quick development of an open-pit looks feasible with the state-of-the-art infrastructure and mines near-by – even in this depressed state of the mining sector. Golden Arrow is one of the very few mining stocks that can look forward unstressed in bringing a deposit into production even in this negative climate. We value Golden Arrow not only as a current short-term outperformer for the time being but more importantly as an outperformer for the long run – no matter what the precious metals prices or general mining market do.
"The Company is thrilled to have completed its first NI 43-101 resource estimate of more than 100 million ounces of silver equivalent combined in indicated and inferred categories. Given that the deposit appears to be open in all directions, the Company is confident that the potential for the estimate to increase is high with the completion of the Phase 3 drill program planned for the third quarter of this year. The favorable geometry of the deposit for open pit mining, combined with our recently completed metallurgical test program, and good infrastructure should allow us to advance this to a preliminary economic evaluation quickly as we expand the resource estimate." Brian McEwen (VP Exploration & Development of Golden Arrow Resources Corp.)
Live Chart: http://scharts.co/13UdIWk
- Technically, Golden Arrow on the TSX-Venture Exchange traded in tandem with the HUI mining index during the last months: the stock consolidated in a downward-sloping (red) triangle since mid-2012.
- After 4 waves within the triangle going down from 40 to 18 cents, the price broke above the resistive (red) triangle leg at around 22 cents on May 8 initiating the so-called thrust (final movement out of a triangle typically explosive either to the up- or downside).
- The goal of a thrust to the upside is to break above the resistive high of the triangle (40 cents) and to transform it into new support in order for a new and sustainable upward trend to commence thereafter.
- We are confident that Golden Arrow will continue to outperform the HUI mining index and appreciate further in value – no matter what the precious metal prices and HUI do.
View over the Chinchillas Property with the near-surface zones Silver Mantos and Socavon del Diablo which are the basis of the +100 million ounces silver equivalent resource estimate of May 9, 2013: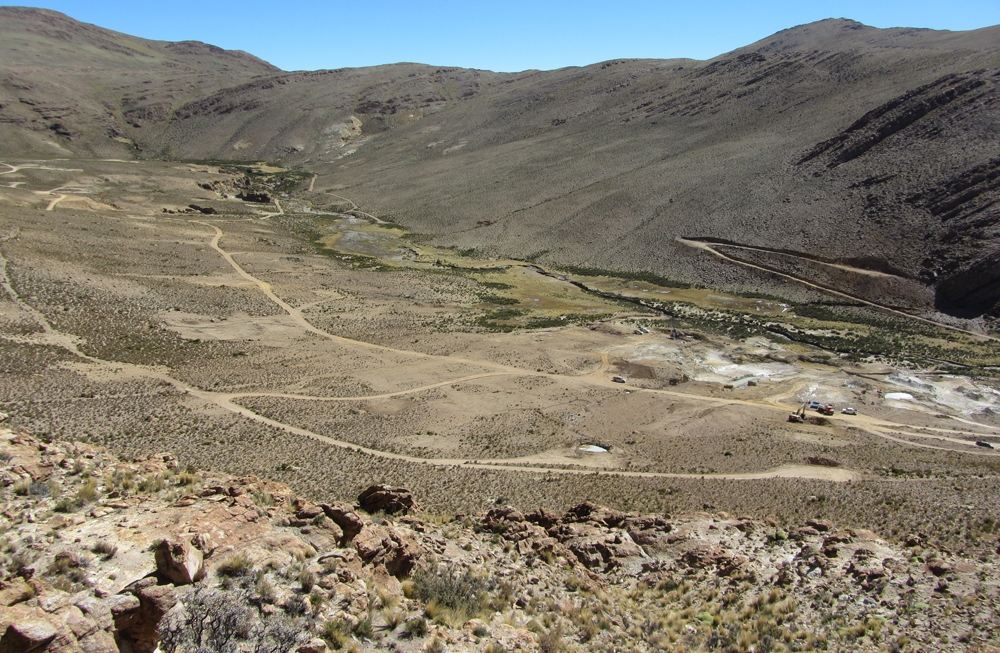 Golden Arrow staff proudly presents fresh drill core with large breccia-style mineralization:
Disclaimer: Please read the full disclaimer at www.rockstone-research.com, whereas it is noted that the author holds shares of Golden Arrow Resources Corp. and may sell any time. The author was not instructed by any of the companies mentioned herein to conduct this content and was not remunerated in any way by these companies.