The Steinert Multi Sensor Sorting System "KSS" (source)
Today, Golden Dawn Minerals Inc. made an unexpected positive announcement, probably with a large impact on the soon-producing Lexington Underground Mine in Bristish Columbia: With the help of a German technology, the average grades of mined material from Lexington have been increased from 8 to 12.6 g/t gold – a sensational boost of 58%.
Golden Dawn sent 140 kg of oversized material, which was mined during the short period of production in 2008, to Walton in Kentucky, USA, where a subsidiary of Steinert GmbH is located. The German company was founded 1889 in Cologne and today is world-renowned for its separation solutions using magnet and sensor technologies. Some may recognize the technology from waste and metal recycling, however modified versions are already in operation with great success in the mining industry as well.
The purpose of the test work was to determine the sorting efficiency of the Steinert Combined Sensor Sorting System (KSS) on the samples provided. This machine measures the X-ray attenuation of each rock particle and this is utilized to separate high density from low density particles. Typically, the denser material is better mineralized and the less-dense material is low-grade or waste material.
As the low-grade material can be removed directly after the rock crushing, it does not need to be processed at the Greenwood Plant. This would result in reduced production costs as only the high-grade material is processed at the plant. Even before this sorting technology was considered, the Lexington Mine showed remarkable All-In Production Costs of $786 USD/ounce, which may be reduced significantly by deploying the Steinert system. Many gold mines worldwide have production costs in excess of $1,000 USD/ounce, hence Golden Dawn is poised to become a rare breed of low-cost producers in a stable and mining-friendly jurisdiction.
Two size fractions were tested separately using a combination of XRT and 3D Laser sensors. For the finer crushed material (-30 mm + 10 mm particle size), the gold grade was upgraded from 8 to 12.5 g/t with a 90% gold recovery and a mass rejection of 42%. For the coarser material (-70 mm + 30 mm), the gold grade was upgraded from 9.6 to 11.6 g/t, with a 86% gold recovery and a mass rejection of 29%. Copper upgrading was also observed but final analytical data is still pending for some products. Full details are described in the preliminary report, which will be posted on Golden Dawn´s website.
The positive sorting response shows that the gold and copper grade of material extracted from the Lexington Mine can be upgraded prior to processing at the existing Greenwood Processing Plant. This would indicate a potential to increase mining rates and/or improve mill head feed grades. The mine could extract a larger resource at a lower cut-off grade or alternatively, ore sorting could be utilized to counter the effect of excess mining dilution. Therefore, the sorting process provides an opportunity to improve the economics of the project. Golden Dawn will be conducting further evaluation, including additional sorting and related metallurgical test work on a bulk sample, to advance the procedure.
Meanwhile, work is progressing towards start-up of mining operations at the Lexington Mine, with mine planning and geotechnical assessments underway to prepare for mine production. The Greenwood Processing Plant will be wet commissioned once the mining operation is underway. At the same time, a surface diamond drilling program is about to kick-off on the Golden Crown property aimed at increasing resources on the known gold zones. This program will be expanded along a 3.5 km corridor of gold soil anomalies into the JD area and will test new gold zones identified by chip sampling last year. Permits are also being sought for exploration drilling and trenching at selected areas on the Phoenix property.
Full version
Full version
Gold Price Looks Bullish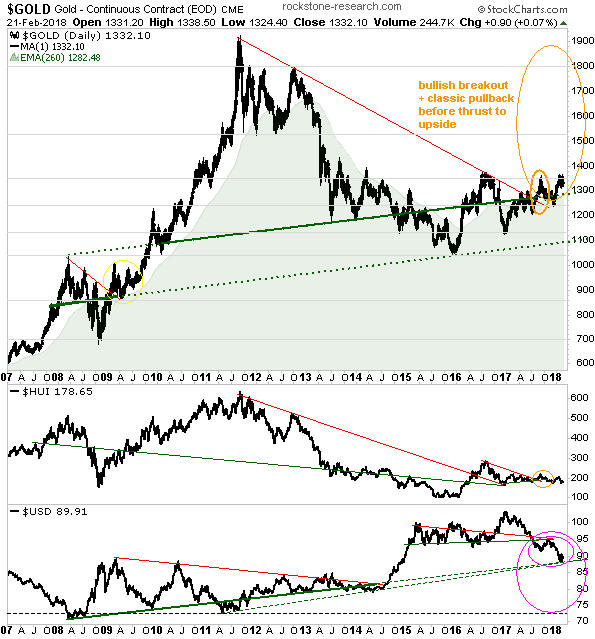 Click here for updated gold price chart (15 min. delayed)

Company Details
Golden Dawn Minerals Inc.
#318 - 1199 West Pender Street
Vancouver, B.C. V6E 2R1 Canada
Phone +1 604 221 8936
Email allinfo@goldendawnminerals.com
www.GoldenDawnMinerals.com
Shares Issued & Outstanding 128,643,073
Canadian Symbol (TSX.V) GOM
Current Price 0.255 CAD (02/21/2017)
Market Capitalization 34 Million CAD
USA Symbol (OTC) GDMRF
Current Price 0.201 USD (02/21/2017)
Market Capitalization 27 Million USD
German Symbol / WKN (Frankfurt) 3G8A / A1XBWD
Current Price €0.16 EUR (02/21/2017)
Market Capitalization €21 Million EUR


Previous Coverage
Report #24 "Golden Dawn reports game-changer drill results from Golden Crown"
Report #23 "Becoming a Heavy-Weight in the Gold Space Golden Dawn puts another 400,000 ounces on the scales"
Report #22 "Perfect Match: Golden Dawn Minerals Takes Over Multi-Million Ounce Gold-Silver-Zinc Project in BC"
Report #21 "Golden Dawn Minerals Strengthens its Management Team"
Report #19 "New Drill Results from Golden Crown Show New Potentials"
Report #18 "High-Grade Gold and Copper Drill Results Near Surface at Golden Crown"
Report #17 "Rapid Progress with the Reactivation of Mine and Mill"
Report #16 "Dewatering Start! Gold Production Expected in Novembert"
Report #15 "Golden Dawn receives Mine and Mill Permits and Rockstone publishes a Site Visit Report"
Report #14 "Golden Dawn Minerals getting increasingly attractive with latest acquisition plans"
Report #13 "Golden Dawn in the spotlight of the press"
Report #12 "Gold and Gold Stocks The Best Hedge Against Trump and Other Uncertainties"
Report #11 "Golden Dawn Discovers New Prospect For A Possible World-Class Deposit"
Report #10 "Golden Dawn discovers 10 g/t gold over 15 m at surface and delivers top results from the underground"
Report #9 "Golden Dawn passed environmental and safety inspection, provides progress report on Greenwood projects"
Report #8 "Coverage on Golden Dawn"
Report #7 "Golden Dawn Minerals B.C.´s next powerhouse gold miner?"
Report #6 "Golden Dawn acquires several major past producing mines and becomes largest land holder in the Greenwood District next to Kinross"
Report #5 "Golden Dawn moving rapidly toward renewed operation"
Report #4 "Starting Shot for the May Mac Mine"
Report #3 "Ascend from explorer to producer secured A Just-in-Time success story par excellence "
Report #2 "Golden Dawn secures funding to go into gold production in BC "
Report #1 "Perfect timing to go into gold production in British Columbia"
Disclaimer Please read the full disclaimer within the full research report as a PDF (here) as fundamental risks and conflicts of interest exist. The author holds a long position in Golden Dawn Minerals Inc. and is being paid a monthly retainer from Zimtu Capital Corp., which company also holds a long position in Golden Dawn Minerals Inc. Cautionary Statement The June-2017-PEA is preliminary in nature and it includes Inferred Mineral Resources that are considered too speculative geologically to have the economic considerations applied to them that would enable them to be categorized as Mineral Reserves. Mineral resources that are not Mineral Reserves do not have demonstrated economic viability. There is no certainty that the PEA will be realized. Golden Dawn Minerals Inc. (the "Company") would like to clarify that its decision to proceed to extract mineralized material from the Lexington, Golden Crown and May Mac mines for processing at its facility located at the Greenwood Precious Metals Project was not based on a Feasibility Study. The Company cautions that, in such cases, there is increased uncertainty and higher economic and technical risks of failure. The Company notes that, since the mining and processing infrastructure is in place, it intends to proceed to trial mining and processing on the basis of Mineral Resource Estimates and the Preliminary Economic Assessment.