Full version / The J&L Deposit is an advanced-stage gold-silver-zinc underground mining project.
Today, Golden Dawn Minerals Inc. made a game-changing announcement: The acquisition of the J&L Property, located in the prolific Revelstoke Mining Division of southeastern British Columbia, some 600 km east of Vancouver, Canada.
What makes this project so attractive is not only its great location near existing infrastructure but being an advanced-stage multi-million ounce project with immense upside potential. With 1.3 million ounces of gold and 15 million ounces of silver, plus significant zinc and lead by-product credits, in historic (2012) resources, J&L is a perfect match for Golden Dawn Minerals.
The seller of this major gold-silver-zinc-lead project is Huakan International Mining Inc., from which Golden Dawn Minerals also acquired the Lexington Mine, the Golden Crown Deposit and the Greenwood Processing Plant in February of 2016.
As the Lexington Underground Mine and the Greenwood Plant are well on track to re-start gold-copper production in early 2018, Golden Dawn has shown its ability to execute its plans while creating shareholder value (share price doubled). So it does not surprise now that Huakan has full faith in Golden Dawn to bring into production the J&L Project, and profit once again from a significantly increased share position in Golden Dawn.
Golden Dawn Minerals' current market valuation of 36 million CAD is based on its exploration and mining projects in the historic Greenwood Mining District, currently with total resources of 171,900 ounces of gold equivalents (Lexington: 96,300 oz gold equivalents; Golden Crown: 75,600 oz gold equivalents).
Over night, some 1.3 million ounces of gold and 15 million ounces of silver in historic resources were added. You do the math! No matter what, J&L is a significant value add for the company and its shareholders because this new acquisition lifts the company to a whole different level in the gold mining business. It's getting serious now, we are talking big numbers from now on.
Golden Dawn emphasized in the press-release that J&L is a stand-alone project, fully independent from and not interfering with its Greenwood Projects. It represents a further implementation of the company's strategy of acquiring significant advanced-stage to near-production mineral properties with ancillary assets.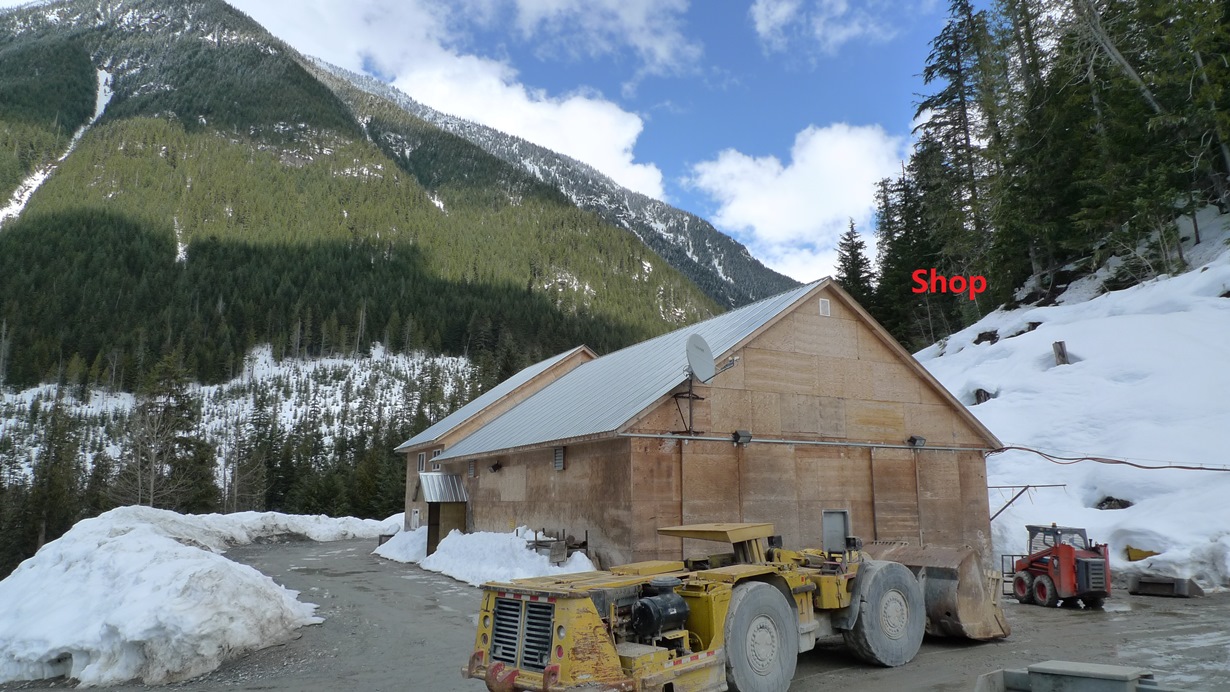 Full version
And now, Golden Dawn's latest announcement of December 6 – appointing 2 world-class mining professionals to its management team – should make even more sense going forward:
Perfect Match: It's All About the PEOPLE Behind Great Projects
Newly appointed Peter Cooper appears to be the perfect match for Golden Dawn's Greenwood mining and exploration projects, while newly added Dr. Serguei Soloviev looks like the perfect professional to advance the J&L Project into production over the next years.
Peter Cooper has spent the better part of the past 20 years working in the Republic Gold District of northeastern Washington State and southern BC. Since 2007, he was Chief Geologist and subsequently Manager of Operations Strategy for Kinross' Kettle River Operations, located 40 km south of Golden Dawn Minerals' Greenwood Projects. Mr. Cooper has participated in 3 successful new gold mine start-ups, including Kinross' prolific Buckhorn Mine, located 20 km southwest of Golden Dawn Minerals´ Lexington Mine, where he played a significant role in pre-production exploration and development.
Dr. Serguei Soloviev is a Professional Geologist with more than 35 years' exploration experience in Canada and abroad. He was most recently with Rio Tinto Exploration, where he served as Chief Geologist for Russian operations from 2010-2016. From 2006-2008, he was involved in the exploration of gold and copper deposits in British Columbia and Yukon, including Harper Creek and Skukum Creek. In 2000-2005, he was the Chief Geologist and a board member for Chapleau Resources Ltd., where he oversaw a number of exploration projects in British Columbia, Yukon, and Alaska. Dr. Soloviev has published over 50 technical papers in leading peer-reviewed journals.
While the Main and Footwall Zones have already been defined well historically, the Yellowjacket Zone is a parallel deposit with immese upside potential, it also hosts very favorable material for processing, with very high zinc grades.
Golden Dawn's Plans
Following the Option Agreement, as outlined in the press-release, Golden Dawn plans to initiate and complete an updated Preliminary Economic Assessment (the "UPEA"), which will be based on a verified and an updated resource estimate and current economic parameters. Subject to a positive UPEA and after permitting, further exploration of the J&L Property will be undertaken. This will include underground drilling aimed at upgrading inferred mineral resources to the indicated category after establishing an access decline and a drift at a deeper level. Large volume metallurgical testing will also be conducted. All this will constitute a base for a Pre-Feasibility Study. Additional exploration drilling aimed at resource expansion will be done along strike and downdip of the known mineralized zones, as well as in areas of potential parallel and blind zones.
Full version
The J&L Property is located 35 km north of Revelstoke in British Columbia. The property consists of 20 mineral tenure claims and 10 crown granted claims for a total of 3,052 hectares.
The J&L Property has been explored intermittently during the 20th century by a number of operators. In total, 311 drill holes (40,886 m) have been completed, together with about 3 km of underground development.
In 2010, a 100% unencumbered interest in the property was acquired by Huakan (formerly, Merit Mining Corp.) after making payments totaling 10.79 million. Huakan completed extensive drilling and drifting on the property, advancing it to the point of a Preliminary Economic Assessment ("PEA") in 2012; further work, however, ceased due to financial constraints in 2014.
Full version
The property has a well-established road access via paved highways and forestry roads; it has an easy access to railroad, with a 100%-owned rail siding and load-out facility in Revelstoke. Power source could be provided by transmission from Revelstoke and Mica Major hydro-generation facilities. The property infrastructure includes mine buildings (40-person camp, maintenance buildings and workshops) and an underground mining equipment fleet.
In 2012, before the completion of the Phase 2 exploration program, a PEA on the J&L Property was completed by Micon; it was based on a mineral resource estimate published in a Technical Report dated May 2011. There has not been an updated Technical Report based on the subsequent year-2012 exploration results and the new resource estimate. The 2012 PEA by Micon considered the potential production of gold, silver, lead and zinc from the J&L Main Zone. That PEA was based on the proposed underground mining and carbon-in-leach processing at a rate of 1,500 t/d to produce gold doré and saleable concentrates.
The underground mine plan in the PEA was based on a 1,500 t/d underground bulk mining operation, using ramp access. The main mining method considered was mechanized longhole stoping with truck haulage, and stope backfill using waste rock and process tailings.
Two process flowsheet options were considered for this PEA and each includes a heavy mineral separation (HMS) circuit ahead of milling to remove 40% of the rock by weight, with estimated metal losses of 2%. The main difference between the two proposed options is whether a single lead concentrate or two concentrates, lead and zinc are produced for sale.
The 2012 PEA recommended that the J&L project be advanced to the pre-feasibility stage, including additional drilling, metallurgical testing, and engineering design. Part of the recommended work was completed by Huakan since the PEA was completed.
The next planned phase of exploration includes: drive Ramp 1 decline approximately 2,180 m; drive five cross cuts totaling 976 m at elevations ranging from approximately 730 m to 660 m; drill 47 holes totaling 7,800 m.
Technical disclosure in the news release has been approved by Dr. Serguei Soloviev, P.Geo., a Qualified Person as defined by NI 43-101, and Chief Geologist for the J&L Project of Golden Dawn Minerals Inc.
Read the full news release here for further details.

Technical Perspective
Company Details
Golden Dawn Minerals Inc.
#318 - 1199 West Pender Street
Vancouver, B.C. V6E 2R1 Canada
Phone: +1 604 221 8936
Email: allinfo@goldendawnminerals.com
www.GoldenDawnMinerals.com
www.GoldenDawnMinerals.de
Shares Issued & Outstanding: 127,143,073
Canadian Symbol (TSX.V): GOM
Current Price: 0.28 CAD (12/18/2017)
Market Capitalization: 36 Million CAD
USA Symbol (OTC): GDMRF
Current Price: 0.21 USD (12/18/2017)
Market Capitalization: 27 Million USD
German Symbol / WKN (Frankfurt): 3G8A / A1XBWD
Current Price: €0.177 EUR (12/18/2017)
Market Capitalization: €23 Million EUR


Previous Coverage
Report #21: "Golden Dawn Minerals Strengthens its Management Team" (December 7, 2017)
Report #19: "New Drill Results from Golden Crown Show New Potentials" (November 5, 2017)
Report #18: "High-Grade Gold and Copper Drill Results Near Surface at Golden Crown" (November 1, 2017)
Report #17: "Rapid Progress with the Reactivation of Mine and Mill" (October 25, 2017)
Report #16: "Dewatering Start! Gold Production Expected in Novembert" (August 22, 2017)
Report #15: "Golden Dawn receives Mine and Mill Permits and Rockstone publishes a Site Visit Report" (June 21, 2017)
Report #14: "Golden Dawn Minerals getting increasingly attractive with latest acquisition plans" (June 6, 2017)
Report #13: "Golden Dawn in the spotlight of the press " (February 9, 2017)
Report #12: "Gold and Gold Stocks: The Best Hedge Against Trump and Other Uncertainties" (January 31, 2017)
Report #11: "Golden Dawn Discovers New Prospect For A Possible World-Class Deposit" (January 26, 2017)
Report #10: "Golden Dawn discovers 10 g/t gold over 15 m at surface and delivers top results from the underground"
Report #9: "Golden Dawn passed environmental and safety inspection, provides progress report on Greenwood projects"
Report #8: "Coverage on Golden Dawn"
Report #7: "Golden Dawn Minerals: B.C.´s next powerhouse gold miner?"
Report #6: "Golden Dawn acquires several major past producing mines and becomes largest land holder in the Greenwood District next to Kinross"
Report #5: "Golden Dawn moving rapidly toward renewed operation"
Report #4: "Starting Shot for the May Mac Mine"
Report #3: "Ascend from explorer to producer secured: A Just-in-Time success story par excellence "
Report #2: "Golden Dawn secures funding to go into gold production in BC "
Report #1: "Perfect timing to go into gold production in British Columbia"
Disclaimer: Please read the full disclaimer within the full research report as a PDF (here) as fundamental risks and conflicts of interest exist. The author holds a long position in Golden Dawn Minerals Inc. and is being paid a monthly retainer from Zimtu Capital Corp., which company also holds a long position in Golden Dawn Minerals Inc. Cautionary Statement: The June-2017-PEA is preliminary in nature and it includes Inferred Mineral Resources that are considered too speculative geologically to have the economic considerations applied to them that would enable them to be categorized as Mineral Reserves. Mineral resources that are not Mineral Reserves do not have demonstrated economic viability. There is no certainty that the PEA will be realized. Golden Dawn Minerals Inc. (the "Company") would like to clarify that its decision to proceed to extract mineralized material from the Lexington, Golden Crown and May Mac mines for processing at its facility located at the Greenwood Precious Metals Project was not based on a Feasibility Study. The Company cautions that, in such cases, there is increased uncertainty and higher economic and technical risks of failure. The Company notes that, since the mining and processing infrastructure is in place, it intends to proceed to trial mining and processing on the basis of Mineral Resource Estimates and the Preliminary Economic Assessment.