Full version / When I visited the Golden Crown Property in May 2017, high-grade gold and copper mineralization was observed (see drone video over Golden Crown here).
Yesterday shortly before market close in Canada, Golden Dawn Minerals Inc. disclosed eagerly awaited drill results from the ongoing drill program at its Golden Crown Property, which the company intends to bring into production next year. The initial results from the first 9 holes show the high-grade gold and copper potential of this near surface deposit, which is located only 3 km from its own processing plant.
To date, 21 holes have been completed. The company intends to complete this initial drill program before the end of the year. As only the initial results of the first 9 holes have been received so far, a very strong newsflow over the next weeks is anticipated. Today's results demonstrate high-grade gold and copper mineralization over significant lengths near surface. The 21 completed holes have a total length of 1,488 m (on average 71 m per hole).
While the Lexington Underground Mine is scheduled to go into production later this year, the company anticipates Golden Crown to go into production next year. Therefore, 2 mines will be running simultaneously to be processed at its own Greenwood Mill processing plant to saleable gold doré bars and copper concentrates.
High-Grade Drill Results
Today's results are significant as these indicate gold and copper grades of economic interest not only in massive sulphide veins but also in the adjacent wall rocks. High gold grades occur in wall rock containing small sulphide veinlets (essentially these are mixed zones of sulphide and wall rock). This is a major "discovery" as this style of mineralization was not previously recognized and therefore not systematically tested in historic drill holes.
• After only 9 m of drilling (i.e. near surface), Hole #2 intersected 3.13 g/t gold and 0.12% copper over 12.3 m. After 17 m of drilling, grades increased to 7.6 g/t gold over 4.6 m. These intercepts include a few intervals of low core recovery (as low as 21%).
• After only 15 m of drilling (i.e. still near surface), Hole #5 intersected 5.14 g/t gold and 1.18% copper over almost 7 m. After 18 m of drilling, grades increased to 12.27 g/t gold and 1.96% copper over 2.69 m. The average grades for these intervals are considered "preliminary"; they include one sample interval for which the gold analysis is incomplete because the initial result was above the detection limit of 30 g/t gold. For this sample interval, a value of 30 g/t gold was used in the calculation of average grade.
• After almost 70 m of drilling, Hole #4 intersected 11.2 g/t gold over 0.41 m.
• After almost 80 m of drilling, Hole #8 intersected 12.6 g/t gold over 0.56 m, followed by 7.55 g/t gold over 0.7 m.
• After 42 m of drilling, Hole #9 intersected 4.01 g/t gold over 0.3 m.
Full version / The highly mineralized King Vein outcrops at surface, whereas today's drill results confirm continuation of high-grade mineralization below surface.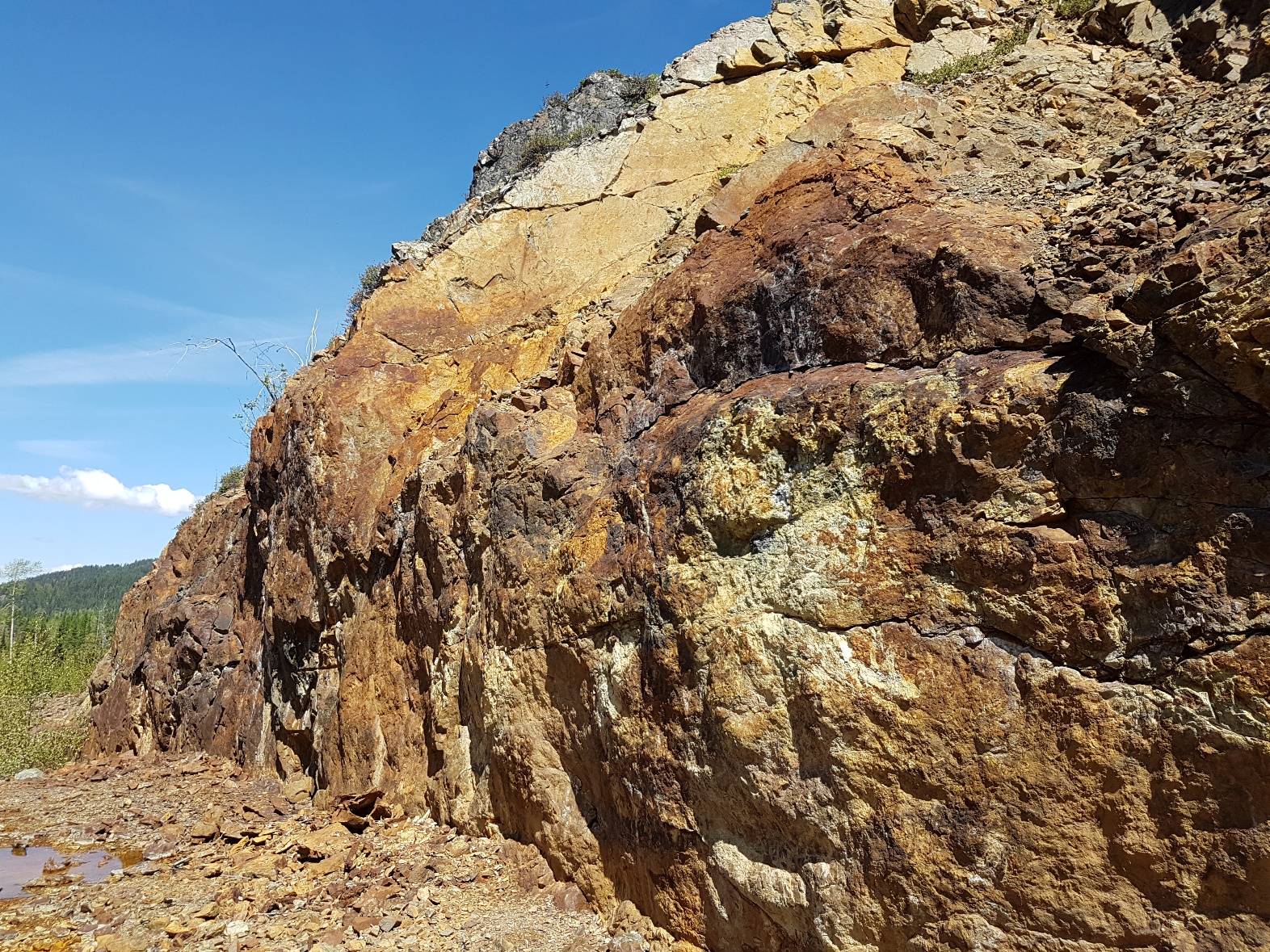 Full version
Bottom-Line
As all of these drill holes were completed in proximity to eachother, high-grade mineralization has been intersected in various depth zones in veins and wall rocks. Today's drill results demonstrate the high-grade gold-copper potential of this deposit, which was mined sporadically in the past with underground methods.
As Golden Crown is only 3 km away from the company's modern processing plant, management intends to start mining at Golden Crown next year. The company plans to complete initial drilling at Golden Crown before the end of the year in order to upgrade and potentially expand the current NI43-101 compliant resource estimate. Thereafter, the permitting for bulk sampling is anticipated, followed by trial mining to prepare the deposit for full scale production.
Full version
About Golden Crown
The Golden Crown Property has a long history of small-scale underground production. A near-by shaft was part of small-scale production in early 1900s. Total production estimated at >2,488 t @ 15.4 g/t gold + 1.5% copper (mined from Golden Crown Vein in early 1900s).
A 2.4 x 2.4 m exploration adit (1,070 m long) was developed in 1985 to access the Golden Crown vein system. Total of 289 drill holes since 1968 (excluding recent drilling by Golden Dawn).
2016 Resource Estimate (3.5 g/t gold equivalent cut-off):
Indicated: 163,000 t @ 11,09 g/t gold + 0.56% copper (11.93 g/t gold equivalent; 62,500 gold equivalent oz)
Inferred: 42,000 t @ 9.04 g/t gold + 0.43% copper (9.68 g/t gold equivalent; 13,100 gold equivalent oz)
According to the latest PEA: The Golden Crown Mine is envisaged as a narrow vein captive cut and fill mining operation, with ramp accesses to mining stopes developed from an existing portal and access drift. The mine currently has some sublevel development completed, several vent raises and related lateral development. The mining method would employ industry standard captive cut and fill mining practices with hydraulic backfill. The dip of the mineralization is approximately 72 degrees. Mill feed from the mining operation would be hauled to surface using 13 t underground haulage trucks. The maximum Golden Crown forecast mill feed production rate is 200 t/day, which equates to 6,000 t/month or 72,000 t/year. Mineral processing of the Golden Crown Mine product will be performed at the existing Greenwood Mill and concentrator facility.
Golden Crown's mill feed estimates were based on a 3.5 g/t gold equivalent cut-off grade for 23 Golden Crown LOM stopes considered. Initially 90%, or 195,000 t grading 9.76 g/t gold, 0.54% copper and 10.66 g/t gold equivalent of the total Measured, Indicated and Inferred Mineral Resources were considered for the financial evaluation. This material was diluted by15% with 1.5 g/t gold equivalent and extracted 85%, based on the Golden Crown mine plan and mining method. This resulted in 191,000 t grading 8.67 g/t gold, 0.48% copper and 9.46 g/t gold equivalent (diluted and extracted).
A total of 17 sub parallel steeply dipping veins are identified in the resource calculation. The current drilling program aims to expand the resources. Thereafter, bulk sampling of 10,000 t is planned. It is envisioned that a new mine at Golden Crown would produce 72,000 t of material per year, to be processed at the near-by Greenwood Mill. The King Vein is the chief resource vein and is the most persistent. The King Vein was exposed in a 2004 + 2008 trench for 190 m. In 2008, the previous owner completed surface trenching along the King Vein, with an average true width along this 120 m long trench: 0.8 m @ 19.98 g/t gold.
Volcanic rocks host numerous gold bearing massive sulphide veins composed of pyrrhotite-pyrite and lesser chalcopyrite. Massive sulphide + quartz-sulphide veins occur in the southeastern part of the property as part of a 4 km long gold/copper system. In addition, there is approximately 10 tonnes of oversize King Vein material from the Golden Crown Deposit in a stockpile at the Greenwood Mill (see pictures).
The Golden Crown stockpile shows signs of oxidation and oxide water puddling. As many as 17 discrete veins have been identified in the heart of the system. Veins typically 0.3-1 m true width, with local developments to 5 m true width near the serpentinite contact. The vein system appears to be the result of 2 separate mineralizing events. Veins range 50-90% in sulphide content of pyrrhotite-pyrite and lesser chalcopyrite with very local arsenopyrite in a quartz gangue and carry high gold tenor. Metallurgical testing indicated that the bulk of the gold is free and associated with pyrite. The Monzonite porphyry is commonly strongly altered and pyritic, it weathers recessively compared to the diorites, so it is only seen in core and trenches. Trenching identified a large serpentinite body 100 m south of the main vein system. The former owner drill tested under this unit, and encountered mineralized greenstone. More exploration is warranted. The goal is to find additional mineralization and expand the resources.
See June-2017 PEA ("Preliminary Economic Assessment") here.
Drone Video from Site Visit 2017
Technical Perspective
Company Details
Golden Dawn Minerals Inc.
#318 - 1199 West Pender Street
Vancouver, B.C. V6E 2R1 Canada
Phone: +1 604 221 8936
Email: allinfo@goldendawnminerals.com
www.goldendawnminerals.com
Shares Issued & Outstanding: 118,323,555
Canadian Symbol (TSX.V): GOM
Current Price: 0.275 CAD (10/31/2017)
Market Capitalization: 33 Million CAD
German Symbol / WKN (Tradegate): 3G8A / A1XBWD
Current Price: €0.185 EUR (10/31/2017)
Market Capitalization: €22 Million EUR
Previous Coverage
Report #17: "Rapid Progress with the Reactivation of Mine and Mill" (October 25, 2017)
Report #16: "Dewatering Start! Gold Production Expected in Novembert" (August 22, 2017)
Report #15: "Golden Dawn receives Mine and Mill Permits and Rockstone publishes a Site Visit Report" (June 21, 2017)
Report #14: "Golden Dawn Minerals getting increasingly attractive with latest acquisition plans" (June 6, 2017)
Report #13: "Golden Dawn in the spotlight of the press " (February 9, 2017)
Report #12: "Gold and Gold Stocks: The Best Hedge Against Trump and Other Uncertainties" (January 31, 2017)
Report #11: "Golden Dawn Discovers New Prospect For A Possible World-Class Deposit" (January 26, 2017)
Report #10: "Golden Dawn discovers 10 g/t gold over 15 m at surface and delivers top results from the underground"
Report #9: "Golden Dawn passed environmental and safety inspection, provides progress report on Greenwood projects"
Report #8: "Coverage on Golden Dawn"
Report #7: "Golden Dawn Minerals: B.C.´s next powerhouse gold miner?"
Report #6: "Golden Dawn acquires several major past producing mines and becomes largest land holder in the Greenwood District next to Kinross"
Report #5: "Golden Dawn moving rapidly toward renewed operation"
Report #4: "Starting Shot for the May Mac Mine"
Report #3: "Ascend from explorer to producer secured: A Just-in-Time success story par excellence "
Report #2: "Golden Dawn secures funding to go into gold production in BC "
Report #1: "Perfect timing to go into gold production in British Columbia"
Disclaimer: Please read the full disclaimer within the full research report as a PDF (here) as fundamental risks and conflicts of interest exist. The author holds a long position in Golden Dawn Minerals Inc. and is being paid a monthly retainer from Zimtu Capital Corp., which company also holds a long position in Golden Dawn Minerals Inc. Cautionary Statement: The June-2017-PEA is preliminary in nature and it includes Inferred Mineral Resources that are considered too speculative geologically to have the economic considerations applied to them that would enable them to be categorized as Mineral Reserves. Mineral resources that are not Mineral Reserves do not have demonstrated economic viability. There is no certainty that the PEA will be realized. Golden Dawn Minerals Inc. (the "Company") would like to clarify that its decision to proceed to extract mineralized material from the Lexington, Golden Crown and May Mac mines for processing at its facility located at the Greenwood Precious Metals Project was not based on a Feasibility Study. The Company cautions that, in such cases, there is increased uncertainty and higher economic and technical risks of failure. The Company notes that, since the mining and processing infrastructure is in place, it intends to proceed to trial mining and processing on the basis of Mineral Resource Estimates and the Preliminary Economic Assessment.