Today, MGX Minerals announced that the nanoflotation technology, developed by David Bromley Engineering and licensed exclusively to MGX`s engineering and technology development partner PurLucid Treatment Solutions Inc., has been nominated for the prestigious Katerva Award, the "Nobel Prize of Sustainability".
The Katerva Award recognizes disruptive sustainable innovations from around the world. PurLucid´s/MGX`s patented nanoflotation technology, which is said to remove metals and physical particulate from oil and gas wastewater, has been nominated as one of the 10 finalists for the "Energy & Power" category. PurLucid has developed a lithium recovery method that relies on Nanoflotation as a core component of the water treatment and mineral recovery process. Purlucid holds exclusive rights to the technology for use in oil and gas water and brine treatment with the rights to expand licensing across sectors and geographies globally. In September 2016, MGX and PurLucid entered into a binding Acquisition Agreement (MGX has the right to acquire a 100% interest in PurLucid). According to Katerva:
"Katerva operates under the belief that the only useful and valid definition of innovation is "the process of change that creates and grows wealth." As such, an idea or inspiration – regardless of its appeal on paper – only becomes an innovation once it has successfully proven itself in the marketplace. Success typically requires three other key ingredients:
Leadership Development: Remember the old Apple campaign, "Here's to the crazy ones. The misfits. The round pegs in the square holes. The ones who see things differently. They're not fond of rules. And they have no respect for the status quo. You can quote them, disagree with them, glorify or vilify them. But the only thing you can't do is ignore them. Because they change things. They invent. They imagine. They heal. They explore. They create. They inspire. They push the human race forward. Maybe they have to be crazy. How else can you stare at an empty canvas and see a work of art? Or sit in silence and hear a song that's never been written? Or gaze at a red planet and see a laboratory on wheels? We make tools for these kinds of people. While some see them as the crazy ones, we see genius. Because the people who are crazy enough to think they can change the world, are the ones who do!"
Access to Investors: Money is the crude oil of innovation. Without it, even the most tenacious innovator eventually runs out of steam.
The Ability and Willingness to Collaborate: Individual product and services innovations seldom add any value in isolation; they must be integrated and physically "bundled" with a wide range of other physical and process technologies to be applied. This requires access to, and a willingness to collaborate with, strategic partners."
MGX and its management team may have all of such ingredients to be successful. When the pilot plant becomes operational and delivers results, independent appraisers will have the chance to verify the statements made by MGX, which had to be retracted, that its technology can potentially reduce recovery times of lithium and other minerals from about 18 months to 1 day. If and when MGX`s technology will be proven independently, its scientists should get nominated for a Nobel Price in Chemistry as the industrial and environmental implications would be colossal.
Arthur D. Little defined "sustainability-driven" innovation as "the creation of new market space, products and services or processes driven by social, environmental or sustainability issues." Clearly, MGX had been thrusted quickly to the forefront of the new energy economy by the surging lithium demand, acquired and developed a potentially disruptive new technology, and gave birth to a new industry by combining a water purification technology with an advanced nanofiltration technology. Now its all in the hands of MGX to get its pilot plant operational and deliver results in order to make this potentially ground-breaking innovation official.
"Do you want to sell sugar water for the rest of your life, or do you want to come with me and change the world?" (Steve Jobs asking John Sculley, former Pepsi Vice-President, to join Apple)
"Innovation Distinguishes Between A Leader And A Follower." (Steve Jobs)
---
Company Details
MGX Minerals Inc.
#303 - 1080 Howe Street
Vancouver, BC, Canada V6C 2T1
Phone: +1 604 681 7735
Email: jared@mgxminerals.com
www.mgxminerals.com
Shares Issued & Outstanding: 60,722,403
Canadian Symbol (CSE): XMG
Current Price: $1.31 CAD (02/17/2017)
Market Capitalization: $80 million CAD
German Symbol / WKN (Frankfurt): 1MG / A12E3P
Current Price: €0.92 EUR (02/21/2017)
Market Capitalization: €56 million EUR
---
Previous Coverage
Report #16 "Unconventional oil play legend Marc Bruner to take MGX and PetroLithium to the next level"
Report #15 "Total Conviction: MGX forms PetroLithium Corp. to expand into the US oilfield brine markets"
Report #14: "MGX Extracts Lithium from Oil Wastewater - Begins Monumental Integration with Big Oil"
Report #13 "MGX Partners with Oil Major on Lithium Brine, New Energy Industry Facing Fundamental Shift"
Report #12 "Game Changing Potential: MGX Minerals' Pilot Plant for Rapid Production of Lithium Nears Completion"
Report #11 "MGX assays 34 g/t gold from surface sampling in British Columbia"
Report #10 "Official: MGX owns magnesium worth multi-billions of dollars and starts pilot plant shortly"
Report #9 "One of the world's largest lithium resources on the horizon?"
Report #8 "Ready for significant lithium brine work in Alberta"
Report #7 "At the forefront of Alberta's lithium brine riches"
Report #6 "Pioneering Lithium in Alberta: MGX Minerals Teams Up"
Report #5 "Time to Put a Lithium Production Process in Place"
Report #4 "MGX Minerals Taps Into Canada's Potentially Largest High-Grade Lithium Resources"
Report #3 "MGX Minerals Receives Mining Lease for 20 years (in British Columbia!)"
Report #2 "MGX Minerals Accelerates Towards Production"
Report #1 "MGX Minerals Plans To Enter The Magnesium Market"
---
Stay Tuned!
For smartphones and tablets, an APP from Rockstone Research is available in the AppStore and in the GooglePlayStore.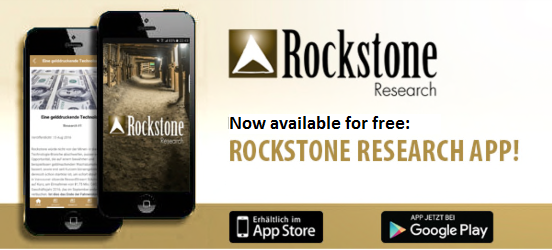 Disclaimer: Please read the full disclaimer within the full research report as a PDF (here) as fundamental risks and conflicts of interest exist.