The new year started with a strong newsflow for King's Bay and its market valuation has appreciated by about 125%, currently at $7 million CAD with 41 million shares issued last trading at $0.18 on the TSX.V.
After raising about a million dollars, the company officially closed the acquisition of the Lynx-Lake Property and increased its land package by a factor of 12 to a total of 240 km2 in order "to adequately cover the geological structures and geophysical signatures of interest" (i.e. King's Bay sees extensive potential for multiple deposits in the area).
The permit for an airborne electro-magnetic study has been received recently. This important geophysics survey is expected to start once weather conditions permit, with the goal of identifying specific targets for a subsequent drill program to discover a potentially cobalt-rich deposit beneath shallow overburden. A VLF survey by previous owners has indicated strong conductors in the subsurface in several areas of the property.
Today, King`s Bay announced the 100% acquisition of 3 additional properties, this time in Québec, all of which provide excellent exploration potential for cobalt, nickel and copper to follow-up on promising historic results from surface sampling and regional geophysics.
The company is now planning exploration programs at these 3 newly added properties, consisting of grab and channel sampling, mapping and prospecting, to confirm historic results and potentially identify new targets. Within a short time, King's Bay's management has executed on its ambitious plan of assembling a diverse portfolio of compelling exploration projects in safe jurisdictions focused on cobalt and high-tech metals, in order to find viable sources of supply for this emerging fast-growth sector which is still much dependent on foreign resources. King's Bay will continue to seek out and evaluate properties showing prospect for development, and acquire accordingly for immediate exploration by King's Bay and/or joint venture partners. Kevin Bottomley, President & CEO of King's Bay commented today:
"The price for cobalt continues to rise and thus we feel having a greater portfolio of cobalt bearing projects provides the best value for our shareholders. Quebec has a strong history of successful mining ventures and King's Bay is pleased to build on the exploration work that was done by Falconbridge Ltd. in early 2000."
Past exploration on King's Bay's newly acquired properties in Québec yielded promising results never followed-up. Nowadays, cobalt grades of 0.5% are oftentimes praised world-class. King's Bay plans to channel sample all properties this spring.
Ninuk Lake Project
Location: 175 km northeast of Umiujag in Québec,125 km from a deep-sea port
Size: 9 km2 (2,164 acres) in 19 claims
Past Exploration: In 2001, Falconbridge (now Xstrata) completed an exploration program consisting of surface sampling, mapping and electromagnetics. Surface sampling of massive sulphides in outcrop yielded anomalous values of up to 2.6% nickel, 1.8% copper and 0.27% cobalt. Mapping of the area exposed several lenticular ultramafic bodies containing pods of massive sulphides. A small-scale electromagnetics program yielded several subsurface conductors in the area. Due to several other discoveries that year, the exploration work by Falconbridge was not followed up. The compilation of these results encourages further work to be completed on the property.
Regional Geology: The area is Neoarchean in age and located within the superior province with ultramafic-felsic rocks including granodiorite, tonalite, paragneiss, amphibolite, peridotite, pyroxenite, and gabbronorite. Structurally the area of interest is bounded to the east and west by 2 regional fault systems.
Broadback River Project
Location: 24 km northwest of the "Nuinsco Discovery", the Lac Rocher near-surface nickel sulphide deposit (measured & indicated: 800,000 t @ 1.12% nickel) from Victory Nickel Inc.
Size: 4 km2 (1,035 acres) in 9 claims
Access: Easily by James Bay Road north from Matagami and then by logging roads to the property 75 km inland.
Past Exploration: In 1985 a magnetic and electromagnetics survey was flown by the Quebec Ministry of Natural Resources that uncovered several large conductors. In 1999-2000 Falconbridge Ltd. took 152 samples and uncovered semi massive sulphide assaying 0.7% nickel, 0.3% copper and 0.09% cobalt, but only drill tested the northwestern portion of the property. All southeastern conductors remain untested.
Regional Geology: Archean in age and dominated by intrusive gabbro, which cuts felsic and mafic volcanics and iron formation of the Frotet-Evans Belt.
Roberge Project
Location: 2.1 km southeast of Chesterville in Québec
Size: 1.8 km2 (443 acres) in 3 claims
Access: Easily by paved road running through property
Past Exploration: A regional soil sampling program by the Québec Government revealed several anomalous sediment samples on the Roberge Property, assaying up to 1.06% cobalt. Follow-up work by King's Bay expected this spring.
Lynx Lake Project
Location: 80 km southeast of Happy Valley-Goose Bay in Québec
Size: 240 km2 (59,305 acres)
Access: Easily by the Trans-Labrador Highway running through the property

The Lynx Lake Project (above map shows property before it was expanded 12-fold) in Newfoundland & Labrador benefits from proximity to the Trans-Labrador Highway and a 3-phase power line running across the property.
Past Exploration: Prior to 2008, the property was deemed too remote and as such remained virtually unexplored. In 2008, the Department of Transportation constructed the new Trans-Labrador Highway, which now runs through the property. During blasting (for road aggregate) on the property in the same year, disseminated and massive sulphide mineralization was discovered.
In 2009, local prospectors sampled and assayed this aggregate quarry on the eastern portion of the property and assayed up to 0.94% cobalt, 1.39% copper, 0.21% nickel and 6.5 g/t silver. In 2014, regional low resolution magnetic surveys by the government and hand-held electromagnetic surveys by local prospectors revealed strong conductors beneath the overburden.
In 2015, the western portion of the property was grab sampled, yielding up to 0.57% cobalt, 1.03% copper, 0.1% nickel, 0.36% chromium, 0.39% molybdenum, 0.23% vanadium and 5 g/t silver.
On January 3, 2017, King´s Bay closed a financing with total proceeds of $938,753 CAD. On January 11, the permit for an airborne electromagnetic ("EM") geophysics survey was received. On January 17, the company increased the Lynx Lake Copper-Cobalt Property land package from 20 to 240 km2 in order to adequately cover the geological structures and geophysical signatures of interest. On January 19, the closing of the Lynx Lake Property acquisition was announced.
The next steps for King's Bay will be the completion the airborne EM survey and evaluation of the data for high priority drilling targets in the spring. This geophysics survey will be strategically placed within the newly expanded land area in order to explain some of the EM anomalies that have been discovered during surficial reconnaissance. Government regional low resolution residual magnetic surveys, and preliminary handheld electromagnetic surveys done by local prospectors, have shown strong conductors beneath the overburden, and provide incentive to explore the area further for additional subsurface mineralization.
Although the property has never been drilled before, the sampling assays in both the eastern and western part of the property (before it was expanded from 20 to 240 km2) indicate possibility for a large body of mineralization at shallow depths. Thanks to excellent road accessibility to deep sea water ports, a power line that runs directly adjacent to the property and the proximity to the town of Happy Valley-Goose Bay, it appears to be a perfect time now to explore this highly prospective property amid rising energy metal prices, first and foremost the battery-critical element cobalt.
Pictures showing the Lynx Lake Property in Newfoundland & Labrador; courtesy of King's Bay.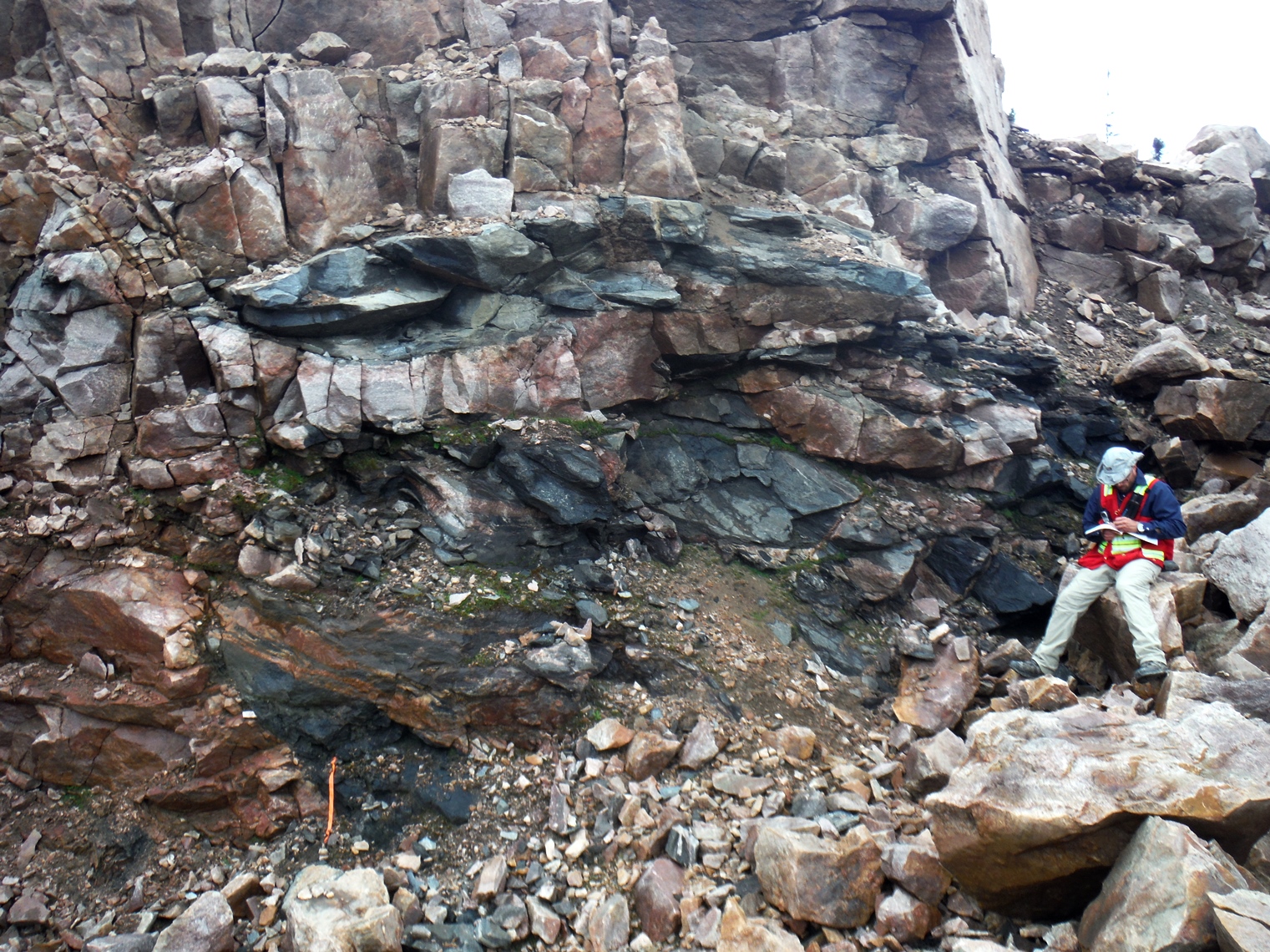 Initially, there was little to no exposure on the Lynx Lake Property (Newfoundland & Labrador) until the construction of the Trans-Labrador Highway commenced. Now, due to excellent accessibility and new discoveries of mineralization in bedrock, the property has great potential as an exploration target for an economic copper-cobalt-nickel magmatic or IOCG type deposit.
Grab samples from gossanous areas of the rock pits have yielded assays with up to 1.39% copper, 0.94% cobalt, 6.5g/t silver, 0.21% nickel and 0.23% vanadium. Veins of massive sulphides can be seen throughout these areas. Molybdenite has also been identified in the western area of mineralization yielding 0.392% molybdenum and 112 ppm bismuth. A previous VLF survey, carried out by previous owners, has indicated good conductors present in the subsurface in several areas of the mapped granite.
The Lynx-Lake Property is situated in the Grenville Province and is Proterozoic in age. It is separated by a north easterly trending fault. The western portion of the property is underlain by granite, granodiorite and gneiss that varies texturally from weakly foliated to well banded. The eastern portion of the property is underlain by granite, amphibolite with massive gabbro, norite and troctolite units. Cobalt is also mined from nickel-cobalt laterite deposits, which have higher CAPEX and OPEX relative to sulphide deposits.
The price of cobalt is rising due to a combination of factors, some of which are related to unsettled conditions in areas such as the DR Congo, where the majority (up to 65%) of the world's cobalt is mined. Other factors include an increased demand for batteries. A single rechargeable car battery contains some 23 kg of cobalt. By 2020, cobalt use in batteries alone could be greater than the entire world market for refined cobalt in 2015. China refines 52% of the world's cobalt. The silver-gray metal is also used in alloys for aircraft engine parts and for alloys with corrosion/wear resistant uses.

---
Company Details
King's Bay Gold Corp.
Suite 1450 – 789 West Pender Street
Vancouver, B.C. V6C 1H2 Canada
Phone: +1 604 681 1568
Email: brad@kingsbayres.com
www.kingsbayres.com
Shares Issued & Outstanding: 41,006,423
Canadian Symbol (TSX.V): KBG
Current Price: $0.18 CAD (02/03/2017)
Market Capitalization: $7 Million CAD
German Symbol / WKN (Frankfurt): KGB1 / A2AN0E
Current Price: €0.118 EUR (02/03/2017)
Market Capitalization: €5 Million EUR
---
Previous Coverage
Report #2: "Cobalt Crunch Time" (January 20, 2017)
Report #1: "Potential for a Massive Discovery of Cobalt, Copper and High-Tech Metals" (October 27, 2016)
Disclaimer: Please read the full disclaimer within the full research report as a PDF (here) as fundamental risks and conflicts of interest exist.