2016 was one of the worst years for uranium, with prices tumbling 41% and landing on a 12 year low near $18 USD/pound. According to Bloomberg, the radioactive metal was the worst-performing energy commodity last year. It appears that the tide has turned as spot prices have appreciated by 25%, currently trading at $22.50 USD/pound.
The Financial Times recently noted: "Sharp rebound in price reflects supply cuts and scope for greater US demand." The world´s largest uranium producer, Kazakhstan, announced to reduce output by more than 2,000 tons. Rob Chang of Toronto-based Cantor Fitzgerald LP said that this may mark an inflection point for the market. Kazakhstan accounted for 39% of world production in 2015 according to the World Nuclear Association.
Investors are also hoping that Donald Trump and his administration will be more willing to invest in nuclear power. Cameco´s CEO said: "We´ve heard some encouraging words from the Trump team on nuclear power. We´re optimistic that will help our nuclear industry." Although Trump hasn´t commented much about nuclear power since the election, his most notable comment was actually a tweet a few days before Christmas:

Donald Trump´s December 22 tweet about nuclear capabilities raised hopes of a price rise for uranium, shown here in the form of yellowcake (source: "Uranium looms as big winner among resources under Trump", Financial Times on January 12, 2017)
As a result, uranium stocks are booming. The Global X Uranium ETF includes numerous large uranium companies and has gained 40% since Election Day in November 2016. NexGen Energy Ltd. is up 120% in the same period, followed by Denison Mines Corp. (+80%) and Cameco Corp. (+60%).
With a market capitalization of $1.6 million CAD, Pistol Bay Mining Inc. today reported that Rio Tinto Exploration Canada Inc. intends to drill between 4 and 6 holes on the C5 Uranium Property in the Athabasca Basin, Saskatchewan, Canada. The drilling was scheduled to start on January 20.
Pistol Bay optioned the C5 Property, along with the C4 and C6 Claims, to Rio Tinto, which has already earned a 75% interest. Last year, Rio Tinto announced its intention to exercise its further option to acquire 100% interest by paying $5 million CAD within 5 years of December 31, 2014. On top of that, Pistol Bay would receive a 5% net profits interest royalty (i.e. 5% of income from mining operations after deduction of all capital expenditures and operating expenditures on or for the benefit of these claims).
Rio Tinto has already drilled 12 holes for a total of 6,104 m on the C5 Property, and completed gravity and DC resistivity surveys.The unconformity is approximately 400 m below surface in the area of the C4, C5 and C6 Properties. Rio Tinto's previous drilling on C5 intersected 0.054% U3O8 over 1.5 m. However, core recovery was approximately 50%, indicating that the assay does not accurately reflect the uranium content. Another hole 50 m to the northeast returned 0.041% U3O8 over 0.32 m (just below the unconformity) and 0.022% U3O8 over 1 m (5 m below the unconformity).
The C4, C5 and C6 Properties adjoin the Wheeler River Property of Denison Mines Corp. (60%), Cameco Corp. (30%) and JCU Canada Exploration Co. (10%). Wheeler River includes the newly (2008) discovered Phoenix Zone, with an indicated mineral resource of 70 million pounds of U3O8 grading 19.13% plus an inferred mineral resource of 1.1 million pounds of U3O8 at a grade of 5.8%. The Gryphon Zone contains an inferred resource of 43 million pounds of U3O8 at a grade of 2.3%. The 489 Zone is at an early stage of exploration (it has reported drill intercepts of 0.13% U3O8 over 5.5 m and 0.46% U3O8 (radiometric estimate) over 1.5 m.
The C4, C5 and C6 properties are situated approximately mid-way between the former producing Key Lake Mine and the currently producing McArthur River Mine of Cameco Corp. (70%) and AREVA (30%). McArthur River has produced, to the end of 2015, a total of 287.6 million pounds of U3O8. It has reserves of 336.5 million pounds at 16.89% U3O8, measured plus indicated mineral resources of 5.6 million pounds at 3.80% U3O8 and an inferred mineral resource of 58.6 million pounds at 7.72% U3O8. With a total endowment of over 688 million pounds, McArthur River is the largest high-grade uranium mine in the world (Cameco Corp. annual and quarterly reports).
The C4, C5 and C6 Properties are road-accessible, an important feature that allows exploration funds to be used much more effectively than more remote, fly-in projects. The 75 km all-weather haul road from the McArthur River Mine to Cameco's Key Lake Mine/Mill passes approximately 5 km from the properties, and there is a network of bush roads or trails that can be used by 4x4 vehicles.
While Rio Tinto is drilling on Pistol Bay´s uranium property, the company itself intends to start drilling its Dixie Zinc-Copper-Gold Properties in the Confederation Lake Greenstone Belt southeast of Red Lake in Ontario, Canada. In October 2016, Pistol Bay has become the dominant land holder within this prolific VMS belt, when it acquired all properties and deposits from AurCrest Gold Inc. and Glencore in the Confederation Lake Greenstone Belt. In combination with the already optioned, near-by Dixie and Dixie 3 Properties, Pistol Bay now controls 7'050 hectares containing most of the significant mineral occurrences over 43 km of the total 60 km length of the Confederation Lake Greenstone Belt. President Charles Desjardins stated in October:
"Together with the Dixie and Dixie 3 properties that Pistol Bay already holds under option, this acquisition positions the Company as the dominant land holder in a very prolifically mineralized VMS-rich belt. Our holdings include the largest zinc-copper-silver deposit in the area, the second-largest VMS deposit remaining (Fredart Lake Property), and a portfolio of exploration targets ready for follow up drilling. Pistol Bay proposes an ambitious exploration program that will not only pursue existing targets and known VMS deposits, but will use the latest airborne geophysical survey technologies to explore the whole area to a greater depth than was possible in the past."
On January 18, Pistol Bay updated its plans for exploration. Charles Desjardins commented:
"The Confederation Lake project has experienced 50 years of exploration by well-funded companies using the best technologies that were available at the time. Exploring deeper using the latest geophysics is one obvious advantage that we have, but we must also use every other tool at our disposal. It's obviously a very well mineralized belt, and if we are smart, and if we try harder, we'll maximize our chances of making Canada's next base metal VMS discovery."
Charles Desjardins and Peter Schiff (President & CEO of Euro Pacific Capital Inc.) at the Vancouver Resource Investment Conference (January 22-23, 2017):
---
Company Details
Pistol Bay Mining Inc.
Suite 760 - 777 Hornby Street
Vancouver, B.C. V6Z 1S4 Canada
Phone: +1 604 369 8973
Email: info@pistolbaymininginc.com
www.pistolbaymininginc.com

Shares Issued & Outstanding: 28,865,757
Canadian Symbol (TSX.V): PST
Current Price: $0.055 CAD (January 23, 2017)
Market Capitalization: $1.6 million CAD
German Symbol / WKN (Frankfurt): 0QS2 / A12DZH
Current Price: €0.032 EUR (January 23, 2017)
Market Capitalization: €0.9 million EUR
---
Previous Coverage
Report #3: "Pistol Bay acquires high-grade zinc-copper deposits and becomes dominant land holder in the prolific Confederation Lake VMS Belt" (October 19, 2016)
Report #2: "Pistol Bay acquires new zinc project amidst smoking hot zinc prices" (September 1, 2016)
Report #1: "Early Bird Special Report: Pistol Bay with Zinc like a Phoenix from the Ashes?" (July 29, 2016)
---
Stay Tuned!
For smartphones and tablets, Rockstone has published an app in the AppStore and in theGooglePlayStore.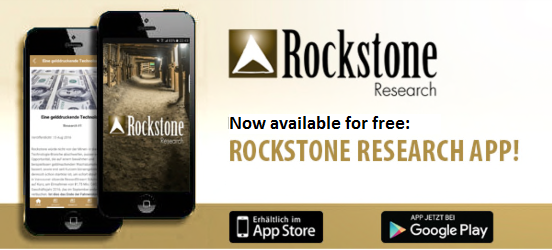 Disclaimer: Please read the full disclaimer within the full research report as a PDF (here) as fundamental risks and conflicts of interest exist.