Today, Rockcliff Copper Corp. reported high-grade assays from its ongoing phase-2 drill program on the Talbot Property within the prolific Flin Flon-Snow Lake Greenstone Belt of mining-friendly Manitoba, Canada. Ken Lapierre, President and CEO commented:
"Diamond drilling at the gold-rich Talbot copper deposit continues to intersect significant high grade mineralization and the mineralization remains open in all directions. The deposit is comprised of multiple lenses which is typical of large producing mines in the Flin Flon-Snow Lake mining camp. The drill program has now been expanded from 6,000 metres to 7,500 metres. We continue to focus on resource expansion of the deposit as well as drill testing geophysical plates/anomalies recently discovered from the resurveying of historical drill holes."
Hole #16 intersected 5.63 m of 5.9% CuEq ("Copper Equivalent", i.e. 2.64% copper, 1.67% zinc, 2.94 g/t gold and 23 g/t silver), including 2.8 m of 9.9% CuEq (4.61% copper, 2.09% zinc, 5.08 g/t gold and 39.12 g/t silver). A preliminary image of the location of this drill hole in the Main Lens of the Talbot Deposit as well as the geophysical conductive plates to be drill tested in the current drill program is shown above.
On January 5, 2017, Rockcliff reported to have discovered a new large untested anomaly below the currently known mineralization. Surveying of drill holes identified a new drill target that represents one of the largest undrilled conductive plates yet discovered on the property below the existing North Lens mineralization, measuring 300 m along strike and 600 m of depth extent. Historic hole TLS007 appears to have intersected the very top edge of the conductive plate intersecting 4.4% Cueq across 2.1 m. Rockcliff will drill test this anomaly shortly. Ken Lapierre commented on January 5:
"All large mines in the Flin Flon-Snow Lake greenstone belt have extensive multiple stacked mineralized lenses that coincide with multiple stacked extensive conductive geophysical anomalies or plates. At Talbot, the fact that we have discovered the largest undrilled geophysical conductive plate immediately below the Talbot deposit is encouraging and a real testament to the significant upside potential on this property located within this prolific world class mineral belt. Our phase 2 drill program will continue immediately and will focus on the discovery of additional mineralized lenses proximal to the Talbot deposit".
In January 2016, an inferred resource estimate compliant with NI43-101 was calculated for Talbot, totaling 2.2 million t averaging 2.8% copper, 2.2% zinc, 2.4 g/t gold and 55 g/t silver (contained metal: 134 million lbs of copper, 107 million lbs of zinc, 165,000 oz of gold and 3.8 million oz of silver). As the recently announced drill results are in line with this inferred resource, Rockcliff is well on track to significantly expand the resource estimates with the ongoing and upcoming drill programs.
---
---
Company Details
Rockcliff Copper Corp.
#1660 – 141 Adelaide Street West
Toronto, ON, Canada M5H 3L5
Phone: +1 416 644 1752
Email: klapierre@rockcliffcoppercorp.com
www.rockcliffcoppercorp.com
Shares Issued & Outstanding: 136,217,784
Canadian Symbol (TSX.V): RCU
Current Price: $0.10 CAD (01/17/2017)
Market Capitalization: $14 million CAD
German Symbol / WKN (Frankfurt): RO0 / A142TR
Current Price: €0.072 EUR (01/17/2017)
Market Capitalization: €10 million EUR
---
Previous Coverage
Report #2: "Rockcliff reports drill results and discovers large conductive plate below Talbot Deposit to be drill tested" (January 5, 2016)
Report #1: "King of Manitoba's Unmined High-Grade Copper and Zinc Deposits" (December 1, 2016)
---
Stay Tuned!
For smartphones and tablets, an APP from Rockstone Research is available in the AppStore and in the GooglePlayStore.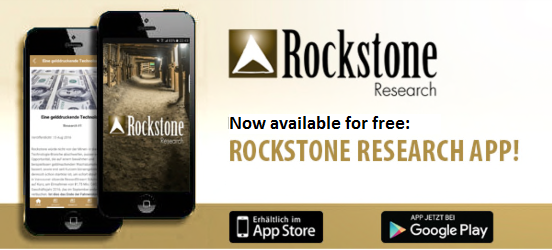 Disclaimer: Please read the full disclaimer within the full research report as a PDF (here) as fundamental risks and conflicts of interest exist.