Looking north along Highway 109 with entrance to Aurvista's Douay Gold Project in Québec.
Today, Aurvista Gold Corp. announced the start of the phase-2 drilling program, which has been increased from the previously announced 5,000 m to now 30,000 m. The objective is to test 9 priority targets (T1-T9), as outlined during the phase-1 program, with more than 70 holes totalling 30,000 m in 3 sub-phases.
Aurvista's only asset is the Douay Gold Project (145 km2) located along a 20 km segment of the Casa Berardi Deformation Zone in the prolific Abitibi Belt of northern Québec. Douay is located 40 km southwest of the Matagami Zinc Base Metal Camp and 150 km north of the Val-d'Or-Malartic Gold Camp (both in Québec).
Jean Lafleur, President and CEO of Aurvista, commented today:
"After more than 40 years of exploration on Douay, including the last few by Aurvista, we have finally arrived at a major crossroad. The previous path has included nearly 200,000 meters of drilling in more than 700 holes, ground and airborne geophysical surveys, infrastructure construction, all leading to the discovery of higher and lower grades gold lenses. The gold mineralization at Douay occurs within 9 individual E-W shears and 3 subparallel structural domains inside a 10 km by 3 km corridor of a 20 km long segment of the Casa Berardi Deformation Zone.
Douay has always lacked a single cohesive geological exploration model to explain in part why there is gold mineralization and its distribution. After 6 months of re-evaluating the entire database, Aurvista developed a new geological model and can now proceed with focussed multi-staged diamond drilling into a number of target shears and structural domains. These domains could potentially have an impact on the ultimate dimension of the gold system and mineral resources. There is a significant potential of discovering more gold mineralization in addition to our existing multi-million ounces in mineral resource estimates. Aurvista will now begin testing the Adam Creek Gold Deposit with a major 30,000 meter drill campaign."
In November 2016, Aurvista closed a $6 million CAD financing at $0.15 CAD with clients from Primary Capital Inc. and PowerOne Capital Markets Ltd., which marked "a major milestone" in the company's history as Aurvista's President and CEO, Jean Lafleur, stated. Company insiders participated with $407,500 CAD.
Today's announced 30,000 m drill program is summarized in below table; it´s objective is to develop higher grade gold zones within the Adam Creek Gold Deposit and identify additional gold and/or base metal zones outside of the known mineralized centers.
On December 19, 2016, Aurvista announced the start of a ground UTEM-5 geophysical survey, which was said to be completed "over the next month" on the most significant bedrock conductors at Douay (Anomalies E, F and G), with results expected by mid-Q1-2017.
As previously reported by Aurvista in August, the company had completed a 1,421 line-km airborne helicopter magnetic, time-domain electromagnetic ("TDEM") and radiometric survey. The TDEM survey outlined 7 strong near surface conductive bedrock anomalies ("A" to "G"), all associated to the strongest EM-INPUT™ anomalies, 4 in proximity to the Casa Berardi Deformation Zone ("A" to "D"), northwest of the Adam Creek Gold Deposit (the "Deposit"), and 3 in proximity to, and surrounding the 'South Porphyry" ("E" to "G"), south of the Deposit. Characteristics of Anomalies "E", "F" and "G" are summarized in the table.
Anomaly "E" is the most significant since it is located in proximity to the gold bearing "Main Porphyry", the "South Porphyry" and the "Adam-Porphyry". There are chlorite-sulphide bearing "feeder pipes" nearby as observed in drill holes DO-92-24 and DO-11-34, typically found in association with massive sulphide mineralization, yet to be found at Douay. The historical drill holes DY-99-04, 05 and 06, 46878-0, 46899-9 and 0, 64487-0, 468880-0 and D-92-32 skimmed the anomaly by drilling above or holes were too short, but explained the conductive source as graphite. There is no graphite in the re-logged drill core.
Anomalies "F" and "G" are larger in size but are believed, based on nearby re-logged drill core from the phase-1 program, to be related to sulphide mineralization. However, laminar graphite was observed in centimeter-wide shear zones in core from the Anomaly "F" area.
2017 Plans
Aurvista plans to file an updated NI43-101-compliant resource estimate to include 120,000 m of drill core re-logging, 15,000 core re-assays, mineralized zone re-interpretation, updated geological model, and >30,000 m of core drilling in 2016/2017.
An updated PEA ("Preliminary Economic Assessment") is planned to commence upon completion of drilling. The goal of the drill program is to identify additional gold and VMS targets, potentially increasing the current NI43-101-compliant resource estimate (3 million oz gold in measured+indicated+inferred resources) well above 5 million oz of gold.
With its current resources of 3 million oz of gold, Aurvista is the least expensive company in terms of $-valuation/oz when compared with selected peers (see above table). In the gold space, recent M&A transactions with no PEAs displayed valuations averaging $49/oz (Aurvista is currently valued at $9.7/oz and plans to update its PEA in 2017).
While it would take about 2-3 years to get the Douay West Zone into production, drill programs may delineate a total of >5 million oz in the currently known target areas. Why?
(1) Just like Dome, Malartic and the Abitibi generally: If you drill more, you get more;
(2) Nugget effect of high-grade veins, pods and lenses in a porphyry deposit like Douay;
(3) Current resource still mostly based at 200 m drill spacing and large spacing could add oz significantly;
(4) Minimal drilling to date in some of the high potential zones like NW, Main and Adams.
Douay West and Adams are available to go into production already now as having resources for >10 years at 35,000 oz/year (PEA stated 45,000 oz/year). The December 2014 PEA has focussed on underground mining showing total CAPEX of $57 million.
---
Company Details

Aurvista Gold Corp.
Suite 612 - 390 Bay Street
Toronto, Ontario M5H 2Y2 Canada
Phone: +1 416 682 2674
Email: info@aurvistagold.com
www.aurvistagold.com
Shares Issued & Outstanding: 131,162,407
Canadian Symbol (TSX.V): AVA
Current Price: $0.22 CAD (01/09/2017)
Market Capitalization: $29 million CAD
German Symbol / WKN (Frankfurt): AV2 / A1JL1Z
Current Price: €0.142 EUR (01/10/2017)
Market Capitalization: €19 million EUR
---

Previous Coverage
Report #1: An Intact Jewel Box for Gold's New Bull Market: The Tide has Turned for One of Québec's Largest Undeveloped Gold Deposits (May 18, 2016)
Report #2: The Last Elephant-Sized Gold Deposit in Quebec? (July 13, 2016)
---
Stay Tuned!
For smartphones and tablets, an APP from Rockstone Research is available in the AppStore and in the GooglePlayStore.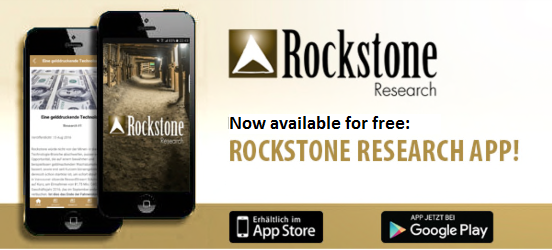 Disclaimer: Please read the full disclaimer within the full research report as a PDF (here) as fundamental risks and conflicts of interest exist.