Today, True Leaf Medicine International Ltd. has announced the completion of an agreement with Germany-based company Pro Pet Koller, a leading supplier of premier pet food, to distribute and sell True Leaf Pet products in stores across Germany and Austria.
Pro Pet Koller will start distributing the True Hemp product line in stores, building the number month by month. The company supplies a total of 1,700 stores directly and through its wholesale network. Pro Pet is a family-run business founded in 1993 by Werner Koller, who was joined in 2016 by his oldest son Michael who commented in today's news release:
"True Hemp is a truly innovative treat that we can offer to our customers in Germany and Austria. This range of hemp-based treats for dogs meets the real needs of the consumer and will help our retail customers be a force in the burgeoning market for functional treats. Hemp brings real benefits for pets and we are excited by the opportunity."
True Leaf CEO Darcy Bomford said today:
"Pro Pet represents an important step in the building of our distributor network in Europe. We now have good coverage of two of the biggest markets in Europe with Pet's Corner in the United Kingdom and now Pro Pet in Germany."
In late August, True Leaf announced a significant purchase order from Pets Corner, the second largest pet store chain in the UK, which will sell the True Hemp product line in all of its 174 stores. With almost 10 times as many stores in Germany and Austria, alone today's distribution deal promises that 2017 will see a continuation of the rapid pace of growth in the True Leaf business that began in 2016. Additional distribution agreements for the European markets may follow in early 2017, including online shops.
Over the last months, True Leaf has build a solid distribution base on 2 continents and will now focus on its access to over 10,000 stores, growing sales volumes month by month and also with new products to be added in 2017.
The instant popularity of the True Hemp product is one of the keys to the company's rapid acceptance by distributors in now 5 countries on 2 continents.
Rockstone anticipates more significant distribution and sales agreements over the next months. True Leaf today said that discussions with other potential European partners are ongoing and the company expects to launch its product line in other countries within the European Union in 2017. It was also announced today, for the first time, that an expansion to Asia is on the horizon for 2017.
True Hemp products are now sold in all Canadian provinces and territories, in 45 US states as well as Germany, Austria and the UK. True Leaf is generating interest for its unique product line from other countries around the world, with firm interest from New Zealand, Australia and China. Bomford explained today:
"It's been an extremely busy year for the True Leaf team. We've been forging ahead securing distribution with our initial three-product line. Now that we have a solid distribution base and access to over 10,000 stores across two continents, we can focus on building sales volume with line extensions and potential new brand acquisitions.
What really sets our products apart from the crowd are not only the ground hemp seed and hemp leaf inclusions, but the other ingredients we infuse into the formulations to address specific functions. These include New Zealand green-lipped mussel and turmeric root for hip and joint function, DHA and pomegranate for health support and L-theanine, chamomile and lemon balm for a calming function."
In November, True Leaf announced its plans to acquire OregaPet, a revenue generating company with award-winning medicinal products based on the power of oregano oil. The company hopes to complete the acquisition by January 2017 and then roll out a refreshed True Leaf Pet branded line to Canadian and US customers early next spring, followed by Europe.
With revenues now being generated on 2 continents, True Leaf is emerging as a global brand, while also showing increased engagement in becoming one of Canada's next licenced medical marijuana producers (see here).
Rockstone is impressed by the speed and dedication that the entire True Leaf team puts together to establish its innovative product line as a globally thriving brand. While not resting on their laurels, following the remarkable feedback they have been receiving from pet owners and pet foods specialists worldwide, the company announced on August 11 to launch 2 new hemp-based products for pets. True Leaf's product line was the only hemp-focused pet treat at this year's Interzoo, the world's largest exhibition of supplies for pets with 40,000 attendees, held in May in Nürnberg, Germany.
Hemp is coming into its own as health-conscious consumers worldwide recognize the benefits of the plant. The crushed hemp seeds yield an emerald-green oil that is rich in omega 3 fatty acids, stearidonic acid (SDA) and a rare plant source of gamma linolenic acid (GLA) – all seen to have potential anti-inflammatory properties. Ground hemp seeds yield one of nature's highest sources of highly digestible, gluten-free protein and fiber, both essential to a healthy diet.
The Market Problem
Statistics show that consumers are looking for higher quality products that address health needs common to their pets, without having to worry about food safety or harmful side effects. Products containing hemp, including hemp seed oil, hemp protein and hemp leaf, are gaining significant acceptance as evidence of their nutritional and medicinal effectiveness becomes recognized. The vast majority of the companies in this market space lack mass appeal or scalability; they offer weak product platforms and often focus on the recreational marijuana consumer.
The Solution
True Leaf`s team has extensive experience in the pet industry and is well-positioned to meet the consumer demand for innovative pet health by marketing hemp-focused natural products that are professionally designed, scalable and legal for sale in the USA, Canada and Europe. The company's initial product line-up will provide hemp-based antioxidant, joint and calming support in a soft-chew format that will be sold in the USA, Canada and Europe. This will be followed by additional hemp-focused products in a variety of formats for multiple indications and health benefits.
The Opportunity
The global pet care industry is valued at €75 billion EUR (1). This immense valuation is linked to 3 significant paradigm shifts:
• The personification of pets as they become members of our family
• The increasing focus on product 'premiumization', wellness and quality of life in our society
• Rising awareness of food safety and security concerns related to continuing pet food recalls
True Leaf Pet's initial hemp-based soft chews will enter the €6.8 billion EUR global pet treat and chew market and compete in this product category as a 'functional chew' or supplement. This market segment continues to grow as sophisticated 'treat' formulas provide functional health benefits and attract supplement consumers who are seeking more natural - yet safe and effective alternatives. (1) Euromonitor, Pet care Global Overview 2015 and the Future Ahead, 2015
Milestones: Exceeding Expectations
• Proceed with meta-analysis of hemp research – Completed June 2014
• Sign exclusive manufacturing agreement and Right of First Refusal (ROFR) with Canadian semi-moist treat manufacturer – Completed January 2015
• Review and secure hemp suppliers – Completed March 2015
• Complete packaging designs and commence trademark registrations – Completed March 2015
• Develop line of hemp chews under the True Leaf Pet brand name – Completed June 2015
• Reached 1,000 Twitter followers organically – Completed June 2015
• Secure exclusive supply with Canadian pet food co-packer – Completed July 2015
• Secure in-house capsule filling option for supplement line – Completed September 2015
• Launch True Leaf Pet chew products in Canada; secured distribution with Anipet and Freedom Pet Supply – Completed September 2015
• Run chew trials at USA co-pack supplier – Completed December 2015
• Launch True Leaf Pet website with e-commerce platform – Completed December 2015
• Expanded retail reach of hemp chew products across Canada by 35% –Completed January 2016
• Signed with Pet Food Experts in USA to gain access to 3500 stores in the USA – Completed March 2016
• Reached over 500 organic page 'likes' on Facebook – Completed March 2016
• Reached over 1400 organic followers on Twitter – Completed February 2016
• Launched True Hemp TM Hemp Chews and exhibited at Global Pet Expo 2016 and retrieved over 100 leads – Completed March 2016
• Signed with United Pet Products, Southeast Pet and Family Farm & Home distributors in the USA – Completed March 2016
• Launch True Leaf Pet in Europe – Completed May 2016
• PetsCorner in the UK picks up True Hemp in all 174 stores – Completed August 2016
• Sign with Bark to Basics, Monarch, and United Pacific Pet Distributors – Completed June-October 2016
• Launch True Leaf Pet line extensions including cat chews, dental sticks for dogs, hemp oil, and hemp supplement – In progress
As per True Leaf Pet's online shop, a single pack (200 g or 40 daily treats) of True Hemp Chews sells for $14.99 CAD (or $11.20 USD or €10.70 EUR; all excluding tax and shipping).
---
Company Details
True Leaf Medicine International Ltd.
100 Kalamalka Lake Road, Unit 32
Vernon, BC V1T 9G1, Canada
Phone: +1 778-389-9933
Email: kevin@trueleaf.com
www.trueleaf.com
Shares Issued & Outstanding: 54,346,536
Canadian Symbol (CSE): MJ
Current Price: $0.21 CAD (11/18/2016)
Market Capitalization: $11 million CAD
German Symbol / WKN: TLA / A14NM1
Current Price: €0.15 EUR (11/18/2016)
Market Capitalization: €8 million EUR
---
Previous Coverage
Report #19 "True Leaf acquires OregaPet, a revenue generating company with award-winning medicinal products"
Report #18 "True Leaf starts production, sales and marketing in Europe, backed by first major purchase order"
Report #17 "True Leaf just started to take root (to grow big thereafter)"
Report #16 "New sales channel for the market buzz: True Leaf products now also sell online"
Report #15 "Hemp for Dogs: True Leaf from Canada brings a special treat to the worlds leading trade-show Interzoo"
Report #14 "True Leaf pushes the gas pedal and brings True Hemp to Europe"
Report #13 "True Leaf conquers the US Pet Food Market"
Report #12 "True Leaf To Sell Hemp-Based Products in 3500 Stores in the US" (March 29, 2016)
Report #11 "True Leaf's Product Line Now Available in 47 Canadian Retail Stores" (February 9, 2016)
Report #10 "True Leaf's Selling Fast" (December 10, 2015)
Report #9 "True Leaf Expands to Europe" (November 2, 2015)
Report #8 "True Leaf Unveils New Product Line" (September 17, 2015)
Report #7 "Another Key Piece for the True Leaf Puzzle" (September 8, 2015)
Report #6 "True Leaf Pet's Hemp Chew Product Line to be Distributed Across Canada" (August 12, 2015)
Report #5 "Interview with True Leaf's CEO Darcy Bomford" (August 6, 2015)
Report #4 "One Step Closer Becoming A Licenced Medical Marijuana Producer" (July 21, 2015)
Report #3 "True Leaf on its way to production" (June 5,2015)
Report #2 "True Leaf To Enter The Pet Food Market With Hemp Products In Fall of 2015" (April 9, 2015)
Report #1 "True Leaf Medicine International Ltd. Goes Public" (February 9, 2015)
---
Stay Tuned!
For smartphones and tablets, an APP from Rockstone Research is available in the AppStore and in the GooglePlayStore.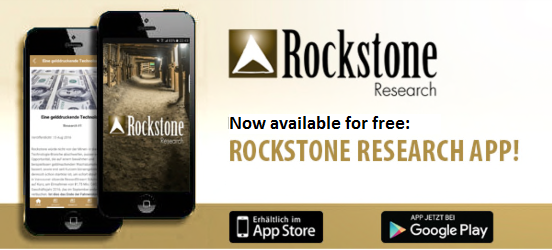 Disclaimer: Please read the full disclaimer within the full research report as a PDF (here) as fundamental risks and conflicts of interest exist.