Photo of an abandoned oil well with pressure valve (source: Arman Zhenikeyev)
Today, Voltaic Minerals Corp. announced to have confirmed historic brine flow from 5 oil and gas production wells on its 100% controlled Green Energy Project in Utah, USA. The company now intends to enter the brine system via existing production wells on the property in order to perform a bulk sampling program to confirm the presence of the lithium-bearing zone and to obtain data (e.g. flow rates, temperature, metallurgy and mineral composition). The sampled brine will be processed with the "Selective Lithium Extraction" technique developed by Enertrex Corp. As per today´s press-release:
"The recent data supports the Company's 3D model Phase 1 Work Program in confirming the historic presence of brine from Clastic Unit #14 along with several other potential zones spanning the Project acreage. Oil & gas consultants analyzed over 50 years' worth of oil & gas daily drilling reports, mud logs and well files from the Project and confirmed that brine flow in the wells originated from multiple horizons including Clastic Units #9, #10, #14, and #15. The target horizon as outlined in the 3D model, Clastic Unit #14, was intercepted in 3 of the 5 wells at an average depth of 6250 feet [1,905 m] and occupied an average thickness of 20 feet [6 m]. Clastic Unit #14, is an evaporate cycle which was discovered during historic drilling by Dr. John E Garret and several oil & gas companies when they experienced blowouts of over-pressurised brine systems due to its intersection. Lithium grades were reported up to as high as 187 mg/l on the property and up to 1700 mg/l 150 meters east of the Green Energy Lithium Project.
Voltaic Minerals Corp. will continue working with its oil & gas consultants to obtain access to the existing well head structures on the Project and enter the intricate system of brines. Utilizing the 3D model and the data disclosed herein, the Company intends to perform a bulk sampling work program to confirm the presence of the lithium bearing zone and associated brine data including but not limited to flow rates, temperature, and metallurgy. In addition, the Company intends to execute on its milestones of processing of the Green Energy Lithium Project brines using its Selective Lithium process with Enertrex Corp."
With 38 million shares issued and outstanding, and a current market capitalization of $3 million CAD, Voltaic is about to perform a bulk sampling program to commence testing and optimizing the Selective Lithium Extraction Process. Many other lithium brine juniors, with relatively high valuations, have been attempting, for quite some time, to find lithium brine zones with capital and time intensive exploration programs, not to speak of having a processing technology in hand (other than traditional solar evaporation, which in many cases is unlikely to be seriously considered).
In stark contrast, the Green Energy Project is more advanced as production wells already exist on the property with vast historic data indicating several lithium brine zones, which are about to be re-entered and bulk sampled. This will be a major milestone for Voltaic and will set it apart even more drastically from other lithium brine juniors in the space. The company is moving fast and straight to process development and optimization of its Green Energy Project.
On November 24, Voltaic has appointed Thomas Currin, a Chemical Engineer, to its Board of Directors, who is partner with Enertrex Corp; the company which has developed the Selective Lithium Extraction Process. Having worked 15 years with the lithium cartel member FMC Corp. (NYSE: FMC; market cap.: $7.9 billion USD), he clearly has an extensive background in process development and project management implementation. His last position at FMC was Division Production Coordinator of the company´s Lithium Division. Dr. Jonathan Hykawy, President of Stormcrow Capital Ltd., provided the following statement on November 24 shortly after Voltaic´s press-release appointing Tom Currin to its board:
"Almost every major lithium exploration initiative in the world today depends on the same, old types of resources, from the same regions, using the same old types of extraction technologies. For example, there are a horde of companies looking at extracting brine from dry salt lakes in the Andean altiplano in South America, or from the playa in Nevada. And there are a horde of companies examining the mining of low-grade spodumene ore in Australia, and elsewhere, so that it can be leached with acids to produce lithium. What Voltaic is doing, which combines potentially high-grade oilfield brines with new processing technology that bypasses evaporation, is very interesting. Not only does this potentially use unconventional sources of lithium, it might allow the industry to diversify the regions from which lithium is produced. And these oilfield brines are abundantly available. Yes, it's early days, but this is a really high-value path for exploration and research."
According to Voltaic:
"The Selective technique varies from traditional solar evaporation methods and has the potential to revolutionize Lithium processing as it stands today. The Lithium Selective technique could have the potential to efficiently process Lithium-bearing brines of differing metallurgy from various sources."
---
Interview with Tom Currin: "Lithium: from brine to market"
Voltaic Minerals aims to simplify extraction and commercialize the process
by Greg Klein on November 29, 2016 for Resourceclips.com
Cost of production and timeline to market—those are critical issues for any project in the increasingly crowded lithium space. And that's what attracted Thomas Currin to Voltaic Minerals TSXV:VLT. The newly appointed director/project manager sees the company's Green Energy project in Utah's Paradox Basin as highly prospective for creating a selective extraction process that would address both challenges. With Currin on board, Voltaic hopes not only to develop a successful project but to market the process to other companies.
"Some people like to classify lithium as a commodity, but it's a specialty chemical," Currin explains. "In the specialty chemical business you don't separate R&D and process development from manufacturing. A good specialty chemical company is one that's been able to integrate all those applications.
"I'm a chemical engineer who's been in the manufacturing process in the lithium field for 35 years," he adds. "With a manufacturing process background everything is about opex and capex, and how to optimize both."
Having managed lithium extraction projects in Chile, Peru, Mexico, Canada and the U.S., he's worked for FMC Lithium, Li3 Energy, his own company Limtech Technologies and currently Enertrex Corp, which signed an MOU with Voltaic late last month.
As technical consultant for Enertrex he's been working with two PhDs on selective removal of specific minerals from wastewater streams and geothermal brines. "We've come up with a technology that can extract lithium selectively, so we were looking for a project that could commercialize our technology. I've seen pretty much every lithium project in the world over the last 10 to 15 years, and what attracted me to Voltaic and the Paradox Basin are the oil and gas wells in a Basin that also has lithium salts and potassium salts."
Located about 965 kilometres from the Tesla Motors Gigafactory and close to road, rail, power and the Intrepid Potash NYSE:IPI Cane Creek solution mine, the 1,683-hectare Green Energy property underwent oil and gas drilling during the 1960s. Historic analysis of regional drilling showed lithium in saturated brines grading 81 mg to 174 mg per litre.
"Here's a project with historic wells, historic data, a few kilometres from a facility producing potash which is a very similar salt to lithium, and a company that realizes that time to market is critical.
"It seemed like a perfect match, the place to do process development work in parallel with resource development and demonstrate Enertrex's lithium-specific process. If we could remove the lithium economically, we could market it to other lithium projects. The technology would be a paradigm-shifter."
After evaluating historic data, Voltaic plans to re-perforate some of the wells and draw samples. While the company evaluates Green Energy's resource potential, Currin will study the concentrations of lithium and impurities like magnesium, calcium and boron to develop the processing chemistry.
"Sampling traditionally takes 20-litre amounts, but our first sample will be 20,000 litres so we can start processing it," he explains. "Our money will be invested in developing not only a 43-101 resource but also a process by which we can be competitive."
Call it optimistic or aggressive, Voltaic believes a property of merit could potentially offer customers a 100-kilogram sample of lithium carbonite within 14 months. Plans call for three 90-day testing phases into H2 of next year, when work would overlap with pilot-scale processing.
"This isn't my first rodeo," Currin notes.
With Limtech he developed a selective process to extract and concentrate silica from geothermal brines, which won the company a 2016 Outstanding Partnership Regional Award from the U.S. Federal Laboratory Consortium for Technology Transfer.
He's also worked on selective lithium-ion exchange resins with FMC and, in his client project work, evaluated the use of several lithium-selective solvent exchange systems.
"The membrane technology for de-salinization has become much more economical, that technology has blossomed in the last 10 years, and that's what we're taking advantage of—existing technologies, proven systems that we can re-configure to extract the lithium from a saturated impurity stream. With all the other technologies, you have to remove all the impurities before you extract the lithium. That's a tremendous cost."
In addition to replacing the lengthy solar evaporation stage, the process would feature a modular design that could speed progress from pilot plant to production. With Green Energy's existing wells, the project's fast-track potential looks good, he maintains.
Should success be achieved there, the process could be applied to deposits with different metallurgy, making the technique marketable to other companies.
"Chilean brines are the most cost-effective sources of lithium in the world," he says. "But there's growing demand for sources outside South America. Our selective extraction process could help other projects compete with the Lithium Triangle."
---
To find out more about Enertrex´s Selective Lithium Extraction Technique, Tom Currin´s background and Voltaic´s work program (consisting of 3 phases, each lasting about 90 days; whereas phase-1 has already begun), read Rockstone Report #7 "Cutting Edge in the Lithium Space" and Report #6 "Voltaic Minerals partners up to demonstrate a lithium processing plant within 9 months":


Cutting Edge in the Lithium Space
Report #7 (November 24, 2016)
Voltaic Minerals partners up to demonstrate a lithium processing plant within 9 months
Report #6 (November 1, 2016)
---
Company Details
Voltaic Minerals Corp.
Suite 1450 - 789 West Pender Street
Vancouver, BC, V6C 1H2 Canada
Phone: +1 604 681 1568
Email: djones@voltaicminerals.com
Web: www.voltaicminerals.com
Shares in the market: 38,229,135
Canada Symbol (TSX.V): VLT
Current Price: $0.09 CAD (12/09/2016)
Market Capitalization: $3 million CAD
Germany Symbol/ WKN (Tradegate): 2P61 / A2AG5Q
Current Price: €0.062 EUR (12/09/2016)
Market Capitalization: €2 million EUR
---
Stay Tuned!
For smartphones and tablets, an APP from Rockstone Research is available in the AppStore and in the GooglePlayStore.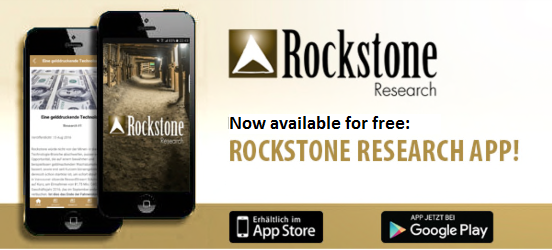 Disclaimer: Please read the full disclaimer within the full research report as a PDF (here) as fundamental risks and conflicts of interest exist.