Today, Voltaic Minerals Corp. has appointed Thomas Currin to its Board of Directors. With decades of experience as a chemical engineer, he will add significant lithium project engineering and processing expertise as Voltaic's Project Manager for the Green Energy Lithium Project in Utah, USA.
On October 31, Voltaic signed an MOU with Enertrex Corp. to start process development and optimization for the Green Energy Project using Enertrex's "Selective Lithium Process", a system that selectively extracts lithium from brines. Mr. Currin is a partner of Enertrex Corp.
With over 35 years of chemical engineering experience in the lithium and specialty chemicals industry, he clearly has an extensive background in process development and project management implementation. He has worldwide experience in lithium extraction having managed projects in Chile, Peru, Mexico, Canada and the US. He spent 15 years with FMC Corp.'s (NYSE: FMC; market cap.: $7.4 billion USD) lithium division, where his last position was Division Production Coordinator. After retiring from FMC, he started his own engineering services firm, Limtech Technology, providing engineering services to the Specialty Chemical Industry (lithium, potash and antimony) as well as to the Biofuels Industry. Limtech has been a technology provider for Du Pont Chemicals, DOE Oak Ridge, Foote Mineral Lithium Division, Li3, TVEL and SQM Lithium Division. Tom holds a Bachelor of Science, Chemical Engineering from North Carolina State University.
The signed MOU with Enertrex Corp. will enable the project to move straight to process development and optimization of its supersaturated brine, rich in lithium and other minerals. Voltaic and Enertrex are now fast-tracking the project and expect that after 3 phases, each lasting about 90 days, a demonstration plant could be installed for production of lithium carbonate at competitive costs
Dr. Jonathan Hykawy, President of Stormcrow Capital Ltd., provided the following statement today:
"Almost every major lithium exploration initiative in the world today depends on the same, old types of resources, from the same regions, using the same old types of extraction technologies. For example, there are a horde of companies looking at extracting brine from dry salt lakes in the Andean altiplano in South America, or from the playa in Nevada. And there are a horde of companies examining the mining of low-grade spodumene ore in Australia, and elsewhere, so that it can be leached with acids to produce lithium.
What Voltaic is doing, which combines potentially high-grade oilfield brines with new processing technology that bypasses evaporation, is very interesting. Not only does this potentially use unconventional sources of lithium, it might allow the industry to diversify the regions from which lithium is produced. And these oilfield brines are abundantly available. Yes, it's early days, but this is a really high-value path for exploration and research."
Tom Currin stated in today's news:
"Voltaic Minerals Corp. provides me with an exciting opportunity to develop an accelerated project in conjunction with a Selective Lithium process with the goal of recovering Lithium from the mining friendly jurisdiction of Utah".
According to today's news:
"Voltaic Minerals Corp. is also commencing process development and optimization using a Lithium Selective technique developed by Enertrex Corp. in accordance to a signed MOU agreement announced October 31, 2016. The Selective technique varies from traditional solar evaporation methods and has the potential to revolutionize Lithium processing as it stands today. The Lithium Selective technique could have the potential to efficiently process Lithium-bearing brines of differing metallurgy from various sources."
The Enertrex "technology" is not really a novel technology as it uses a series of off-the-shelf equipment sets which run known processes in multiple stages. Yet this industry standard equipment is deployed in unusual fashions to produce a cleaned and concentrated lithium solution from a brine containing a lot of contaminants such as magnesium, calcium, boron. The Enertrex system basically replaces evaporative concentration and much of the traditional chemical treatment to remove contaminants.
The system does not, per se, produce an end-product such as lithium carbonate. However, a conventional lithium precipitation process may add about $1,000 USD/t LCE ("Lithium Carbonate Equivalent") to the overall processing costs, depending on feedstock factors.Thus, a cleaned and concentrated lithium solution, which Enertrex and Voltaic believe can be produced with most of contaminants removed at competitive costs, should be suitable for a conventional extraction plant producing lithium carbonate.
In case Enertrex and Voltaic are successful in demonstrating competitive costs comparable with current lithium producers from South American brines, Voltaic would be in a very strong position as there exists enough brine in North America suitable for this novel processing method.
Imagine the implications for Voltaic being capable of producing as much lithium as required by the market from a US site of supply. As Voltaic stated today, it has "the potential to revolutionize the lithium processing as it stands today".
Voltaic will be granted the worldwide exclusive rights to market and utilize this process for selective lithium extraction as Voltaic is paying the costs of the 3 phases, each running for about 90 days, in exchange for the license to utilize the development process technology exclusively.
Voltaic and Enertrex will jointly work on commercialization of the Selective Lithium Process for use on, but not limited to, brines from the Green Energy Project.
As such, it doesn't surprise that Enertrex wouldn't want to offer such a novel brine processing method to one of the lithium cartel members as they arguably want their large salars in South America to be the primary supply for the indefinite future. If sold to one of the majors, it may never see the light of day.


---
Why have Tom Currin and Enertrex chosen Voltaic for its Selective Lithium Process?
The Green Energy Project has many advantages to other brine projects (most of which are exploration projects far from being at a commercial level), e.g.:
• It's not a typical exploration project, it's an engineering and process development project as vast historic data exists from past operators indicating a very large and lithium-rich reservoir. Engineering reports from the 1960s conclude that the brine reservoir is extensive (over 16 km2) and is recharged from fresh in-flows as indicated by well pressure measurements, drawdown tests and oxygen-deuterium isotopes.
• Production wells already exist on the property. These abandoned wells could be refurbished and put back into operation at relatively low costs.
• Pressure: Past drilling showed that the brine zone is under strong pressure, which would facilitate production as no, or limited, pumping may be required in order to get the brine to surface.
• Temperature: Historic information indicates that the brine is hot. Most other brines worldwide are cold, and must get heated to utilize new extraction technologies. The heating of large volumes is costly.
• Supersaturated brine: Historic well drilling in the area around the Green Energy Property showed very high lithium grades with up to 1,700 mg/L. Lithium occurs in an over-saturated brine (40% minerals, 60% water; i.e. the minerals are already in solution / dissolved solids).
• Infrastructure: The project is ideally located for development with excellent infrastructure including railhead and transmission lines in proximity.
---
The Process
The Enertrex technology utilizes a reaction/transport mechanism in a process using modified commercial units with off-the-shelf sets of equipment in a modular fashion in order to selectively extract lithium from brines with substantial concentrations of other minerals. This process essentially replaces solar evaporation and much of the traditional chemical treatment to remove impurities such as magnesium, calcium and boron. A key cost driver for an economic lithium project is managing the prohibitive cost of impurity removal from a brine.
---
Phase 1
Enertrex will take the available historic data collected out of oil and gas production wells and re-produce the brines with the exact same compositions. These representative "synthetic mixtures" will be used to determine the costs to selectively extract the lithium from these brines. The stated objective is an operating cost comparable to other lithium carbonate brine projects. Simultaneous to this work, Voltaic targets a brine bulk sampling program from existing wells on the property in order to test Enertrex's Selective Lithium Process with actual, recent brine samples from Green Energy Lithium Project.
Phase 2
Upon the successful completion of Phase 1, the next phase will optimize the Selective Lithium Process for the Green Energy Project. At the same time, brines from other projects could be tested as well. The goal of Phase 2 is to identify ideal brine metallurgy for the process and to obtain a consistent source of supply for the development of Phase 3.
Phase 3
If Voltaic is satisfied with the results of Phase 2, the next phase will involve the construction of a pilot unit with a capacity of 20 gallon (76 liter) per minute to demonstrate and confirm operating costs of a commercial system. Demonstration of the unit using brine from, but not limited to, the Green Energy Project will be carried out for further confirmation giving Voltaic the ability to source brines globally.
---
Green Energy Lithium Project video
---
Company Details
Voltaic Minerals Corp.
Suite 1450 - 789 West Pender Street
Vancouver, BC, V6C 1H2 Kanada
Telefon: +1 604 681 1568
Email: djones@voltaicminerals.com
Web: www.voltaicminerals.com
Shares in the market: 38,229,135
Canada Symbol (TSX.V): VLT
Current Price: $0.065 CAD (11/23/2016)
Market Capitalization: $3 million CAD
Germany Symbol/ WKN (Frankfurt): 2P61 / A2AG5Q
Current Price: €0.04 EUR (11/24/2016)
Market Capitalization: €2 million EUR
---
Previous Coverage
Report #6: "Voltaic Minerals partners up to demonstrate a lithium processing plant within 9 months"
Report #5: "Voltaic Minerals Encouraged by Macarthur Minerals' Lithium Results"
Report #4: "The perfect brine project for someone like Albemarle"
Report #3: "Prima Diamond becomes Voltaic with focus on energy metals"
Report #2: "Early Warning Report on Prima Diamond"
Report #1: "Prima Diamond Acquires the Green Energy Project in Utah with Historic Lithium Grades of 1700 mg/L"
---
Stay Tuned!
For smartphones and tablets, an APP from Rockstone Research is available in the AppStore and in the GooglePlayStore.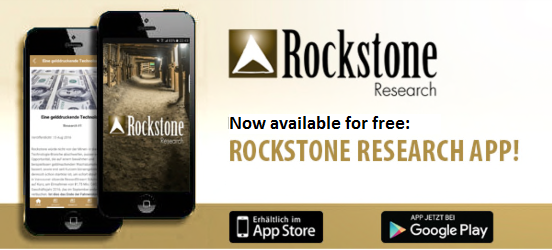 Disclaimer: Please read the full disclaimer within the full research report as a PDF (here) as fundamental risks and conflicts of interest exist.