After a complete restructuring of the company, King's Bay Gold Corp. (operating as King's Bay) today announced the acquisition of the Lynx Lake Property in Labrador, Canada. Prior to 2008, the property was deemed too remote and as such remained virtually unexplored.

In 2008, the Department of Transportation constructed the new Trans-Labrador Highway, which now runs through the property, making it easily accessible. During blasting for road aggregate on the property in the same year, disseminated and massive sulphide mineralization was discovered.

In 2009, local prospectors sampled and assayed the aggregate quarry on the eastern portion of the property and assayed up to 0.94% cobalt, 1.39% copper, 0.21% nickel and 6.5 g/t silver.

In 2014, regional low resolution magnetic surveys by the government and hand-held electromagnetic surveys by local prospectors revealed strong conductors beneath the overburden.

In 2015, the western portion of the property was grab sampled, yielding 0.57% cobalt, 1.03% copper, 0.1% nickel, 0.36% chromium, 0.39% molybdenum, 0.23% vanadium and 5 g/t silver.

Although the property has never been drilled before, the sampling assays in both the eastern and western part of the property indicate great possibility for a large body of mineralization at shallow depths. Thanks to excellent road accessibility to deep sea water ports, a power line that runs directly adjacent to the property and the proximity to the town of Happy Valley-Goose Bay, King's Bay believes that it's a perfect time now to explore this highly prospective property amid rising energy metal prices, first and foremost the battery-critical element cobalt.


The Lynx Lake Property benefits from proximity to the Trans-Labrador Highway (to the left of above picture) and a 3-phase power line running across the property (to the right of above pricture). The Trans-Labrador Highway goes directly to deep water ports (see below map).


Researching cobalt projects around the world and particularly in North America, Rockstone has found the Lynx Lake Property being one of the best early-stage projects, with a real chance of making a significant discovery with an upcoming drill program.

Although surface grades are not comparable to resources, reserves or production grades, King's Bay's grab samples of 0.94% cobalt, 1.39% copper, 0.21% nickel, 0.23% vanadium, 0.39% molybdenum, 0.0112% bismuth and 6.5 g/t silver are an indication of what an upcoming drill program may discover.

Ram Gold-Cobalt-Copper Deposit

Owner: eCobalt Solutions Inc. (TSX: ECS; market cap.: $59 million CAD)

Location: Idaho, USA

Measured & Indicated Resource:
0.53 g/t gold
0.55% cobalt
0.75% copper

NICO Gold-Cobalt-Bismuth-Copper Deposit

Owner: Fortune Minerals Ltd. (TSX: FT; market cap.: $38 million CAD)

Location: Northwest Territories, Canada

Proven & Probable Reserves:
1.03 g/t gold
0.11% cobalt
0.14% bismuth
0.04% copper

Voisey's Bay Copper-Cobalt Deposit

Owner: Vale S.A. (NYSE: VALE; market cap.: $35 billion USD)

Location: Labrador, Canada

Production Grades:
0.85% copper
0.09% cobalt
Exploration

The Lynx Lake Property is workable year round and King's Bay has already deployed a team for a preliminary surface sampling program on the existing pits, as well as a reconnaissance program and an electromagnetic (EM-16) survey on the surrounding land package to possibly locate more undiscovered exposure and conductors. During the winter, the preliminary program will be followed by data compilation and initiation of an airborne geophysical survey to locate high priority drill targets.


Mineralization

Initially, there was little to no exposure on the property until the construction of the Trans-Labrador Highway commenced. Now, due to excellent accessibility and new discoveries of mineralization in bedrock, the property has great exploration potential. Grab samples from gossanous areas of the rock pits have yielded assays up to 1.39% copper, 0.94% cobalt, 6.5g/t silver, 0.21% nickel and 0.23% vanadium. Veins of massive sulfide can be seen throughout these areas. Molybdenite has also been discovered in the western area of mineralization yielding 0.392% molybdenum and 112 ppm bismuth. A previous VLF survey, carried out by previous owners, has indicated good conductors present in the subsurface in several areas of the mapped granite. The property has great potential as an exploration target for an economic Copper-Cobalt-Nickel Magmatic or IOCG type deposit.


Geology

The property is situated in the Grenville Province and is Proterozoic in age. It is separated by a north easterly trending fault. The western portion of the property is underlain by granite, granodiorite and gneiss that varies texturally from weakly foliated to well banded. The eastern portion of the property is underlain by granite, amphibolite with massive gabbro, norite and troctolite units. Detailed bedrock mapping will help better define the local geology of the area.
---
About Cobalt
At this time, the price of cobalt is rising due to a combination of factors. Some of these factors are related to unsettled conditions in areas such as the Democratic Republic of Congo, where the majority of the world's cobalt is recovered.
Other factors include an increased demand for rechargeable batteries. A single rechargeable ion car battery contains as much as 20 kg of cobalt. In addition to batteries, cobalt is used in alloys for aircraft engine parts and for alloys with corrosion/wear resistant uses.
Cobalt also has many medical uses; cobalt isotopes are used to produce stable dichromatic beams in "cobalt therapy", which is used to treat cancer. Molybdenum is also an important element of interest and can be used in fertilizer as well as battery electrodes (Source: King's Bay).
-- By 2020, cobalt use in battery applications alone could be greater than the entire world market for refined cobalt in 2015.
-- 10-20 kg of cobalt inside a typical lithium-ion car battery (up to 60% cobalt by weight)
-- Battery usage accounts for 49% of cobalt demand
-- Between 47-65% of mined cobalt is sourced from the Congo
-- China refines 52% of the world's cobalt
-- Significant cobalt is also mined from nickel-cobalt laterite deposits, which have higher capital and processing costs relative to sulphide deposits
Cobalt resource and reserve base have not changed over the past decade with over 50% of cobalt reserves located in the African Copper Belt in the Democratic Republic of the Congo (DRC) and Zambia (Source: CRU). The next largest source of cobalt comes from Australia, Cuba, South East Asia and Pacific in the form of nickel laterites. Cobalt is also found in Canada, Russia and Western Australia in nickel sulphide deposits. Due to the nature of these deposits, cobalt production is generally a byproduct of nickel and copper mines. Currently 60% of cobalt production comes from copper mining, 38% from nickel operations and only 2% are primary cobalt mines located in Morocco and Uganda (Source: CRU).
Production of cobalt from primary cobalt mines are not affected by nickel and copper prices. Weak nickel and copper prices have negatively impacted cobalt supply due to the suspension and closure of a number of large nickel and copper projects including Glencore/Katanga Mining (representing 10% of global cobalt metal supply), Votorantim, ERG/Chambishi, Norilsk Nickel, and Queensland Nickel (Source: Darton).
Approximately 65% of the world cobalt supply is mined from the DRC with 69,200 tonnes produced in 2015 (Source: Darton). Despite the reduction in cobalt production related to nickel and copper projects, total cobalt output from the DRC increased by 9% in 2015 and this was due to increase in cobalt production from artisanal mining (Source: Darton). Artisanal mining accounts for approximately 22% of total cobalt production from the DRC. Supply from artisanal production is expected to taper off as easily accessible high grade reserves get depleted. Current low cobalt prices make artisanal mining less profitable and this may also impact artisanal mining output. In addition, Amnesty International published a report in January 2016 titled "This Is What We Die For" which exposes abuses of the human rights, safety and environmental issues related to artisanal mining in the DRC. The article also made allegations against global technology companies for using cobalt sourced from artisanal mining supply, highlighting the importance of supply chain management and traceability of the sourcing raw materials. This may also result in regulation changes relating to artisanal mining activities in the DRC (Source: eCobalt).
China is the largest importer of cobalt raw materials estimated at 65% or 59,223 tonnes of world supply in 2015 (Source: Darton). Approximately 94% of Chinese import comes from cobalt contained in intermediates such as crude hydroxide produced in the DRC (Source: Darton). In turn, China is also the largest producer of refined cobalt with a 9% growth in production in 2015 representing 52% or 48,500 tonnes of world production. This growth is predominately driven by demand from downstream markets. This growth forces Chinese biggest refiners and producers to expand and aggressively acquire cobalt assets. This was demonstrated by China Molybdenum's acquisition of Freeport McMoRan Inc.'s Tenke Fungurume flagship copper-cobalt asset in the DRC for US$2.65 billion in April 2016. In addition to this acquisition, China Molybdenum also has the option to acquire Freeport's Kisanfu project in the DRC and its interest in the Kokkola Cobalt Refinery in Finland for US$100 million (Source: eCobalt).
As a result of increase in demand and reduction in supply of cobalt, overall supply demand balance is forecasted to progressively tighten over the medium and long term with minimal prospects of new cobalt projects coming into production within the next decade. Demand for metallurgical cobalt will continues to grow against supply even though there is a small surplus in metallurgical cobalt supply. Significant increase in demand of non-metallurgical or cobalt chemicals used in rechargeable batteries will cause deep deficit. The combined effect is expected to result in a projected deficit of greater than 10,000 tonnes annually by 2020. Historically, metallurgical supply demand balance has the most impact in setting market cobalt price and this tends to also influence the price of non-metallurgical or cobalt chemicals. The serious deficit expected in the non-metallurgical or cobalt chemicals may change these market dynamics (Source: eCobalt).
The Idaho Cobalt Project (ICP) is the only primary cobalt deposit located in the United States that is near term and fully environmentally permitted. Once in production, North American consumers will have access to an ethically sourced, environmentally sound, transparent supply of high purity cobalt chemicals, produced safely and responsibly in the United States. Retail consumers will not have to be concerned they're using a product unethically mined by children in the DRC (Democratic Republic of Congo) and Industrial consumers can enure their supply is not reliant upon nickel and copper by-products which currently make up 98% of the worlds cobalt supply. Only 2% of the worlds cobalt comes from primary cobalt deposits (Source: eCobalt).
---
Is cobalt the 'choke point' for future lithium battery production?
By James West of Midas Letter on October 20, 2016
Cobalt is so critical in the lithium ion battery supply chain that companies are eager to look outside the Democratic Republic of Congo for a more secure source of the mineral, says Simon Moores, of Benchmark Market Intelligence.
"I think cobalt is the most critical of the battery raw materials," he said an interview at this week's Benchmark Mineral Intelligence world tour held at Toronto's National Club. "I don't think it's necessarily the most important. I think that's actually lithium. But cobalt, really, because 66 per cent comes from the DRC (Democratic Republic of Congo), then you've basically got a very lopsided industry from the supply perspective."
Any problems with cobalt delivery will create problems downstream for manufacturers like Apple and Tesla who will look for other sources, said Moores...
Pressure is mounting globally from human rights groups who point to the widespread use of child labour in the DRC, and the forced relocation of entire villages without consent that is commonplace by mining companies supported by the government. DRC is ranked 4th in the world by Verisk Maplecroft, a global risk analytics, research and strategic forecasting company based in the U.K. According to them, cobalt is poised to become labelled as the world's next "conflict" mineral.
Many artisanal miners working semi-legally operate in extremely dangerous conditions, and Maplecroft's analysts say while increased supervision over the Congo's mining industry could result in companies having elevated costs due to reputational damage and the need to provide additional reporting, existing regulations have proven difficult to enforce and as such they are unlikely to really impact the sector.
Moores says that the added risk constitutes a "corporate social responsibility" (CSR) problem that is likely to see battery producers prefer cobalt sourced outside of the DRC if it is available. For companies like Cruz Capital, that implies an opportunity that few other junior miners have been able to take advantage of.
"Any problems, geopolitical or otherwise, within the Congo and/or China, will definitely affect the rate at which cobalt is produced," said Nelson, pointing out that all of his company's cobalt properties are located within North America."
Simon Moores from Benchmark Mineral Intelligence says that cobalt is the most critical of the battery elements, creating opportunities for companies that can offer a more secure source. Click on below image (or here) to watch the interview with Simon Moores:
---
---
Company Details
King's Bay Gold Corp.
Suite 1450 – 789 West Pender Street
Vancouver, B.C. V6C 1H2 Canada
Phone: +1 604 681 1568
Email: brad@kingsbayres.com
www.kingsbayres.com

Shares Issued & Outstanding: 28,256,123


Canadian Symbol (TSX.V): KBG
Current Price: $0.085 CAD (10/26/2016)
Market Capitalization: $2 million CAD


German Symbol / WKN (Frankfurt): KGB1 / A2AN0E
Current Price: €0.053 EUR (10/26/2016)
Market Capitalization: €1 million EUR
---
Stay Tuned!
For smartphones and tablets, an APP from Rockstone Research is available in the AppStore and in the GooglePlayStore.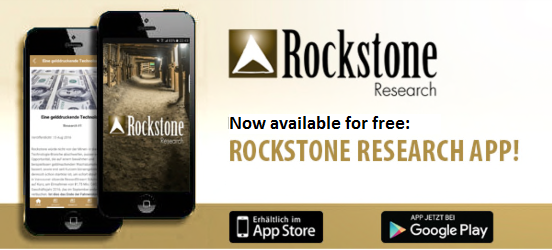 Recently, Zimtu Capital Corp. launched the Beta Version of its Advantage APP, in which all interlisted stocks (i.e. all public companies listed in Canada and Germany) can be tracked. After a cost-free registration, the full features of the APP are unlocked, e.g. sorting all stocks with the biggest daily trading volumes on all German or Canadian exchanges (see instructions in the section "How To Use"): www.zimtuadvantage.com
See Rockstone Report introducing and explaining the Zimtu Advantage App here.
Disclaimer: Please read the full disclaimer within the full research report as a PDF (here) as fundamental risks and conflicts of interest exist.