Today, Pistol Bay Mining Inc. announced the acquisition of all properties and deposits from AurCrest Gold Inc. and Glencore in the Confederation Lake Greenstone Belt southeast of Red Lake in Ontario, Canada. MINING.com also provided a summary of this significant acquisition.
The property package (5'136 hectares) covers a 31 km length of the Confederation Lake Greenstone Belt and includes 2 substantial zinc-copper deposits and a number of zones which are in need of follow-up drilling. In combination with the already optioned, near-by Dixie and Dixie 3 Properties, Pistol Bay now controls 7'050 hectares containing most of the significant mineral occurrences over 43 km of the total 60 km length of the Confederation Lake Greenstone Belt.
Charles Desjardins, President of Pistol Bay, stated:
"Together with the Dixie and Dixie 3 properties that Pistol Bay already holds under option, this acquisition positions the Company as the dominant land holder in a very prolifically mineralized VMS-rich belt. Our holdings include the largest zinc-copper-silver deposit in the area, the second-largest VMS deposit remaining (Fredart Lake Property), and a portfolio of exploration targets ready for follow up drilling. Pistol Bay proposes an ambitious exploration program that will not only pursue existing targets and known VMS deposits, but will use the latest airborne geophysical survey technologies to explore the whole area to a greater depth than was possible in the past."
Pistol Bay is engaged in compiling data and re-appraising the AurCrest property with a view to planning an aggressive exploration program that will generate new drill targets, as well as follow up existing target areas and known deposits.

Today's acquired property package includes 2 major zones with significant zinc, copper and gold grades. Pistol Bay has recognized the opportunity to follow-up on these discoveries with renewed exploration to include a drilling and modern geophysics.


Arrow Zone
NI43-101 compliant resources:

3% zinc equivalent cutoff:
Indicated: 2.1 million t @ 5.92% zinc, 0.75% copper, 21.1 g/t silver and 0.58 g/t gold
Inferred: 120'550 t @ 2.6% zinc, 0.56% copper, 18.6 g/t silver and 0.4 g/t gold

5% zinc equivalent cutoff:
Indicated: 1.8 million t @ 6.75% zinc, 0.79% copper, 22.3 g/t silver and 0.61 g/t gold
Inferred: 51'630 t @ 3.86% zinc, 0.79% copper, 23.9 g/t silver and 0.58 g/t gold
10% zinc equivalent cutoff:
Indicated: 633'000 t @ 14.3% zinc, 1.11% copper, 31.7 g/t silver and 0.85 g/t gold


Copperlode "A" / Fredart Zone
The other substantial deposit is the Copperlode "A" or Fredart Zone. It has a historical mineral resource of 425'000 t grading 1.56% copper. The zone was drill-tested to a depth of approximately 200 m over a length of 350 m, and was reported as being open at depth. The area was also explored for molybdenum in the 1970s, and samples containing up to 1.46% molybdenum were reported.
A diamond drilling program was carried out by AurCrest in 2010, in an attempt to expand the resource base by drilling down a possible easterly plunge in the area of an IP anomaly. A fence of 5 holes was drilled, without intersecting any significant mineralization. A borehole EM survey carried out on those drill holes in 2010 identified a strong off-hole conductor in 2 adjacent holes, with an interpreted conductive zone lying between the 2 holes. It is anticipated that this anomaly may represent the down-plunge extension of the Copperlode "A" zone, or possibly a new zone.

The following is a partial list of diamond drill intercepts in the Joy-Caravelle area, which occupies a separate claim group west of the main AurCrest holdings:

Joy Zone:
3.35 m @ 0.17% zinc, 4.01% copper
Diamond Willow:
4.2 m @ 1.8% zinc, 2.3% copper
Caravelle Zone:
1.1 m @ 4.4% zinc, 0.2% copper
Joy South:
0.6 m @ 17.7% zinc, 0.28% copper
Creek Zone:
0.95 m @ 0.16% zinc, 1.37% copper
Bottom-line: The Copperlode "A" Deposit (425'000 t @ 1.56% copper) is a copper-rich zone that may well have a significant gold content. Gold was not assayed in most of the old holes but, where it was assayed for, it showed 0.3-0.6 g/t gold. In the Confederation Lake Belt there is 1 VMS deposit with a NI43-101 resource (Arrow Zone) and Pistol Bay has it. There are also 4 deposits with non-43-101 resources of more than 100,000 t, and Pistol Bay has 3 of them.
---

About VMS Deposits
• Gold tends to be associated with copper-rich VMS ("Volcanogenic Massive Sulphide") deposits, while silver is more important in zinc-rich VMS systems.
• VMS deposits tend to occur clustered in districts. It is not unheard of to identify up to 2 dozen deposits in an area of a several tens of square kilometers. This makes known VMS districts excellent hunting grounds for new discoveries.
• Though it has not always been easy to pin-point all the deposits in a given location, improvements in exploration techniques have made the process significantly easier.
• Deposits within a specific district tend to have similar metal ratios and a fairly narrow range in composition.
• In any given district, deposits will tend to range in size from less than one million tonnes to several tens of millions of tonnes, with most deposits at the small end of the range and only a few large deposits. As such, exploration companies have been able to identify new VMS deposits in previously discovered districts.
• A prime example of this is the Flin-Flon mine in Manitoba, Canada, which has been in operation for over 80 years. The mine was closed then re-opened following the discovery of additional VMS deposits in the area.
• VMS deposits are particularly prevalent in Canada. Out of the approximately 800 known VMS deposits in the world, there are close to 350 in Canada. Canadian VMS deposits account for 27% of the country's copper production, 49% of its zinc, and 40% of its silver. Worldwide, VMS deposits account for much less copper production, at an estimated 6%. However, 22% of the world's zinc, 9.7% of lead, 8.7% of silver, and 2.2% of gold are extracted from VMS deposits.
---
Examples of a world-class VMS deposits


Noranda
The Noranda District in Québec contains the most thoroughly studied and documented VMS deposits of any Archean volcanic complex. Over an 85-year period, 20 economic VMS deposits have been discovered by prospecting, geological, geophysical and lithogeochemcial techniques. The Noranda District is also host to 19 small, orogenic gold deposits. These deposits only account for a small amount of gold production. Noranda's Horne VMS Deposit is the top producer, with almost 10 million ounces of gold production to date.

Underground at the Ansil Mine in the Noranda area, which is the deepest VMS deposit mined in the Noranda camp (average depth below surface of about 1'300 m). The photo shows contact between a magnetite-rich lens and the overlying chalcopyrite-pyrrhotite ore. This ore carries little zinc, but substantial gold grades. Stockworks in the Northwest Rhyolite below the deposit include both copper-rich and magnetite-rich types (source).



Flin Flon
For over 75 years, the Flin Flon Greenstone Belt in Manitoba was a significant contributor of base metals and gold. It hosts 27 significant VMS deposits that originally contained over 154 million t of ore. The Flin Flon Belt VMS deposits display a wide range of metal contents and associations including copper, copper-zinc, zinc-copper, and zinc-copper-lead deposits. Most of the Flin Flon VMS deposits contain between 1 and 2 g/t of gold. The Flin Flon Zinc-Copper Deposit produced almost 4 million ounces of gold, making it the third largest VMS producer of gold in Canada.
The Flin Flon Belt comprises 3 VMS clusters within a large (250 km long) greenstone belt. The Flin Flon cluster contains at least 12 deposits that aggregate 80 million t of which 62 million tonnes was in the Flin Flon Mine that produced from 1930-1992. The 777 Deposit is still being mined from the Flin Flon shaft. The Snow Lake cluster contains 12 VMS deposits aggregating 40 million t. The third cluster is in Saskatchewan and contains 2 VMS deposits. The Confederation Lake Belt is analogous to one of those clusters. It is part of a greenstone belt that extends from Lake Winnipeg in the west to Pickle Lake. It includes the Bisset, Red Lake, Birch Lake and Pickle Lake gold camps as well as iron ore deposits and lithium pegmatites. Birch Lake gold camp is where AurCrest is focussed now.
---
"We're zinc bulls," Morgan Stanley said. "But its 2016 price performance has surprised even us. Any upside from here depends on China's steel production rate and Glencore's willingness to re-fire some of its mine supply." Zinc has led gains in metals this year after the shutdown of depleted mines coupled with Glencore's cutbacks. Chief Executive Officer Ivan Glasenberg has repeatedly argued the case for miners not producing materials into oversupplied markets, saying in May that volume growth can't be an end in itself. Morgan Stanley said zinc is its top commodity pick, while Goldman Sachs Group has dubbed it the "bullish exception" among metals. (Source: Bloomberg)
Speculation has now turned to whether producers would bring mines back into production. In the half year report Glencore kept full year guidance on zinc production steady at lower levels. A table tucked away in the report gave an indication why. Despite zinc's huge run-up this year the average price in the first half is still 16% below the same period last year. Glencore may be looking for further evidence zinc has entered a new boom phase before switching on its considerable capacity. (Source)
---
Company Details
Pistol Bay Mining Inc.
Suite 760 - 777 Hornby Street
Vancouver, B.C. V6Z 1S4 Canada
Phone: +1 604 369 8973
Email: info@pistolbaymininginc.com
www.pistolbaymininginc.com

Shares Issued & Outstanding: 24'770'757
Canadian Symbol (TSX.V): PST
Current Price: $0.11 CAD (October 18, 2016)
Market Capitalization: $3 million CAD
German Symbol / WKN (Frankfurt): 0QS2 / A12DZH
Current Price: €0.069 EUR (October 19, 2016)
Market Capitalization: €2 million EUR
---
Previous Coverage
Report #2: "Pistol Bay acquires new zinc project amidst smoking hot zinc prices" (September 1, 2016)
Report #1: "Early Bird Special Report: Pistol Bay with Zinc like a Phoenix from the Ashes?" (July 29, 2016)
---
Stay Tuned!
For smartphones and tablets, Rockstone has published an app in the AppStore and in theGooglePlayStore.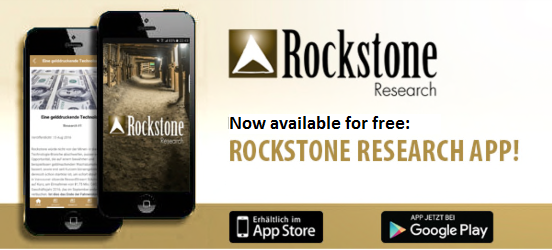 Recently, Zimtu Capital Corp. launched the Beta Version of its Advantage APP, in which all interlisted stocks (i.e. all public companies listed in Canada and Germany) can be tracked. After a cost-free registration, the full features of the APP are unlocked, e.g. sorting all stocks with the biggest daily trading volumes on all German or Canadian exchanges (see instructions in the section "How To Use"): See Rockstone Report introducing and explaining the Zimtu Advantage App here.
Disclaimer: Please read the full disclaimer within the full research report as a PDF (here) as fundamental risks and conflicts of interest exist.