Today, Golden Dawn Minerals Inc. announced the 100% acquisition of Kettle River Resources Ltd. ("KRR"), which makes Golden Dawn the owner of most historic mines and deposits in British Columbia's historic Greenwood Mining District.
Golden Dawn has recognized the opportunity for renewed exploration activities to add resources and to consolidate the entire district. Just at the right moment, management took advantage of the gold price pullback and has acquired KRR's mines and land positions to add more value to the company and its shareholders.
KRR discovered a high-grade silver zone with up to 1'044 g/t silver over 6.2 m and a near-by high-grade gold zone with 30.2 g/t gold over 7.3 m and 9.8 g/t gold over 9.8 m. Prior to that, KRR discovered another deposit and delineated a (historic) resource averaging 8.6 g/t gold. These 3 separate zones/deposits alone are projected to become additional sources for feeding Golden Dawn's Greenwood Mill.
Today's announced acquisitions add significant mineral rights and upside potential to the Golden Dawn's 100% owned May Mac, Lexington and Golden Crown Mines, all within a 15 km radius of its 200/440 t/d Greenwood Mill. In early September, Bob Moriarty hit the nail on the head when assessing the value of Golden Dawn's modern processing facility, which is currently being reactivated to start production in early 2017:
"The increase in the price of silver and gold has made several other small-scale mines in the Greenwood district economically viable and the company may do toll milling or simply buy out the owners."
Today's acquired property package covers 10'400 hectares and includes several significant historic mines, deposits and exploration targets that have already demonstrated, by historic exploration and production, great potential for resources to be defined and added to the resource inventory of Golden Dawn.
Bluebell/Oro Denoro
• In 1995-1996, Kettle River discovered high-grade gold. Results of chip samples across the zone included 30.2 g/t gold over 7.3 m and 9.8 g/t gold over 10 m.
• The Minnie Moore Showing was discovered in 2006. Trenching in 2007 showed 1'044 g/t silver over 6.2 m, 432 g/t silver over 5.8 m and 414 g/t silver over 8.5 m.
Sylvester K
• Discovered by Kettle River in a 1983 drilling program.
• Historic resource estimate of 50'000-100'000 t averaging 8.6 g/t gold. Grades are typically in the order of 8.5 g/t gold for the massive sulfide mineralization and about 10 g/t gold for the footwall style mineralization.
Tam O'Shanter
• Previously explored by Golden Dawn in 2011-2012, resulting in an inferred resource of 24.5 million t averaging 0.53 g/t gold, inclusive of the contiguous Wild Rose Property.
Phoenix
• The historic Phoenix Mine (including production from the Snowshoe, Brooklyn-Idaho and Stemwinder Mines) was active between 1900-1919 and 1956-1978, with production totaling over 1 million ounces of gold at grades of about 1.1 g/t gold, 18 million ounces of silver and 575 million pounds of copper at grades of about 0.9% copper.
• After mine closure (due to low copper prices and a shortage of coal for the smelter), the property was purchased by Noranda in 1979 and later by Kettle River.
• Great exploration potential to discover the high-grade source of mineralization below the underground mine workings. The geological origin of the copper-gold deposits at Phoenix is traditionally thought to be replacement or skarn-type deposits formed by interaction between mineralized fluids and Brooklyn limestone unit. However, the source of the fluids has not been discovered and it is generally assumed that granitic rocks under the mine area produced the mineralizing solutions. In addition to excellent potential for discovery of new replacement type deposits, the inferred source intrusions are a high priority exploration target for porphyry copper-gold deposits.
Phoenix Tailings
• 3 separate tailings sites situated on 2 claim blocks covering a total area of 413 hectares.
• Historical production records indicate that a total of approximately 13.2 million t of tailings were produced during the operation.
• From 1959-1967, the Tremblay Tailings consist of 4.19 million t of tailings, grading 0.15% copper, 0.38 g/t gold and 3.8 g/t silver.
• From 1967-1976, 7.33 million t of tailings with an average grade of 0.08% copper, 0.31 g/t gold and 3.1 g/t silver were discharged to the Twin Creek site.
• In the final years of operation, tailings were discharged into the open pit, which is estimated to contain 1.64 million t of tailings grading 0.09% copper, 0.17 g/t gold and 2.23 g/t silver.
• The results of metallurgical studies on material from 2 holes drilled into tailings indicate that re-grinding and cleaner flotation would produce a concentrate grading of approximately 18% copper and 207 g/t gold. Although very encouraging, considerably more information is required to assess the tailings resource and economic viability of tailings re-processing.
Bottom-line: As Bob Moriarty recently concluded in an article on Golden Dawn:
"If management executes their plan as well as they have over the last six month, investors have a nice alternative to buy into a small but profitable gold mining operation in the safest of jurisdictions. Don't be confused by the small resource, this was a major gold district in Canada and Golden Dawn has the only mill. That puts them in the catbird's seat."
---
Recent pictures from the past producing May Mac and Amigo Mines, where surface and underground drilling have started and are expected to be completed by year's end. Until then, a strong newsflow reporting drilling results is anticipated, besides news about the reactivation of the Greenwood Mill processing facility and dewatering the Lexington-Grenoble Mine.
Bulk sampling and test mining at May Mac is said to start in the first quarter of 2017 (assuming that a 10'000 t bulk sample averages 6 g/t gold, some 1'900 oz of gold worth $2.4 million USD could be produced with gold at $1'250 USD/oz, putting Golden Dawn into a first cashflow position).
Recent picture of surface drilling at the historic Amigo Mine (near May Mac):
Greenwood Project Update Video (click on image or here to view):
---
The Greenwood Mill was built and commissioned in 2008 and is in excellent shape:
Rougher and First Cleaner Float Cells: Golden Dawn's modern floatation circuit can produce gold doré bars to be sold directly to smelters. The facility was in operation only for a short period of time in 2008 and put on care and maintenance due to low gold prices of about $750 USD/oz (June 2016 PEA indicated all-in production costs of $820 USD/oz):
Conveyor Belts at the Greenwood Mill in excellent condition:
Primary ball mill:
Larox pressure filter for reagents:
---
Click on below charts to view 15 min. delayed version:
---
Company Details
Golden Dawn Minerals Inc.
Suite 900 - 525 Seymour Street
Vancouver, B.C. V6B 3H7 Canada
Phone: +1 604 221 8936
Email: allinfo@goldendawnminerals.com
www.goldendawnminerals.com
Shares Issued & Outstanding: 87'272'907
Canadian Symbol (TSX.V): GOM
Current Price: $0.23 CAD (10/17/2016)
Market Capitalization: $20 million CAD
German Symbol / WKN (Frankfurt): 3G8A / A1XBWD
Current Price: €0.16 EUR (10/17/2016)
Market Capitalization: €14 million EUR
---

Previous Coverage
Report #5: "Golden Dawn moving rapidly toward renewed operation"
Report #4: "Starting Shot for the May Mac Mine"
Report #3: "Ascend from explorer to producer secured: A Just-in-Time success story par excellence "
Report #2: "Golden Dawn secures funding to go into gold production in BC "
Report #1: "Perfect timing to go into gold production in British Columbia"
---
Stay Tuned!
For smartphones and tablets, Rockstone has published an app in the AppStore and in the GooglePlayStore.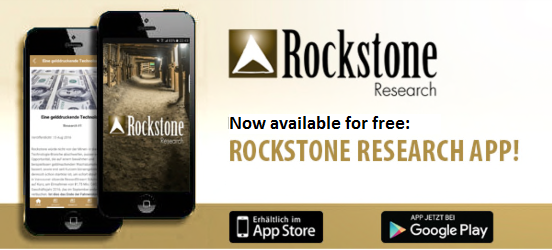 Recently, Zimtu Capital Corp. launched the Beta Version of its Advantage APP, in which all interlisted stocks (i.e. all public companies listed in Canada and Germany) can be tracked. After a cost-free registration, the full features of the APP are unlocked, e.g. sorting all stocks with the biggest daily trading volumes on all German or Canadian exchanges (see instructions in the section "How To Use"): See Rockstone Report introducing and explaining the Zimtu Advantage App here.
Disclaimer: Please read the full disclaimer within the full research report as a PDF (here) as fundamental risks and conflicts of interest exist.