This rock sample assayed 34,1 g/t gold and contains mariposite (chromium mica), muscovite, hematite, pyrite, and chalcopyrite
Today, MGX Minerals Inc. reported initial results from its exploration program at its 10,200 hectares sized Fran Gold Property within the Omineca Mining Division of central British Columbia in Canada.
In the eastern part of the property, MGX collected a total of 15 rock samples and 260 soil samples. Initial results from the first 68 soil samples have been analyzed and interpreted, whereas 1 rock sample yielded 34.1 g/t gold. Further results may be published soon. MGX also announced to have identified high-priority drill targets with a drill program being planned.
MGX focussed its exploration activities in the eastern part of the Fran Property and results to date indicate the discovery of a new zone to be drill tested for the first time. In the past, 87 holes totaling more than 15,000 m have been drilled in the Bullion Alley Zone of the Fran Property.
The Fran Property is situated only 35 km southwest of the Mount Milligan Mine from Thompson Creek Metals Company Inc. (market capitalization: $134 million CAD) with reserves of 5.7 million ounces of gold and 2.2 billion pounds of copper (2015 output: 205,000 ounces of gold).
As the source of the strongly mineralized rock sample is not known at this time, the upcoming drilling program may discover a new gold-rich zone, whereas geophysic surveys and interpretations have identified a highly prospective area.


The full version of today's press-release:
MGX Minerals Samples Up to 34 g/t Gold at Fran Gold Property
Vancouver, British Columbia / October 12, 2016 / MGX Minerals Inc. ("MGX" or the "Company") (CSE: XMG / FKT: 1MG) announces that initial results from 2016 field work at its 100% owned Fran gold property ("Fran" or the "Property") has generated numerous high-priority drill targets with significant gold and copper exploration potential.
Work in 2016 at Fran focused on further defining large-scale positive magnometer anomalies in the Fran East zone ("Fran East") (see Figure 1).
Fran East is located 35 kilometers' south-west of the Mount Milligan mine, which hosts 5.7M oz. Au / 2.2B lbs. Cu proven and probable reserves, and is operated by Thompson Creek Metals (TSX: TCM).
Field crews completed a 100-metre spaced soil sampling program at Fran East that included collection of 260 soil samples and 15 rock samples.
Assay results were submitted for interpretation to Activation Laboratories Ltd. ("Activation Laboratories)", who carried out spatiotemporal geochemical hydrocarbon ("SGH") analysis.

Figure 1. Fran Gold magnometer survey
Initial results from the first 68 soil samples representing two grids covering the northern half of the magnetic anomaly have been analyzed and interpretation of SGH analysis by Activation Laboratories highlighted unique and signature traits associated with copper-gold mineralization at depth. Results from SGH sampling suggests the Fran East magnetometer anomaly zone is underlain by an area approximately 1 x 0.4 kilometers with SGH signatures associated with Cu-Au mineralization. (Figures 2 and 3).
Figure 2. SGH gold pathfinder 3D-view
Figure 3. SGH copper pathfinder 3D-view
In addition to an excellent response from SGH sampling, a rock chip sample (Sample 16FR-08) of angular float located approximately one-kilometer ESE of the SGH survey area returned a geochemical analysis of 34.1 g/t gold (0.995 opt). This sample contains mariposite (chromium mica), muscovite, hematite, pyrite, and chalcopyrite (see photo 1). The source of the SGH anomalies and gold-bearing rock sample are not known at this time, but further geochemical and exploration drilling is planned for this new zone on the eastern portion of the Property.

About Fran Gold Property
The Fran property encompasses 10,200 hectares across 15 mineral tenures within the Omineca mining division of central British Columbia. A total of 87 historic diamond drill holes spanning more than 15,000 meters have been completed to date within the Bullion Alley zone, where three parallel gold-bearing trending Quartz veins are traced for several hundred meters. Fran is located within the Quesnellia Terrane of the Canadian Cordillera and is underlain by the Takla Group of Late Triassic to Early Jurassic sedimentary and volcaniclastic rocks that are intruded by dykes and small stocks of monzonite, monzodiorite, diorite and more.
* The potential quantity and grade is conceptual in nature and there has been insufficient exploration to define a mineral resource. It is uncertain if further exploration will result in the target being delineated as a mineral resource.
About MGX Minerals
MGX Minerals (CSE: XMG) is a diversified Canadian mining company engaged in the acquisition and development of mineral deposits in western Canada. For further information, please visit the Company's website at www.mgxminerals.com
Contact Information
Jared Lazerson
Chief Executive Officer
Telephone: 604.681.7735
Email: jared@mgxminerals.com
---
The 2014 commissioned mill of the Mount Milligan Gold Copper Mine is located only 35 km from the Fran Gold Property from MGX Minerals (source).
The Mount Milligan Mine shipped its first concentrate in September 2013 and is projected to process 60,000 t of ore per day over a 22 year mine life to produce about 80 million pounds of copper and 200,000 ounces of gold annually (source).

The $2 billion copper-gold Mount Milligan open-pit and mill is located 95 km west of Mackenzie and some 1,000 km north of Vancouver (source).
---
Company Details
MGX Minerals Inc.
#303 - 1080 Howe Street
Vancouver, BC, Canada V6C 2T1
Phone: +1 604 681 7735
Email: jared@mgxminerals.com
www.mgxminerals.com
Shares Issued & Outstanding: 41,753,017
Canadian Symbol (CSE): XMG
Current Price: $0.175 CAD (10/11/2016)
Market Capitalization: $7 million CAD
German Symbol / WKN (Frankfurt): 1MG / A12E3P
Current Price: €0.105 EUR (10/11/2016)
Market Capitalization: €4 million EUR
---
Previous Coverage
Research #10 "Official: MGX owns magnesium worth multi-billions of dollars and starts pilot plant shortly"
Research #9 "One of the world's largest lithium resources on the horizon?"
Research #8 "Ready for significant lithium brine work in Alberta"
Research #7 "At the forefront of Alberta's lithium brine riches"
Research #6 "Pioneering Lithium in Alberta: MGX Minerals Teams Up"
Research #5 "Time to Put a Lithium Production Process in Place"
Research #4 "MGX Minerals Taps Into Canada's Potentially Largest High-Grade Lithium Resources"
Research #3 "MGX Minerals Receives Mining Lease for 20 years (in British Columbia!)"
Research #2 "MGX Minerals Accelerates Towards Production"
Research #1 "MGX Minerals Plans To Enter The Magnesium Market In 2016"


---
Stay Tuned!
For smartphones and tablets, an APP from Rockstone Research is available in the AppStore and in the GooglePlayStore.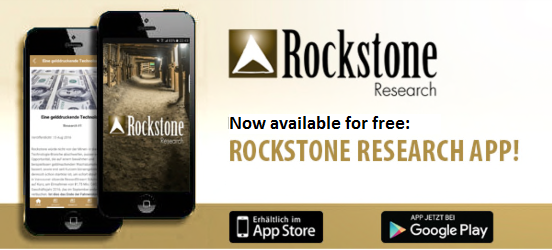 Recently, Zimtu Capital Corp. launched the Beta Version of its Advantage APP, in which all interlisted stocks (i.e. all public companies listed in Canada and Germany) can be tracked. After a cost-free registration, the full features of the APP are unlocked, e.g. sorting all stocks with the biggest daily trading volumes on all German or Canadian exchanges (see instructions in the section "How To Use"): www.zimtuadvantage.com
Disclaimer: Please read the full disclaimer within the full research report as a PDF (here) as fundamental risks and conflicts of interest exist.