Today, Golden Dawn Minerals Inc. provided an update about "moving rapidly toward renewed operation" in the historic Greenwood Mining District in British Columbia, where major production of gold, silver and copper has continued since the late 1800s.
Recently, the company has completed the 100% acquisition of the Greenwood Mill (a modern processing facility to produce doré bars for immediate sale to smelters), the historic Lexington-Grenoble and Golden Crown Mines. The near-by, past producing May Mac and Amigo Mines are also 100% owned by Golden Dawn.
On top of all that, the company's Greenwood Mill (a 2008 commissioned, expandable processing facility) is a strategic asset in the district as being one of the only modern ones. As Bob Moriarty from 321gold.com recently envisaged for Golden Dawn:
"The increase in the price of silver and gold has made several other small-scale mines in the Greenwood district economically viable and the company may do toll milling or simply buy out the owners."
With a current market valuation of $23 million CAD, Golden Dawn Minerals Inc. has just started to demonstrate with an increased newsflow that everything is coming into effect to upgrade its status from explorer to producer of gold, silver and copper in one of world's safest mining jurisdictions.
Underground drilling at the past producing May Mac Mine will start shortly. Drilling from surface will continue and started about 4 weeks ago (initial assays expected any day). With a total of 2,500 m to be drilled until the end of this year, about 50-100 holes could be completed as such underground holes are typically short (to potentially drift into shortly thereafter and use excavated material for stockpiling and subsequent processing at the near-by Greenwood Mill).
Therefore, a highly increased newsflow, reporting new drill results regularly, is expected during the next 12 weeks.
• "Mechanical personnel have commenced work to reactivate the Greenwood Mill from an 8 year care and maintenance hiatus.
• The company has submitted a permit application to de-water the Lexington-Grenoble Mine.
• As of this week, an underground mining crew has begun rehabilitating Adits No. 6 and 7 of the May Mac Mine, with the objective of cutting drilling stations for extensive underground drilling together with extending access to allow bulk sampling. Any material bulk sampled will be processed at the Company's Greenwood Mill.
• At the Amigo Mine, lying 1,000 meters south of the May Mac Mine, drilling has been underway since the beginning of September 2016, with assay results to be provided when available.
• Further additional surface drilling will be undertaken on the historic Skomac vein system encountered in 5 adits within the May Mac Mine. The current underground and surface exploration program is designed to delineate mineralized material suitable for bulk sampling, commencing the first Quarter of 2017. In total the company intends to complete 2,500 meters of combined surface and underground drilling on the May Mac and Amigo Mines, by year end 2016.
• On the financial front, RIVI Capital LLC and Golden Dawn are finalizing the details of a gold streaming contract for the Lexington-Grenoble and Golden Crown Mines, which will provide $3 million USD funding to Golden Dawn, upon signing of a final agreement and TSX.V approval. This is to be followed by $1 million USD when the production rate reaches 80 % of at least 200 tons per day. This agreement is expected to be executed in the latter part of October 2016.
• In summary, Golden Dawn anticipates for the year end of 2016, completion of the underground and surface exploration of the May Mac Mine, and complete Mill rehabilitation to process the first bulk samples from the May Mac Mine in the 1st quarter of 2017. Post dewatering the Lexington Mine, trial mining will commence in the 2/3rd quarter of 2017. The Golden Crown Mine is planned to be placed into operation in the 2nd quarter of 2018."
Bottom-line: Golden Dawn is well on track for renewed production at Greenwood, well financed and partnered with experienced institutional investors convinced by the project's outstanding potential going forward.
---
The US-based RIVI Capital LLC is a private equity firm specializing in natural resource investments. The RIVI Opportunity Fund LP is a "streaming fund" based on the model from Silver Wheaton. According to an interview with Alphabulls, RIVI Capital is focussing on gold mines with all-in production costs of around $800 USD/oz.
One of RIVI Capital's Managing Partners is Kevin Puil, a former fund manager and analyst with over 18 years of experience managing natural resource investments. Prior to RIVi, he held senior positions at several firms including Bolder Investment Partners (now Haywood Securities), where he was a Partner and Portfolio Manager; Gissen & Associates as Portfolio Manager and the Encompass Fund as Senior Analyst of natural resources. He holds a degree in Economics from the University of Victoria in British Columbia, and is a Chartered Financial Analyst charterholder.
RIVI's other Managing Partner is John Menzies, who has +30 years of experience in the natural resource sector. He is a Fellow of the Society of Economic Geologists, the Geological Society of London and the Australian Institute of Geoscientists. He was a senior geologist for Amax Inc. responsible for gold exploration in Western Australia. In the 1990s, he was Director and VP Exploration for Carbine Gold NL which ultimately merged with Bemax to became one of the world's largest titanium mineral producers. Menzies' company CMI Capital Ltd. funded CIM Resources Ltd. and was its largest shareholder. CIM developed coal assets in Australia and subsequently became the $1 billion Gloucester Coal company. He was CEO of Steppe Gold, which developed gold assets in Kazakhstan, as well as introduced the finances to develop the Erdenet Copper Leach Project and the Tsargan Els Oilfield in Mongolia, and was one of the earliest shareholder in the $20 billion Ivanhoe Mines Ltd. Menzies was also CEO of Euromax Resources Ltd., a company focused on the exploration and development of gold and copper projects in Bulgaria, Macedonia and Serbia. Euromax is now advancing the $450 million Ilovitza Project to development. This project will become the largest copper-gold producer in Europe and the investment will be the largest FDI project in Macedonia.
---
The gold and silver price consolidation, which started in June after breaking above major horizontal resistance ($1,300 gold and $18.50 silver), are technically coming to an end and may soon bring about much higher prices in case these horizontal supports are not breached.
Price consolidations typically occur after strong jumps and breaking above major resistances. The function of such a consolidation is to test and potentially confirm the former resistance as new support. As such, corrections are healthy because these transform resistances into new supports. Once a resistive price level has been confirmed successfully as new support (by testing it), the price then is typically ready, willing and able to start a new uptrend and rise to the next major resistance level, where the same consolidation will take place. Therefore, once a major resistance has been confirmed as new support, a new uptrend is likely.
In the case of Golden Dawn's stock price behavior since 2015, the strong price increase since May 2016 is a so-called "thrust" out of a triangle. These thrusts occur near the end of a triangle's apex. The goal of a thrust is to rise to the high of the triangle ($0,30 CAD in March 2015) and to transform this resistance into a new support – in order for a new and strong uptrend to start thereafter (in case the transformation is successful). As the $0.30 CAD level has been tested for a few times over the last few months, it is viewed as bullish that the price succeeded most recently in rising above that price level again. As soon as the red-dotted resistance (currently at about $0.39 CAD) and the grey-dotted horizontal resistance at $0.40 CAD act supportive, Rockstone anticipates a major new uptrend.
Comparing the performance of Golden Dawn's stock price against the HUI gold mining index shows not only that Golden Dawn has been performing much better than the HUI since May 2016 but more importantly that the green resistance has been transformed into new support twice; i.e. a new major uptrend may start shortly.
The short-term chart since July 2016 demonstrates that the gaps, which occurred in July and August when rising strongly, have been closed with subsequent consolidations. Furthermore, the red resistance in combination with the green support trendlines formed a triangular price formation, out of which a so-called "breakout" occurred in late August, followed by a so-called "pullback". Such a pullback typically corrects the price back to to the level of the triangle's apex, whereafter the "thrust" oftentimes starts: Either a strong up- or downtrend. As the price is trending upwards after having reached the apex, a thrust to the upside is anticipated by Rockstone.
---
Golden Dawn Production Plans
By Bob Moriarty on September 7, 2016, on 321gold.com
I wrote about a tiny Canadian junior stock last May when they were $.095 a share. As has been true of a lot of juniors no one had heard about, the company went from poor and ignored to a 300% gain in four months. The company is called Golden Dawn Minerals (GOM-V). They are now on the verge of production.
It would be wonderful if I could claim Guruhood and suggest that I am the smartest guy on the block. But I can't. And I'm not. Actually in a bull market, stocks go up. That's why they call it a bull market. If companies actually do what they say they are going to do, they go up a lot. Golden Dawn has gone up a lot. If they execute their plan, they will go up a lot more.
Management of the company picked up an option on a mine and mill in southern BC province in Canada called the Greenwood project. It consists of the Greenwood mill with a $40 million dollar replacement value and 100% ownership on a number of small but reasonably high-grade precious metals deposits including the Lexington mine, the May Mac mine and the Golden Crown mine. Since then management has commitments for enough money to complete the option agreement to purchase the Greenwood mill.
In the immediate future the company will begin a two-month process of dewatering the Lexington mine. There will be a total rehabilitation of the 220/400 tpd Greenwood Mill that has been on care and maintenance since last in production in late 2008. They intend to extract ore from the May Mac mine by year-end or Q1 of 2017 to begin processing at Greenwood. In addition, the increase in the price of silver and gold has made several other small-scale mines in the Greenwood district economically viable and the company may do toll milling or simply buy out the owners.
On September 6th Golden Dawn announced plans for the rehabilitation and further exploration including drill on surface and underground at the May Mac mine. Until permits are received for production at the Lexington and the Golden Crown Mines, any ore grade material encountered at the May Mac Mine will be shipped the 15km to the Greenwood processing plant.
It's all an issue of execution and the price of gold from here. If management executes their plan as well as they have over the last six month, investors have a nice alternative to buy into a small but profitable gold mining operation in the safest of jurisdictions. Don't be confused by the small resource, this was a major gold district in Canada and Golden Dawn has the only mill. That puts them in the catbird's seat.
Golden Dawn is an advertiser and I am biased. Please do your own due diligence.
Golden Dawn Minerals
GOM-V $.375 (Sep 06, 2016)
GDMRF–OTCBB 79 million shares

Golden Dawn website
###
Bob Moriarty
President: 321gold
Source: http://www.321gold.com/editorials/moriarty/moriarty090716.html
---
---
Golden Dawn to Graduate to Gold Producer
By Marc Davis on September 6, 2016 for BNWnews.ca
When a junior gold development company de-risks a gold project, investors can usually expect a big payday.
This is often the case when the company is gobbled-up for big dollars by a deep-pocketed gold producer. Or it can happen when the project goes into production and investors become fractional owners of a money-making mine.
With this in mind, shareholders in Golden Dawn Minerals (TSX.V: GOM, Frankfurt: 3G8A) just got the news they've long been waiting for.

The company has announced a milestone de-risking development. Specifically, it has completed the purchase of the jewel in the crown among a trio of small, past-producing gold mines in southern British Columbia.
Sealing a "Company-Maker" Deal
Known as the Lexington-Grenoble mine, its outright purchase is a significant "company maker" transaction for Golden Dawn.

Not only is it a major de-risking development, but it finalizes what has been a drawn-out acquisition process. This single event has now set the stage for Golden Dawn to become an actual gold miner.

It means that the mine can be put back into production as early as Q2 of next year, according to management. Most importantly, the mine is already permitted, meaning that no regulatory roadblocks stand in its way.

Furthermore, virtually all the necessary mining infrastructure is already on-site, including a modern mill and a tailings storage facility. The mine also benefits from ready access to a power grid, a water supply and a nearby highway.

So Golden Dawn is on the cusp of doing something very rare for an exploration and development "mining junior". It is graduating to the illustrious ranks of the world's relatively few gold miners.

This newly-found credibility promises to make the company particularly attractive to speculators and value-oriented investors, alike. This is because it gives them all the best of both worlds: a leveraged proxy to a resurgent bull market for gold, as well as a chance to own shares in what promises to be a profitable gold mining business.


Furthermore, the prospect of steady cash flow, as well as eventual earnings, may also significantly limit the downside risk for the company's share price. In essence, it's an ideal insurance policy for investors.

As an aside, this mine was originally commissioned as recently as 2008. But timing is everything in the business world. And production ground to a halt after only a few months when its former operator ran into financial trouble. At the time, gold was trading at around US $750/oz -- a significant discount to today's buoyant prices.

However, Golden Dawn appears to have impeccable timing. Unlike its predecessor, it is now poised to capitalize on a resurgent bull market for gold bullion. And its shareholders are poised to capitalize on Golden Dawn's golden future.
Scaling-Up to Catch the Next Big Gold Wave
The Lexington-Grenoble mine isn't Golden Dawn's only future source of revenue.

All told, the company's scalable business model includes the re-commissioning of two other small deposits, namely the gold/silver May Mac mine and the gold/copper Golden Crown mine. The latter was acquired along with Lexington-Grenoble in the same deal.

These mines are all located in close proximity to one another in the historic Greenwood mining camp, which has been mostly under-explored in recent decades. But Golden Dawn aims to change that.

With newly-printed drilling and underground mining permits in-hand, Golden Dawn is set to commence some small-scale mining at May Mac. This involves drill-testing certain high-grade veins by way of a 10,000-tonne bulk sampling program. It should offer a clearer picture of the mine's overall potential for meaningful, high-grade output.

This promises to generate some valuable cash flow for the balance of 2016. Most of all it should offer a clearer picture of the mine's overall potential for meaningful, high-grade output.

All told the company is targeting up to 500,000 ounces of high-grade gold and "gold equivalent" (the combined value of the gold, silver and copper) by way of in-fill and exploratory drilling at all three deposits.

Once all three mines are up-and-running, this will also allow Golden Dawn to benefit from cost-cutting economies of scale. Such a reality promises to lower overall mining costs and further benefit the company's balance sheet.
On-Track for Near-Term, Low-Cost Production
The company computes an average output of 20,700 ounces of gold equivalent per year at Lexington-Grenoble over an initial mine life of 5 years, totaling 104,000 gold equivalent ounces. This is according to an independent preliminary economic assessment (PEA).

However, plans are underway to drill into a network of previously-untapped gold veins with a view to adding enough additional gold resources to double the mine life's to at least 10 years.

At present, the PEA forecasts that the mine will generate an average of CDN $8.6 million a year in post-tax cash flow, based on cumulative revenue of CDN $157.8 million over five years (assuming a price of US $1,250 oz/gold). Notably, this does not factor-in the prospect of boosting the mine's resource base.

Independent engineering studies also demonstrate that gold can be mined, processed and shipped to market for as little as US $820/oz in "all-in sustaining costs" (which includes all other corporate operating expenditures, as well as royalties).

This translates into a very enviable operating margin of up to US $500/oz based on current gold prices. By comparison, most of the world's gold mines cost around US $1,100-1,200 an ounce to operate, which explains why so many of them have been unprofitable as of lately.

Other attractive metrics in the PEA include the prospect of a pre-tax net present value (NPV) of CDN $32.5 million at a 6% discount rate and an impressive internal rate of return (IRR) of 72.6%.

The projected payback on the capital expenditures (start-up costs) is a little less than two years, which is relatively fast for any business, and especially mining.
Investment Summary
Golden Dawn's share price has been a strong performer in 2016 due to its attractive risk/reward profile and the company's proven ability to execute on its game plan.
The company also has a big following among investors, both in Europe and North America, which translates into impressively large daily trading volumes. This also attests to the company's credibility as a rising star in the junior mining sector.

Most importantly, the prospect of steady cash flow and eventually solid earnings should build meaningful value into the company's share price. At that time, Golden Dawn should expect to experience a "re-rating" (upgrading) by the investment community, translating into the likelihood of higher share price multiples.

Between now and then, speculative investors have an opportunity to own shares in a company that is still as inexpensively priced as the legions of other aspiring gold producers – most of whom are statistically destined to fail.

However, Golden Dawn's evolution into a real gold producer is finally happening fast. And its share price is not likely to remain cheap for much longer.

After all, the company is a success story in-the-making. And sooner or later, that will be reflected in the share price. This means that the company's many loyal shareholders can expect to be well-rewarded with their own big payday.

Source: http://www.stockhouse.com/opinion/independent-reports/2016/09/06/golden-dawn-to-graduate-to-gold-producer
---
The more the gold price rises the more pressure have senior mining companies to act, respectively to buy new gold resources. Golden Dawn may become a highly sought- and fought-after take-over candidate over the next months, whereas it stands out that Kinross has been acquiring large land packages in the same area while being active with a few projects already.
The graphs show the global trend of strongly dropping grades in existing gold mines (this trend has further intensified since 2012). As a consequence, senior mining companies are increasingly looking for new gold deposits and mines; while being ready, willing and able to pay high prices for take-overs.
---
Rockstone considers Golden Dawn's various mining projects as exceptionally attractive based on the following reasons:
• The gold and silver prices have moved into new upward trends in early 2016; as such, the surrounding conditions for approaching producers have improved notably.
• The company was able to secure vital funding agreements in July and August in order to acquire the Greenwood Project (Lexington-Grenoble Mine, Golden Crown Mine, Greenwood Plant, mining equipment and vehicles) from its previous owner and subsequently go into production.
• These latest funding agreements originate from convinced institutional investors highly experienced in the resource sector.
• Permits already exist for mining and processing.
• Infrastructure is already in place and intact, including mining equipment, a processing plant and a tailings facility.
• Minimal pre-production development required to commence mine production.
• After-tax IRR of 62% and after-tax NPV of $23.2 million at a 6% discount rate and a $1,250 gold price. With an 8% higher gold price ($1,350), after-tax IRR increases to 75% (+21%) and after-tax NPV increases to $29 million (+25%). Hence, the project offers a significant leverage with higher gold prices.
• Production costs ("all-in sustaining costs") during life of mine stand at $820/oz (including royalties), generating a healthy and robust operating margin of $430/oz with gold selling at $1,250/oz.

• Average metallurgical recoveries of 86% for gold and 87.5% for copper at Lexington-Grenoble, and 70% for gold and 82% for copper at Golden Crown.
• Initial capital expenditures ("CAPEX") of $9.6 million (including a 15% contingency, $3.4 million acquisition costs, and $6.3 million working capital needed to start mining from Lexington-Grenoble and processing at the Greenwood Mill facilities).
• Projected payback on CAPEX is a little less than 2 years.
• Gross revenue of $158 million and operating cash-flow of $45 million.
• 91% of the resource is categorized as measured and indicated.
• Excellent potential to significantly extend mine life for both Lexington-Grenoble and Golden Crown with new exploration, whereas management aims to double to more than 10 years.
• Excellent potential to further increase life of operation with the already fully owned, near-by May Mac Mine (not part of the option agreement with Huakan) and other prospective target areas near-by.
• May Mac has not been considered in the June PEA. This historic mine produced a total of 4,228 t ore, respectively 23 kg gold, 959 kg silver and more than 49 t lead, 26 t zinc and 864 kg copper. The mine is inactive since 1980s. Due to low metals prices, previous exploration had been neglected chronically. Water, electricity, tailings and a mill (100 tpd) exist (fully owned by Golden Dawn), as well as underground shafts and tunnels.
• May Mac Lower Adit: According to historic reports, approximately 35 t of material averaging 318 g/t gold was mined in 1903/1904. A new zone, discovered in 2015 at depth, indicate the remarkable potential for more resources beneath historic mine workings. An underground drilling program is ready to start once a blasting permit has been received. To date, 2 main veins besides 10 other veins, rich in precious and base metals, have been identified.
• Considering that the impact of the July announced gold streaming deal on the economics calculated in the recent PEA is minimal, that news was considered to be one the most vital milestones in the history of the company as Golden Dawn has stepped into the enviable position to breathe new life into a past producing mine that ran into financial trouble when gold was trading at $750 USD/oz some 8 years ago (June 2016 PEA states all-in sustaining costs of $820/oz). With gold trading almost twice as much today, the time for Golden Dawn to prove the profitability of the Greenwood Project has come, whereas CEO Wolf Wiese plans to put the Lexington-Grenoble, Golden Crown and May Mac Mines into production this time (Lexington-Grenoble may start mining in up to 6 months as the mine must first be dewatered, rehabiliated and permits transferred; May Mac should start mining much earlier).
• The June 2016 PEA envisages owner-operated, 5 year underground mine projects encompassing 2 deposits: Lexington-Grenoble containing 356,000 tonnes of mill feed at an average diluted grade of 5.48 g/t gold and 0.90% copper, and Golden Crown with 191,000 t at an average diluted grade of 8.67 g/t gold and 0.48% copper. The PEA study also incorporates expanding the existing 200 t per day (tpd) mill to 400 tpd after the first year of operation. Annual gold production is projected to reach 27,000 gold equivalent ounces (oz) at the expanded 400 tpd rate (~104,000 gold oz equivalents within 5 years).
• The German CEO Wolf Wiese has negotiated the acquisition of the Greenwood Project in late 2015 / early 2016, right at the end of the gold price correction. He and his shareholders are now poised to have made the bargain of a lifetime, a story that can only be written in the darkest hours of a bear market enabling small-capitalized juniors like Golden Dawn to become one of the rare success stories in subsequent bull markets.
---
Company Details
Golden Dawn Minerals Inc.
Suite 900 - 525 Seymour Street
Vancouver, B.C. V6B 3H7 Canada
Phone: +1 604 221 8936
Email: allinfo@goldendawnminerals.com
www.goldendawnminerals.com

Shares Issued & Outstanding: 82,325,895
Canadian Symbol (TSX.V): GOM
Current Price: $0.275 CAD (09/27/2016)
Market Capitalization: $23 million CAD

German Symbol / WKN (Frankfurt): 3G8A / A1XBWD
Current Price: €0.188 EUR (09/27/2016)
Market Capitalization: €16 million EUR
---

Previous Coverage
Report #4: "Starting Shot for the May Mac Mine "
Report #3: "Ascend from explorer to producer secured: A Just-in-Time success story par excellence "
Report #2: "Golden Dawn secures funding to go into gold production in BC "
Report #1: "Perfect timing to go into gold production in British Columbia"
---
Stay Tuned!
For smartphones and tablets, Rockstone has published an app in the AppStore and in the GooglePlayStore.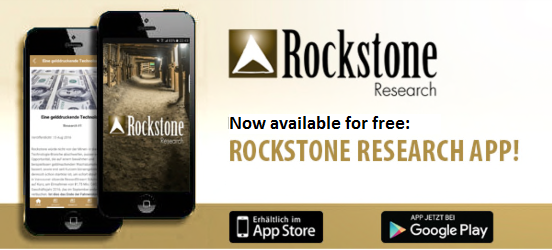 Recently, Zimtu Capital Corp. launched the Beta Version of its Advantage APP, in which all interlisted stocks (i.e. all public companies listed in Canada and Germany) can be tracked. After a cost-free registration, the full features of the APP are unlocked, e.g. sorting all stocks with the biggest daily trading volumes on all German or Canadian exchanges (see instructions in the section "How To Use"): www.zimtuadvantage.com
Disclaimer: Please read the full disclaimer within the full research report as a PDF (here) as fundamental risks and conflicts of interest exist.