The emerging success story by the name of Canadian Zeolite Corp. is not a typical mining story. Zeolite is a GreenTech natural mineral, most people have never heard of (yet). Without expensive drill programs, time consuming feasibility studies and tough project financings, the company became a producer this summer – one that provides significant growth potential.
Cashflow from production royalties on all mined zeolite and a percentage of gross sales is providing net revenues for the company. Canadian Zeolite's market price for zeolite ranges from $200 for bulk product to $450 CAD/t for processed and packaged product.
The company is currently operating its quarry on a small portion of its 1,145 hectares Bromley Creek Zeolite Deposit. This specific area has a NI43-101 measured resource and a 50,000 t per year quarry permit. For future expansion, the company has its 949 hectares Sun Group Zeolite Deposit, which has a reported historic non-compliant resource of 46.6 million t of quality zeolite. At present, Canadian Zeolite is selling bulk and processed zeolite sized for specific markets. The company plans to introduce new products this year for the animal feed industry, municipal composting and other agricultural markets. Once they have their product line to market, revenues are expected to grow substantially.
How is Canadian Zeolite Corp. (TSX.V: CNZ; Frankfurt: ZEON; OTC: CNZCF; market capitalization: $9 million CAD) expected to achieve growth over the next 24 months?
Business Model
The answer to that question is two-edged. First of all, the company is pushing into a niche market to become Canada's #1 producer of zeolite with its proven resource, permitting in place and production underway. The industrial mineral zeolite is highly valued by the agricultural industry thanks to its excellent absorption characteristics. Canada is currently importing almost 100% of its demand from the global marketplace. Alone the relative competitive advantage of the Canadian Dollar brings a nice edge to Canadian Zeolite's business.
The second, more important reason for the success is that Canadian Zeolite is taking advantage of synergies. Why do it yourself if others can do it or can do it better? The mining, the processing and the packaging is being done by Absorbent Products Ltd., a private Kamloops, BC, based company not only having vast mining expertise but also a large processing facility. Canadian Zeolite oversees the mine (Bromley Creek; a quarry-style operation), sources and coordinates sales, networks with global zeolite experts and applies their vast technical knowledge of zeolite to expand their markets.
Both partners are a perfect fit: For each mined tonne ("t"), Canadian Zeolite receives a fixed royalty of $9 CAD, the company also receives a 6-20% commission (depending on product and client) of the gross sales generated by Canadian Zeolite.
Thanks to this arrangement, CEO Ray Paquette is able to focus 100% on the marketing and sales side of the business, including generating new customers and opening new markets.
He does not need his own mining team with costly equipment, nor to handle engineers running the processing plant – a major advantage for a young and small capitalized company with plans to quickly grow big.


Zeolite Deposits
Canadian Zeolite owns 2 large zeolite deposits in British Columbia. Bromley Creek has a 30 year mine lease and a 50,000 t per year quarry permit. Currently operational on a mere 30.8 hectares (of a total of 1,145 hectares) which is permitted for mining with a NI43-101 measured resource of 350,000 t of zeolite, plus another 300,000 t of zeolite indicated (disclaimer: the Company is not basing its production decision on a feasibility study of mineral reserves demonstrating the economic and technical viability. As a result, there is increased uncertainty and economic and technical risk of failure associated with the production decision). An expansion could be applied for anytime and will be increased as sales and volumes grow.
The only question is when such an expansion should be considered as the company also owns a second deposit by the name of Sun Group: 949 hectares hosting a historic non-compliant resource in excess of 46.6 million t of zeolite (disclaimer: a qualified person has not done sufficient work to classify the historical estimate as current mineral resources and this is why the company is not treating the historical estimate as current mineral resources). Therefore, a shortage wouldn't happen anytime soon, allowing the company to maintain a dominant market position in Canada.

Applications & Markets
Zeolites are naturally occurring micro porous minerals which are formed by the devitrification of volcanic ash over millions of years. The molecular structure of the ash is slowly transformed, under the right geological conditions, into the regular crystalline structure which gives zeolites their unique characteristics.
There are many types of natural zeolite, but they all have a similar structure and share roughly the same physical and chemical properties, although there are differences between the different types of zeolite. What makes zeolites notable is their crystalline structure perforated by microscopic pores. These pores allow zeolites to act as natural filters.
Zeolites are microporous, aluminosilicate minerals and are widely used in multiple cross industry applications ranging from water purification to radioactive waste containment. Characterized by its high surface charge density and high cation exchange capacity, zeolites' unique ability to absorb and bind a broad range of materials makes it a simple and inexpensive solution to many problems spanning a variety of industries and environmental issues.Zeolite can be used in raw unprocessed form or processed into specific sizes ranging from granular to powder form depending on the application. Thanks to its micro pores, the mineral is most suitable to store water (important mainly for agriculture) and to bind emissions. Amongst others, zeolite is used as a litter in livestock buildings to reduce ammoniac emissions. The advantages of zeolite are well documented, however each field of application typically requires its own permit as zeolite from different locations has different kinds of purity and hence efficiency.
There are about 50 different natural zeolite structures which have been identified, each with a slightly different Si:Al:O ratio, and therefore a slightly different pore size and ion exchange capacity. The most commonly occurring cations are sodium, potassium, calcium and magnesium but many other elements can also be present at varying levels depending on how and where the zeolite was formed. This mix of cations is different for every natural zeolite deposit and it is an important characteristic of the industrial mineral.
The most widely commercialised natural zeolite type is called clinoptilolite. This mineral has a high ion exchange capacity and porosity, and is found in relatively pure form in several parts of the world. The purest clinoptilolite ever found comes from Turkey and has a purity of 92-96%.
The combination of a rigid structure with high porosity and natural ion exchange capacity is what gives zeolites such a wide range of potential uses. It is already widely used in agriculture both as a soil additive and as an animal feed additive.
It is also used in almost every possible water treatment application from sewage treatment to swimming pool filters. Zeolite granules have been described as "the world's smallest water filter".
Many different types of natural zeolite are available and the quality of each zeolite deposit is unique. Some zeolites are excellent for some applications but not very good for others, and some zeolites are of such poor quality that they are of little use at all.
Canadian Zeolite produces quality zeolite and thus anticipates the granting of permits on a broad front.
Canadian Zeolite's 4 major markets:
• Agriculture: Municipal composting for odor control, zeoponics for greenhouse growing mediums, zeolitic fertilizer, animal health and hygiene, animal feed supplements.
• Water treatment: Inexpensive wastewater discharge and treatment, minimizing runoff, removing ammonia.
• Aquaculture: Fish farming, aquariums, fish transportation.
• Industrial: Road salt replacement, radioactive waste containment, artificial turf odor control and absorbency, green tech industrial applications.
The global zeolite market is estimated at over 4 million t annually and growing. China produces an estimated 2.6 million t yearly and is not only the largest producer but also the largest consumer. Australia and Indonesia are also important markets, in which the use of zeolite is already widely spread. The US market, with its mere 100,000 t, is rather a "zeolite developing nation". Only 4 competitors share the US market. Canada currently imports almost 100% of its zeolite from the global marketplace.

Future Growth
Ray Paquette (CEO) sees immediate access to the Canadian market via municipal compost facilities. Studies have shown that mixing only 3% of zeolite reduces the obtrusive ammoniac emissions by a staggering 80%. For example, 1 million t of compostable waste represents a need for 30,000 t of zeolite annually. Access to this sector may come through adviser to the board, John Haanstra, who worked as Vice President for more than 40 years at renowned engineering firm Maple Reinders Group. He was responsible for planning in excess of 400 municipal compost plants across Canada.
Paquette anticipates a step-by-step penetration of the various zeolite markets. 15,000 t of zeolite sales in the first year would be a great success but their goals are much larger. Vital for a corporate success are annually recurring revenues and opening up new markets with the permitting, certifications and marketing of its products.
Sharp revenue spikes and a big opportunity could come from the animal feed sector. The company is awaiting certification to sell into this market. Paquette estimates that Canada alone produces 30 million t of animal feed annually. If Canadian Zeolite could capture even 5% of this market adding 2-4% zeolite to the feed, it would represent a demand of between 30,000 and 60,000 t of zeolite annually.
According to reports, mainly large end-users are interested in zeolite because environmental specifications in regards to ammoniac emissions, wastewater treatment or odor nuisance are notably on the rise for such market participants. The compost market could also be penetrated faster than expected. Both the animal feed and compost markets may reach 50,000 t annually rather quickly. Everything else (e.g. greenhouses, fertilizer, fish farms, etc.) would be a handsome bonus.

Marketing & Branding
Canadian Zeolite may experience a strong sales kick thanks to smart marketing strategies as the company could emerge as a leading brand in selected stores. The experts, who are capable of executing such strategies, have already been appointed by Paquette as advisers to the board, such as the already mentioned John Haanstra, and Dr. Hossein Kazemian who has published in excess of 150 studies, books and patents on zeolite. More high-carat personnel support could be added from Paquette's extensive network.
The company sees large growth potential also from the greenhouse business and the usage of mineral plant substrates. This application would be rather new for Canada, however is already common on a global scale. Paquette aims to support the necessary permits for a market penetration with convincing studies.
The market for zeolite in North America is still in an early stage. However, environmental protection facilitates the fundament for the reduction of liquid or gas emissions. Canadian Zeolite has the potential to emerge as a winner from this mega-trend of environmental protection, unrivalled by Canadian competitors. Farms could significantly reduce their methane emissions, groundwater contaminations could be reduced with appropriate zeolite filters, and compost sites could be freed from bothersome odors. The timing couldn't be better for Canadian Zeolite.


Share Structure & Blue Sky
The company currently has 22 million shares issued and outstanding. Interestingly, about 40% of these shares are held by long time shareholders, hence the free float stands at an estimated 13 million shares, which on the one hand impedes fungibility but on the other hand provides an attractive, small basis for future earnings sharing. Despite its impressive upward trend from $0.10 to currently $0.41 CAD within the last 3 months, the upside still appears great as the company is just getting going. Rockstone is looking forward to covering the upcoming corporate achievements.
---
CEO Interview with Ray Paquette from Canadian Zeolite Corp.
By Björn Junker from Goldinvest.de on September 7, 2016
Zeolite isn't the best known mineral in the resource market and probably not in the focus of a lot of Canadian resource investors, yet. But we think it should be, because the Canadian market in particular offers enormous potential! Fortunately, we were able to talk to Ray Paquette, CEO of Canadian Zeolite, currently the only producer of zeolite in Canada and an expert in this field, who was kind enough to explain in some detail about zeolite, its markets and uses. After talking to him we included his company Canadian Zeolite (TSX-V: CNZ) in our watch list and urge investors prepared to take the risk of a junior resource play to do the same.
GOLDINVEST.de: Most investors in Germany, even if they are interested in the resources sector, probably never heard of zeolite before. Please give us a short overview of what zeolite is, where it can be found, and what its properties are.
Ray Paquette: Zeolite is a natural occurring mineral with many "Green Tech" applications and is widely used in multiple cross industry applications ranging from water purification to radioactive waste containment.
Zeolite is also used in the areas of odor reduction for municipal composting, zeoponics and zeolitic fertilizers for greenhouse and outdoor growing mediums, animal feed supplement, road salt replacement and waste-water filtration.
Zeolite is a micro porous aluminosilcate which has the properties of adsorption. It acts as a microfilter, or sieve, which allows some molecules to pass through while capturing other desired molecules within its cube-like structure. The term molecular sieve refers to a particular property of these materials, i.e., the ability to selectively sort molecules based primarily on a size exclusion process. This is due to a very regular pore structure of molecular dimensions. Similar to a fish net, some zeolites will capture large molecules and others small molecules. Up to forty (40) different zeolite structures are known to naturally occur with each one having a particular and unique structure. Canadian Zeolite Corp's natural zeolite is known as Clinoptilolite.
GI: So what are the uses of zeolite, i.e. what are the markets that it is / could be sold into?
RP: In agriculture, zeolite is for example used in municipal composting for odor control. It is also used to lower irrigation requirements, reduce biosolid waste or for animal health and hygiene as well as in feed supplements for poultry, cattle and swine.
Whereas in water treatment zeolite can be used in waste water discharge, to minimize run off and remove ammonia. It's an inexpensive and easy form of waste-water treatment. But zeolite can also be used in aquaculture for fish farming, aquariums or fish transportation. And in the industrial sector it is used for radioactive waste containment, as road salt replacement or to control odors and increase absorbency of artificial turf.
Zeolite mining at the Bromley Creek Deposit from Canadian Zeolite Corp.:
GI: Canadian Zeolite, as far as I understand has two of the few zeolite projects in Canada, though for now you are concentrating on the Bromley Creek project. Can you tell us about that? What is the size of the project, what kind of resources did you define there, already? How about the necessary permits?
RP: Bromley Creek is a 1,145 hectare property claim. Currently the Company is operational on just 30.8 hectares within the larger claim area. A 43-101 report has been conducted on that 30.8 hectares and has defined a measured and indicated resource of 700,000 tonnes. We have a 30 year mine lease for Bromley Creek, a 50,000 tonne per year quarry permit on the mine lease and plan to complete a 43-101 on the full 1,145 hectare Bromley site. Also a First Nation's Chance Find Management Plan is in place.
The Sun Group property extends over 949 hectares and is under development for future zeolite operations, we will work on bringing this property up to current 43-101 reporting standards.
Back in 1994 an exploration programme, reserve estimate and mine feasibility review and recommendations were conducted, followed in 2001 by an exploration programme and resource evaluation. A historic non-compliant resource of 46,000,000 MT at a high cut off CEC value of 100+ was reported. Then, in 2012, Canadian Zeolite conducted a field exploration programme and compiled a technical report. These activities included a twin drill program.
View at the Sun Group Zeolite Deposit from Canadian Zeolite Corp.:
GI: Now, Bromley Creek is already in production, though Canadian Zeolite "outsourced" all that to a partner. Can you please explain how that deal works – financially, too – and why you took that decision?
RP: Canadian Zeolite is taking advantage of synergies. Canadian Zeolite and Absorbent Products Ltd. entered into an Operation's Agreement in December of 2015 whereby Canadian Zeolite receives a net royalty per tonne for all mined product and under an Agency Agreement receives a commission between 6 and 20% of gross sales initiated by Canadian Zeolite. Absorbent Products Ltd. is a private company with vast mining expertise and a large processing facility. All mining, processing and packaging is being done by Absorbent under the terms of the Agreement.
GI: So, at the moment the material produced at Bromley Creek is sold as is, i.e. as bulk material, and Canadian Zeolite gets its share of that. For the future, though, you are developing value added products, products targeted at and tailored to specific markets, so you will receive a larger part of the revenues? Can you give us an example of what you are working on at the moment and when you will be ready to produce and sell these products?
RP: The bulk material is crushed and screened at the mine site and is then transported to the processing mill where it is dried, crushed again and screened into sizes for specific markets. The bulk material is subject to a royalty and the processed material is sold under the Agency Agreement as above.
Currently we are shipping into the artificial turf market and the mining industry for control of ammonia and waste-water filtration. We are waiting for certification for animal feeds and various agricultural applications. Shipping zeolite for odor and moisture control for municipal composting is in the works.
GI: What is the demand for zeolite in general and for those kind of products in particular, then? What is the size of the market?
RP: The global demand for zeolite exceeded 4 million tonnes in 2015. Of that, over 2 million tonnes were used in mainland China alone. The awareness of the many uses for zeolite is increasing globally.
GI: And what about the competition, be it in Canada or the U.S.? Is that a concern?
RP: The United States produced less then 100,000 tonnes last year and could be considered a zeolite "developing nation".
We have only four competitors in the US market. Up to this point Canadian users of zeolite have been buyers of US zeolite.
GI: This all sounds very good. What are your plans then short and longer-term? What kind of production and sales volumes are you looking for, say in the next year and beyond?
RP: Canadian Zeolite has identified large agricultural markets that require zeolite in percentages ranging from 2 – 4% of their total volumes consumed. These are for example:
• the animal feed industry consumption yearly in Canada alone is 30 million tonnes annually
• municipal composting in Canada could be larger then the tonnage of feed industry per year and is growing
• zeoponics (now in development by Canadian Zeolite) is a direct growing medium for greenhouses to increase yield and lower costs
• zeolitic fertilizer (now in development by Canadian Zeolite) for outdoor growing mediums to increase crop yield
• agricultural waste-water filtration to prevent ground water contamination
• products for odor and moisture control in the commercial turf industry
It is too early to project actual volumes, however these few markets mentioned above represent huge growth for Canadian Zeolite. These volumes are subject to a net royalty per tonne and percentages of gross sales under the terms of the Agency Agreement. It should be noted production is now under way with 5,000 tonnes mined in June of 2016. Sales have commenced with repeat orders and referrals to new customers. The Company is scheduling a drill and blast of 20,000 – 30,000 tonnes this October.
GI: With junior resources companies it is always important to know about management. Can you please give us a bit of background on yourself, your track-record? Are you a shareholder of Canadian Zeolite?
RP: I have served on the Board of Directors of the Company since 1994 and was elected President of the Corporation in 1999. My key responsibilities include project management, Company development and financing. I try to take a hands-on approach and was directly involved in developing the Company's Bromley Creek Zeolite Mine. At the moment I am focused on the further development and growth of the Bromley Creek and Sun Group zeolite projects.
My insider's position is 2,793,155 shares and 2,000,000 warrants.
GI: Last but not least, please sum up why, in your personal opinion now would be a good time for investors to take a closer look at your company.
RP: Canadian Zeolite has a proven resource with unlimited potential and our Business Plan displays a sound business model with proven revenue generation. In addition, the market for zeolite in Canada alone is in the multi-millions of dollars annually.
Apart from that, Canadian Zeolite has a competitive advantage in the world of zeolites given our product has been tested, applied and meets the standards of specific markets. We are currently working on certifying, creating patents and expanding our markets.
Also, there are numerous world-wide markets and opportunities. At present Canadian Zeolite's focus is in five key areas; composting, animal feeds, Zeoponics, Zeolitic fertilizer and wastewater filtration. These markets can be readily served and will provide the Company with long term growth and cash flow. You have to take into account that only 1.5% - 2% of the world's current zeolite production is produced in North America.
Only recently has North America realized the potential of this exploding market. Canadian Zeolite is well-positioned to take advantage of these expanding markets and become Canada's #1 producer of natural zeolite.
We have a dedicated team in place that has been working together for years that is committed to making Canadian Zeolite the largest producer of zeolite in Canada.
Canadian Zeolite is an advertiser at GOLDINVEST.de, so of course we are biased. Please do your own due diligence. This is not investment advice. Be sure to talk to your investment advisor before making any sort of investment. Investments in small-cap stocks are risky and could entail the loss of all the capital invested.
---

Natural Zeolite for Greentech Solutions.
Canadian Zeolite Corp. is an environmentally friendly Green Tech business well suited to today's economic environment.
For more information please visit www.canadianzeolite.com
Click on image on the right (or here) to view a short corporate video:
---
Management & Directors
Ray Paquette (CEO)

Mr. Paquette has served on the Board of Directors of the Company since 1994. He was elected as President of the Corporation in 1999. He is recognized as a relationship and business builder.Mr. Paquette's key responsibilities include project management, company development and financing. He takes a hands-on approach and was instrumental in developing the Company's Bromley Creek Zeolite Mine. His experience and managerial skills are now focused on the further development and growth of the Bromley Creek and Sun Group Zeolite Projects. He has assembled highly capable teams for each of the projects and has been the driving force in moving the Company forward. He is now leading Canadian Zeolite toward becoming Canada's number one zeolite producer.
Dianne Szigety (Corporate Secretary)

Dianne Szigety brings over 22 years of extensive experience in corporate governance and management, ensuring compliance with statutory and regulatory requirements for public and private companies. She is a Fellow with the Institute of Chartered Secretaries and Administrators and has been a Director and Officer of several publicly listed companies. As Corporate Secretary for Canadian Zeolite Corp., Ms. Szigety handles share transactions, annual shareholder meetings, attendance at board and committee meetings, as well as liaising with the company's lawyers, auditors and regulatory personnel.
Mark Groenewald (CFO)

Mr. Groenewald brings over 15 years experience in the commercial environment. Before moving to Canada in 2002, he was involved in his own business in South Africa. He graduated with a Bachelor of Accounting Science from the University of South Africa in 1987 and completed his articles with Ironside Greenwood, a firm of public accountants in Johannesburg. His focus more recently has been on providing accounting and management consulting services to several corporations in the lower mainland area of Vancouver.
Edward Skoda (Director)

Mr. Skoda has over 35 years experience in the mining industry both nationally and internationally. He served with Newmont Mining Ltd., as an Underground Mining Ventilation Technologist in their Granduc Mine in British Columbia, Tara Mines in Ireland and the Northwest Territories, Echo Bay Mines at Port Radium and Bechtel Corporation of San Francisco, as Underground Shift Boss and Project Manager. He worked with Kaiser Engineering Inc. and served in their Hammerstay Iron Project in Australia as a Civic Inspector for the construction of a railway bed. Other projects include Senior Tunnel Inspector on a hydro project for Bechtel Canada Inc. He obtained a diploma in Mining Engineering Technology from the Haileybury School of Mines and holds a diploma in Business Administration specializing in Transportation Management from the British Columbia Institute of Technology. Mr. Skoda has been a Director since 1998.
Dave Kepkay (Director)
Mr. David Kepkay, has over 20 years experience in sales, marketing and technical support of CADD (computer aided design & drafting) computer workstations and local area network installations. Mr. Kepkay served for 12 years with one of Western Canada's largest AutoCAD dealers in a sales and support capacity. Mr. Kepkay has organizational skills and the ability to help develop new markets that blend the use of technology and industrial minerals in creating environmental responsible solutions. Mr. Kepkay holds a Diploma in Business Administration and Computer Sciences from Capilano College in North Vancouver, BC, which he obtained in 1979. Mr. Kepkay has been an Independent Director since 2000.
Dr. Hossein Kazemian (Adviser)
Dr. Kazemian is an internationally renowned scientist with a PhD in Analytical (Material) Chemistry. Over the course of his 26 years working with zeolite, he has published over 150 zeolite related articles in the form of books, patents and papers.
John Haanstra (Adviser)
Mr. Haanstra has been employed with Maple Reinders Group of Companies for over 42 years, starting as the Chief of Estimator, Project & Procurement Manager in 1971. From 1989-2015 he served as Vice President of Environment Construction & Development. He has gained invaluable experience over these years in numerous facets of environmental and building construction. His expertise in value engineering combined with an excellent understanding of process requirements gives him the ability to direct design toward the most cost effective solutions. He has been involved in the construction of >400 Compost, Biogas, Water & Wastewater treatment and transmission systems, as well as having directed construction of >50 industrial and commercial facilities and the introduction of 4 new environmentally and economically efficient technologies. He was appointed as an adviser to the Board of Canadian Zeolite on June 28, 2016.
Qualified Persons
Patrick F. O'Hara (PhD, USA)
R. Tim Henneberry (P. GEO, Canada)
---

Significant News
September 14, 2016: "Canadian Zeolite Commences Trading in the U.S. Market on the OTCQB"
August 3, 2016: "Canadian Zeolite Shipping to Customers"
July 19, 2016: "Project Update – Zeolite Processing Underway at Mill"
July 6, 2016: "Operations Underway at Canadian Zeolite Quarry"
May 19, 2016: "Canadian Zeolite Corp. to Participate in Alberta Agriculture and Forestry Ammonia Emissions: Egg Production Study"
---
Recommended Reading:
• Activated Zeolite - Animal Feed Additive: Summary of Scientific Literature
• Zeolite as Natural Feed Additives to Reduce Environmental Impacts of Swine Manure
• Anima SanumTM (Activated Micronized zeolite Clinoptilolite) as Calves and Ruminants Feed Additive

Zeolite mining at the Bromley Creek Deposit from Canadian Zeolite Corp.:

The zeolite processing plant at Absorbent Products Ltd. in Kamloops, British Columbia, Canada:
---
Company Details
Canadian Zeolite Corp.
#2000 – 1066 West Hastings Street
Vancouver, B.C. V6E 3X2 Canada
Phone: +1 604 684 3301
Email: info@canadianzeolite.ca
www.canadianzeolite.com
Shares Issued & Outstanding: 22,659,862
Free Float: approximately 13 million (60%)
Canadian Symbol (TSX.V): CNZ
Current Price: $0.41 CAD (09/16/2016)
Market Capitalization: $9 million CAD
German Symbol / WKN (Frankfurt): ZEON / A2AEE1
Current Price: €0.27 EUR (09/16/2016)
Market Capitalization: €6 million EUR
For smartphones, an APP from Rockstone Research is available in the AppStore for Apple devices and in the GooglePlayStore for Android devices.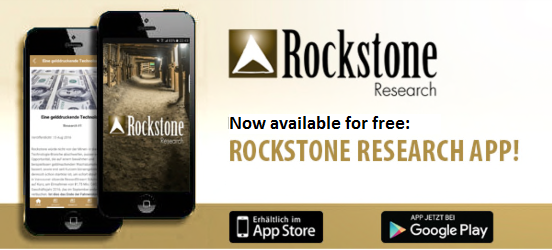 Recently, Zimtu Capital Corp. launched the Beta Version of its Advantage APP, in which all interlisted stocks (i.e. all public companies listed in Canada and Germany) can be tracked. After a cost-free registration, the full features of the APP are unlocked, e.g. sorting all stocks with the biggest daily trading volumes on all German or Canadian exchanges (see instructions in the section "How To Use"): http://app.zimtu.com
Disclaimer: Please read the full disclaimer within the full research report as a PDF (here) as fundamental risks and conflicts of interest exist.