Today, Golden Dawn Minerals Inc. informed about the keenly awaited drill start in its May Mac underground mine within the historic Greenwood Mining District of British Columbia, Canada. Up to 400 holes with up to 2 rigs are scheduled in the next 6 weeks (possible that not that many holes are necessary and that drilling will be done for a longer period). A highly increased newsflow, potentially on a weekly basis, is anticipated.
As a mining permit for the initial 10,000 t is in hand (correction: expected to be in hand shortly), the May Mac Mine is poised to start mining first as it may take another 6 months until the recently acquired Lexington-Grenoble Mine is ready. As the recently acquired Greenwood processing plant is located only 15 km from May Mac, production could start practically immediately once sufficient material has been mined and stockpiled.
Drilling has already started from surface near May Mac and permits have been received to drill underground in Level #7, including extending the drift, as well as rehabilitate the mine.
One the one hand, the next weeks provide the potential to make the stock well-known among investors thanks to an increased newsflow. However more important is that the upcoming drilling and level extensions find enough material to subsequently start the Greenwood plant in order to sell the produced gold, silver, zinc and lead from May Mac to a smelter, therefore generating a first cashflow; whereas additional, near-by mine acquisitions are planned to expand the ounces. The starting shot for mining has occurred.
The above figure of the May Mac Mine shows that Levels #2, #3 and #7 already exist (green). The underground drilling starts in the green part of Level #7, whereafter the level will be extended by the yellow part ("proposed extension") for additional underground drilling. As the material from the level extension is likely mineralized, it could be used for the Greenwood processing plant to produce silver, gold, zinc and lead.
After drilling underground in Level #7, the rigs are expected to continue in the Levels #2 and #3, whereas the interesting part is that not only new discoveries could be made there but that the "mother lode" could be intersected, typically an extensively high-grade main vein.
85 rock chip samples and 17 holes from surface in 2015 and early 2016 confirmed high-grade silver in the upper Skomac Vein and gold in the lower Skomac Vein, and the Glory Hole and No 1 Veins. Drilling confirmed that mineralization in the upper Skomac Vein extends down to Level #7. Hole #6 intersected the vein approximately 16 m vertically below Level #7 and hole #9 intersected the vein about 3 m vertically above the level. Both intersections are situated about 50 m before the end of the #7 drift, where the vein lies northeast of the drift.
Hole #9: 186 g/t silver, 3.5 g/t gold, 1.8% zinc and 1.5% lead over 2.1 m core length (in 117 m depth from surface).
Hole #6: 219 g/t silver, 2.49 g/t gold, 2.9% zinc and 1.5% lead over 4.4 m core length (in 144 m depth from surface).
As both holes #9 and #6 have intersected the strongly mineralized Skomac Vein about 50 before the end of the Level #7, the chances are excellent to find more mineralized material when extending the drift (the excavated material, if mineralized, will be stockpiled for subsequent processing at the Greenwood plant).
It's highly interesting that hole #6 has discovered a new zone in depths at 288 m from surface, namely 150 m northeast and 120 m beneath Level #7: 152 g/t silver, 0.36 g/t gold, 1.9% zinc and 1.9% lead over 2.3 m core length, including 377 g/t silver and 0.81 g/t gold over 0.6 m.
According to today´s news, management has defined an "Exploration Target" for May Mac based on the updated geological model, targeting 200,000-600,000 t grading 100-400 g/t silver, 1.5-5.9 g/t gold, 0.3-1.9% zinc and 0.7-3% lead with the current drill program, so that the precious and base metal production can start thereafter.
Rockstone considers Golden Dawn's various mining projects as exceptionally attractive based on the following reasons (see also previous Rockstone reports #1, #2 and #3):
• The gold and silver prices have moved into new upward trends in early 2016; as such, the surrounding conditions for approaching producers have improved notably.
• The company was able to secure vital funding agreements in July and August in order to acquire the Greenwood Project (Lexington-Grenoble Mine, Golden Crown Mine, Greenwood Plant, mining equipment and vehicles) from its previous owner and subsequently go into production.
• These latest funding agreements originate from convinced institutional investors highly experienced in the resource sector.
• Permits already exist for mining and processing.
• Infrastructure is already in place and intact, including mining equipment, a processing plant and a tailings facility.
• Minimal pre-production development required to commence mine production.
• After-tax IRR of 62% and after-tax NPV of $23.2 million at a 6% discount rate and a $1,250 gold price. With an 8% higher gold price ($1,350), after-tax IRR increases to 75% (+21%) and after-tax NPV increases to $29 million (+25%). Hence, the project offers a significant leverage with higher gold prices.
• Production costs ("all-in sustaining costs") during life of mine stand at $820/oz (including royalties), generating a healthy and robust operating margin of $430/oz with gold selling at $1,250/oz.

• Average metallurgical recoveries of 86% for gold and 87.5% for copper at Lexington-Grenoble, and 70% for gold and 82% for copper at Golden Crown.
• Initial capital expenditures ("CAPEX") of $9.6 million (including a 15% contingency, $3.4 million acquisition costs, and $6.3 million working capital needed to start mining from Lexington-Grenoble and processing at the Greenwood Mill facilities).
• Projected payback on CAPEX is a little less than 2 years.
• Gross revenue of $158 million and operating cash-flow of $45 million.
• 91% of the resource is categorized as measured and indicated.
• Excellent potential to significantly extend mine life for both Lexington-Grenoble and Golden Crown with new exploration, whereas management aims to double to more than 10 years.
• Excellent potential to further increase life of operation with the already fully owned, near-by May Mac Mine (not part of the option agreement with Huakan) and other prospective target areas near-by.
• May Mac has not been considered in the June PEA. This historic mine produced a total of 4,228 t ore, respectively 23 kg gold, 959 kg silver and more than 49 t lead, 26 t zinc and 864 kg copper. The mine is inactive since 1980s. Due to low metals prices, previous exploration had been neglected chronically. Water, electricity, tailings and a mill (100 tpd) exist (fully owned by Golden Dawn), as well as underground shafts and tunnels.
• May Mac Lower Adit: According to historic reports, approximately 35 t of material averaging 318 g/t gold was mined in 1903/1904. A new zone, discovered in 2015 at depth, indicate the remarkable potential for more resources beneath historic mine workings. An underground drilling program is ready to start once a blasting permit has been received. To date, 2 main veins besides 10 other veins, rich in precious and base metals, have been identified.
• Considering that the impact of the July announced gold streaming deal on the economics calculated in the recent PEA is minimal, that news was considered to be one the most vital milestones in the history of the company as Golden Dawn has stepped into the enviable position to breathe new life into a past producing mine that ran into financial trouble when gold was trading at $750 USD/oz some 8 years ago (June 2016 PEA states all-in sustaining costs of $820/oz). With gold trading almost twice as much today, the time for Golden Dawn to prove the profitability of the Greenwood Project has come, whereas CEO Wolf Wiese plans to put both the Lexington-Grenoble and May Mac Mines into dual production this time (Lexington-Grenoble may start mining in up to 6 months as the mine must first be dewatered, rehabiliated and permits transferred; May Mac should start mining much earlier).
• The June 2016 PEA envisages owner-operated, 5 year underground mine projects encompassing 2 deposits: Lexington-Grenoble containing 356,000 tonnes of mill feed at an average diluted grade of 5.48 g/t gold and 0.90% copper, and Golden Crown with 191,000 t at an average diluted grade of 8.67 g/t gold and 0.48% copper. The PEA study also incorporates expanding the existing 200 t per day (tpd) mill to 400 tpd after the first year of operation. Annual gold production is projected to reach 27,000 gold equivalent ounces (oz) at the expanded 400 tpd rate (~104,000 gold oz equivalents within 5 years).
• The German CEO Wolf Wiese has negotiated the acquisition of the Greenwood Project in late 2015 / early 2016, right at the end of the gold price correction. He and his shareholders are now poised to have made the bargain of a lifetime, a story that can only be written in the darkest hours of a bear market enabling small-capitalized juniors like Golden Dawn to become one of the rare success stories in subsequent bull markets.
Massive gold-copper mineralization at the Lexington-Grenoble Underground Mine:
---
Golden Dawn to Graduate to Gold Producer
By Marc Davis on September 6, 2016 for BNWnews.ca
When a junior gold development company de-risks a gold project, investors can usually expect a big payday.
This is often the case when the company is gobbled-up for big dollars by a deep-pocketed gold producer. Or it can happen when the project goes into production and investors become fractional owners of a money-making mine.
With this in mind, shareholders in Golden Dawn Minerals (TSX.V: GOM, Frankfurt: 3G8A) just got the news they've long been waiting for.
The company has announced a milestone de-risking development. Specifically, it has completed the purchase of the jewel in the crown among a trio of small, past-producing gold mines in southern British Columbia.
Sealing a "Company-Maker" Deal
Known as the Lexington-Grenoble mine, its outright purchase is a significant "company maker" transaction for Golden Dawn.
Not only is it a major de-risking development, but it finalizes what has been a drawn-out acquisition process. This single event has now set the stage for Golden Dawn to become an actual gold miner.
It means that the mine can be put back into production as early as Q2 of next year, according to management. Most importantly, the mine is already permitted, meaning that no regulatory roadblocks stand in its way.
So Golden Dawn is on the cusp of doing something very rare for an exploration and development "mining junior". It is graduating to the illustrious ranks of the world's relatively few gold miners.
This newly-found credibility promises to make the company particularly attractive to speculators and value-oriented investors, alike. This is because it gives them all the best of both worlds: a leveraged proxy to a resurgent bull market for gold, as well as a chance to own shares in what promises to be a profitable gold mining business.
Furthermore, the advent of steady cash flow, as well as earnings, also significantly limits the downside risk for the company's share price. In essence, it's an ideal insurance policy for investors.
As an aside, this mine was originally commissioned as recently as 2008. But timing is everything in the business world. And production ground to a halt after only a few months when its former operator ran into financial trouble. At the time, gold was trading at around US $750/oz -- a significant discount to today's buoyant prices.
However, Golden Dawn appears to have impeccable timing. Unlike its predecessor, it is now poised to capitalize on a resurgent bull market for gold bullion. And its shareholders are poised to capitalize on Golden Dawn's golden future.
Scaling-Up to Catch the Next Big Gold Wave
The Lexington-Grenoble mine isn't Golden Dawn's only future source of revenue.
All told, the company's scalable business model includes the re-commissioning of two other small deposits, namely the gold/silver May Mac mine and the gold/copper Golden Crown mine. The latter was acquired along with Lexington-Grenoble in the same deal.
These mines are all located in close proximity to one another in the historic Greenwood mining camp, which has been mostly under-explored in recent decades. But Golden Dawn aims to change that.
With newly-printed drilling and underground mining permits in-hand, Golden Dawn is set to commence some small-scale mining at May Mac. This involves drill-testing certain high-grade veins by way of a 10,000-tonne bulk sampling program.
This promises to generate some valuable cash flow for the balance of 2016. Most of all it should offer a clearer picture of the mine's overall potential for meaningful, high-grade output.
All told the company is targeting up to 500,000 ounces of high-grade gold and "gold equivalent" (the combined value of the gold, silver and copper) by way of in-fill and exploratory drilling at all three deposits.
Once all three mines are up-and-running, this will also allow Golden Dawn to benefit from cost-cutting economies of scale. Such a reality promises to lower overall mining costs further and boost the company's future projected profits.
On-Track for Near-Term, Low-Cost Production
The company computes an average output of 20,700 ounces of gold equivalent per year over an initial mine life of 5 years, totaling 104,000 gold equivalent ounces.
However, plans are underway to drill into a network of previously-untapped gold veins with a view to adding enough additional gold resources to double the mine life's to at least 10 years.
At present, the mine is forecast to generate an average of CDN $8.6 million a year in post-tax cash flow, based on cumulative revenue of CDN $157.8 million over five years (assuming a price of US $1,250 oz/gold). Notably, this does not factor-in the prospect of boosting the mine's resource base.
Independent engineering studies also demonstrate that gold can be mined, processed and shipped to market for as little as US $820/oz in "all-in sustaining costs" (which includes all other corporate operating expenditures, as well as royalties).
This translates into a very enviable operating margin of up to US $500/oz based on current gold prices. By comparison, most of the world's gold mines cost around US $1,100-1,200 an ounce to operate, which explains why so many of them have been unprofitable as of lately.
Other attractive metrics include the prospect of a pre-tax net present value (NPV) of CDN $32.5 million at a 6% discount rate and an impressive internal rate of return (IRR) of 72.6%.
The projected payback on the capital expenditures (start-up costs) is a little less than two years, which is relatively fast for any business, and especially mining.
Investment Summary
Golden Dawn's share price has been a strong performer in 2016 due to its attractive risk/reward profile and the company's ability to execute on its game plan.
The company also has a big following among investors, both in Europe and North America, which translates into impressively large daily trading volumes. This also attests to the company's credibility as a rising star in the junior mining sector.
Most importantly, the near-term advent of steady cash flow and even solid earnings should build real, meaningful value into the company's share price. At that time, Golden Dawn should expect to experience a "re-rating" (upgrading) by the investment community, translating into the likelihood of higher share price multiples.
Between now and then, speculative investors have an opportunity to own shares in a company that is still as inexpensively priced as the legions of other aspiring gold producers – most of whom are statistically destined to fail.
However, Golden Dawn's evolution into a real gold producer is finally happening fast. And its share price is not likely to remain cheap for much longer.
After all, the company is a success story in-the-making. And sooner or later, that will be reflected in the share price. This means that the company's many loyal shareholders can expect to be well-rewarded with their own big payday.
---
The following graphs show the global trend of strongly dropping grades in existing gold mines (this trend has further intensified since 2012). As a consequence, senior mining companies are increasingly looking for new gold deposits and mines; while being ready, willing and able to pay high prices for take-overs.
The more the gold price rises the more pressure have senior mining companies to act, respectively to buy new gold resources. Golden Dawn may become a highly sought- and fought-after take-over candidate over the next months, whereas it stands out that Kinross has been acquiring large land packages in the same area while being active with a few projects already.
Mill Building and Site Area: The facility equipment was cleaned out and properly shut down at cessation of operations in 2008, although some of this equipment requires refurbishment prior to restarting. Auxiliary items, such as electrical and instrumentation may need alterations or repair. A list of the major existing equipment is outlined in below table:
Portal to the Lexington-Grenoble Mine:
The Greenwood Mill was built and commissioned in 2008 and is in excellent shape:
Conveyor Belts and Mill in excellent condition:
Rougher and First Cleaner Float Cells: Golden Dawn's state-of-the-art floatation circuit can produce gold doré bars to be sold directly to smelters:
Primary Ball Mill::
Larox Pressure Filter for reagents:
---
Company Details
Golden Dawn Minerals Inc.
Suite 900 - 525 Seymour Street
Vancouver, B.C. V6B 3H7 Canada
Phone: +1 604 221 8936
Email: allinfo@goldendawnminerals.com
www.goldendawnminerals.com
Shares Issued & Outstanding: 79,271,349
Canadian Symbol (TSX.V): GOM
Current Price: $0.39 CAD (September 2, 2016)
Market Capitalization: $31 million CAD
German Symbol / WKN (Frankfurt): 3G8A / A1XBWD
Current Price: €0.28 EUR (September 5, 2016)
Market Capitalization: €22 million EUR
---
Previous Coverage
Research #3: "Ascend from explorer to producer secured" (August 30, 2016)
Research #2: "Golden Dawn secures funding to go into gold production in BC" (July 22, 2016)
Research #1: "Perfect timing to go into gold production in British Columbia" (July 14, 2016)
---
For smartphones, an APP from Rockstone Research is available in the AppStore for Apple devices and in the GooglePlayStore for Android devices.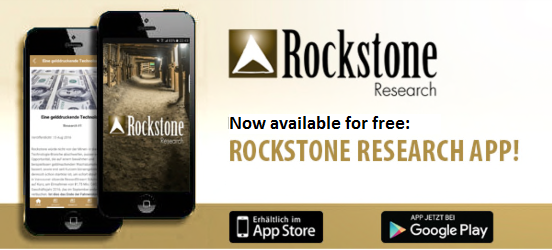 Recently, Zimtu Capital Corp. launched the Beta Version of its Advantage APP, in which all interlisted stocks (i.e. all public companies listed in Canada and Germany) can be tracked. After a cost-free registration, the full features of the APP are unlocked, e.g. sorting all stocks with the biggest daily trading volumes on all German or Canadian exchanges (see instructions in the section "How To Use"): http://app.zimtu.com
Disclaimer: Please read the full disclaimer within the full research report as a PDF (here) as fundamental risks and conflicts of interest exist.