Today, MGX Minerals Inc. published a maiden NI43-101-compliant resource estimate, demonstrating a world-class magnesium deposit by the name of Driftwood Creek in British Columbia, Canada. The extremely high-grade measured and indicated resources contain 8 million t, whereas almost half (43%) of the rock is made of magnesium oxide (MgO). As the market price for 95% pure MgO stands at >$400 USD/t, today's announced resources have an in-situ value of >$1.3 billion USD. On top of that, it was announced that MGX is in the process of transporting and assempling a pilot plant mill on-site to first produce magnesite (MgCO3) and thereafter to process it to MgO.
It's highly interesting that MGX not only intends to produce MgO but is also testing for the production of pure magnesium metal (Mg), which currently sells for $4,000 USD/t in the US (global market price approximately $2,000 USD/t). Of the 8 million t, MGX could potentially produce 1.7 million t of Mg; an in-situ value of about $6.8 billion USD if sold to the US market. In light of only one single magnesium metal producer in the US, and China being responsible for 80% of world's supply, North America should be the primary target market for MGX, especially when considering that magnesium metal tariffs between Canada and USA have been dropped recently).
Picture from the June 2016 bulk sampling program:
Magnesium (Mg) is a multi-purpose light-metal in high demand for today's modern lifestyle, such as smartphones, automobiles, aircrafts, and other everyday essentials that require magnesium.
Magnesium's unique characteristics make it 75% lighter than steel and 33% lighter than aluminum while still offering comparable strength-to-weight ratios. Magnesium is the third most used structural metal (behind iron and aluminum) and considered a critical strategic metal by the United States and European Union. China is responsible for approximately 80% of annual worldwide production. There is currently only one magnesium metal producer in the US.
Magnesium Oxide (MgO) is a widely used industrial mineral with end uses in fertilizer, animal feed, and environmental water treatment as well as industrial applications primarily as a refractory material in the steel industry. The majority of refractory grade MgO used in the US and Canada is imported from China.
As the US market price for magnesium metal is about 10 times as much as for magnesium oxide, MGX intends to produce the pure metal.
Today's disclosed maiden resource estimate demonstrates that MGX owns a very high-grade, world-class magnesium deposit, which is rare these days on a global scale. Moreover, today's news demonstrates that MGX is on a fast track to develop the project to a mine. As the material occurs at surface, mining will rather be a low-cost quarry-style operation.
According to today's news, the projected mining costs are only $6.25 USD/t, whereas processing costs are calculated at $129 USD/t. Hence, MGX may produce MgO at costs as low as $135 USD/t and subsequently sell it into the market for $400 USD/t; a remarkable (theoretical) profit margin of $265 USD/t. With 8 million t of material grading 43% MgO, a profit of $911 million USD could be made (potentially/theoretically).
However, MGX intends to soon test the production of pure magnesium metal, so that a total profit of about $4.5 billion USD could be aimed for (if selling to the US; 1 t of material contains approximately 22% magnesium metal). Rockstone now expects an increased newsflow informing about the progress of its pilot plant.
Pictures from the bulk sampling program in June 2016 which partly lead to today's announced world-class resource estimate. This will also be the site of assembling and operating today's announced pilot plant to subsequently test production of MgO and Mg:
Excerpts from today's press-release:
Highlights
• Measured plus Indicated (M+I) mineral resource totaling 8.028 million tonnes grading 43.31% magnesium oxide (MgO)
• Inferred mineral resource totaling 846,000 tonnes grading 43.20% MgO
• Bulk of resource is located less than 100 meters from surface
• Opportunities to expand mineral resource along strike and at depth with additional drilling
The resource estimate was prepared by Mr. Allan Reeves. Mr. Reeves is a Professional Geologist and independent Qualified Person (QP) as defined by N.I. 43-101 Standards of Disclosure for Mineral Projects. He has over 35 years of industry experience and spent 23 years at BHP Billiton where he held senior-level positions at both the Ekati Diamond Mine and Island Copper Mine.
Project Background
MGX Minerals has the right to acquire a 100% interest in Driftwood Creek. The project is located 164 kilometers north of Cranbrook, British Columbia and is accessible by a network of maintained logging roads. The Company has conducted two rounds of diamond drilling at Driftwood Creek and recently completed a 100-tonne bulk sample program (see press release dated June 9, 2016). MGX received a 20-year Mining Lease for Driftwood Creek in January (see press release dated January 11, 2016).
Pilot Plant Mill
The Company is in the process of transporting and assembling a pilot plant mill (the "Mill") at the current stock-pile location of the recently completed 100-tonne bulk sample (see press release dated June 9, 2016).
The Mill equipment includes a jaw crusher, ball mill, flotation cells, cyclone dewatering equipment and a tailings filtration and thickener system. Previously the Mill was utilized to process polymetallic concentrate. MGX intends to process mineralized bulk sample material through the Mill using reverse flotation to produce two products - a high purity magnesite tailing and silica sand float byproduct.
The magnesite (MgCO3) material will then be shipped off site to undergo calcination optimization testing to produce magnesium oxide (MgO) as well as thermal and electrolytic analysis to produce magnesium metal (Mg).
Metallurgy
Extensive metallurgical and process design work was previously completed on mineralized material from Driftwood Creek by SGS Lakefield ("SGS"). The process design developed by SGS closely follows the current flowsheet plans for the pilot plant mill, inclusive of the reverse flotation and tailings dewatering system, to produce high grade magnesite concentrate. Pilot plant testing will allow the Company to further optimize grinding, milling and flotation elements to develop a finalized process flow.
Outcropping material grading about 43% MgO:
---
Magnesium Oxide Market Will Reach at a CAGR of 4.6% from 2016 to 2026
Future Market Insights has announced the addition of the "Magnesium Oxide Market: Global Industry Analysis and Opportunity Assessment, 2016 - 2026" report to their offering.
Valley Cottage, NY -- 08/17/2016 -- Global demand for magnesium oxide is slated to reach 11,182 KT in 2016, representing market value of US$ 5.05 Bn. In terms of volume, consumption of caustic calcined magnesia is expected to register relatively faster growth as compared to that of dead burned magnesia and fused magnesia during the forecast period. Steady demand for magnesium oxide from the refractory industry coupled with increasing demand for industrial applications is expected to drive growth of the global magnesium oxide market during the forecast period.
Steady demand for refractory products from a variety of industries including iron & steel, glass and ceramics, among others is expected to help maintain steady pace in terms of growth of the magnesium oxide market during the forecast period. On the other hand, growth opportunities are expected to arise from increasing use of magnesium oxide for agricultural (fertilizer, animal feed etc.), water treatment and construction industry-related applications. Growing use of magnesium oxide for manufacture of magnesium oxide boards, which are effective, low-cost and greener alternatives to conventional gypsum and Portland cement boards among others, is expected to gain traction over the forecast period.
Product-wise, dead-burned magnesia will continue to remain the largest segment, accounting for over 57% value share in the overall magnesium oxide market in 2016. Increasing preference for fused magnesia as an alternative to dead burned magnesia is expected to be witnessed during the forecast period. Caustic calcined magnesia, which is primarily used for non-refractory applications such as animal feed and fertilizers, is expected to witness faster growth, registering a CAGR of 5.3% in terms of value during the forecast period.
Asia Pacific excluding Japan (APEJ) will remain the largest market for magnesium oxide.
The market in the region is estimated to account for approximately 59% share of the overall magnesium oxide market value in 2016. The region, spearheaded by China, accounts for a significant share in the overall global iron & steel production, consumption of animal feed and agrochemicals. Besides, APAC accounts for highest production capacity and consumption of magnesium oxide boards. China is anticipated to continue to be the most lucrative market for magnesium oxide during the forecast period.
Grecian Magnesite S.A., Martin Marietta Materials Inc., Premier Magnesia LLC, Magnezit Group Europe GmbH, Kumas Manyezit Sanayi A.S., Premier Periclase Ltd., Magnesita Refractories SA and Israel Chemicals Ltd. are prominent players in the global magnesium oxide market. Some of the major refractories manufacturing companies have adopted a backward integration strategy and acquiring magnesium oxide manufacturing companies so as to ensure cost savings and a steady supply of raw materials. Some of the key companies are expected to undertake capacity expansions, and certain new capacities are expected to become operational during the forecast period.
Long-term Outlook
Revenue from the global magnesium oxide market is anticipated to increase at a CAGR of 4.1% over 2016–2026, reaching US$ 8.2 Bn in revenues by 2026. APEJ will remain the largest market throughout the forecast period and is expected to witness fastest growth in terms of value, registering a CAGR of 4.6% over 2016–2026.
For more information on this press release visit:
www.sbwire.com/press-releases/magnesium-oxide-market-will-reach-at-a-cagr-of-46-from-2016-to-2026-714309.htm
Media Relations Contact
Abhishek Budholiya
Future Market Insights
Telephone: 347-918-3531
Email: Click to Email Abhishek Budholiya
Web: www.futuremarketinsights.com/reports/magnesium-oxide-market
Read more at: www.digitaljournal.com/pr/3042578
---
About MGX Minerals Inc.

MGX Minerals Inc. is a diversified Canadian mining company engaged in the acquisition and development of industrial mineral deposits in western Canada that offer near-term production potential, minimal barriers to entry and low initial capital expenditures. The company operates lithium, magnesium and silicon projects throughout British Columbia and Alberta, including the Driftwood Magnesium Project, which is being rapidly advanced towards production. MGX has also consolidated key mining claims throughout the Driftwood Mining District and now controls the majority of known magnesite occurrences in British Columbia. MGX has recently received approval of a 20-year mining lease for Driftwood and bulk sampling is currently underway.
---
Company Details
MGX Minerals Inc.
#303 - 1080 Howe Street
Vancouver, BC, Canada V6C 2T1
Phone: +1 604 681 7735
Email: jared@mgxminerals.com
www.mgxminerals.com
Shares Issued & Outstanding: 41,753,017

Canadian Symbol (CSE): XMG
Current Price: $0.185 CAD (September 3, 2016)
Market Capitalization: $8 million CAD
German Symbol / WKN (Frankfurt): 1MG / A12E3P
Current Price: €0.127 EUR (September 5, 2016)
Market Capitalization: €5 million EUR
---
Previous Coverage
Research #9 "Ready for significant lithium brine work in Alberta"
Research #8 "Ready for significant lithium brine work in Alberta"
Research #7 "At the forefront of Alberta's lithium brine riches"
Research #6 "Pioneering Lithium in Alberta: MGX Minerals Teams Up"
Research #5 "Time to Put a Lithium Production Process in Place"
Research #4 "MGX Minerals Taps Into Canada's Potentially Largest High-Grade Lithium Resources"
Research #3 "MGX Minerals Receives Mining Lease for 20 years (in British Columbia!)"
Research #2 "MGX Minerals Accelerates Towards Production"
Research #1 "MGX Minerals Plans To Enter The Magnesium Market In 2016"


Disclaimer: Please read the full disclaimer within the full research report as a PDF (here) as fundamental risks and conflicts of interest exist.
For smartphones, an APP from Rockstone Research is available in the AppStore for Apple devices and in the GooglePlayStore for Android devices.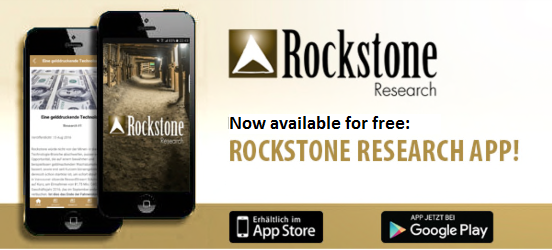 Recently, Zimtu Capital Corp. launched the Beta Version of its Advantage APP, in which all interlisted stocks (i.e. all public companies listed in Canada and Germany) can be tracked. After a cost-free registration, the full features of the APP are unlocked, e.g. sorting all stocks with the biggest daily trading volumes on all German or Canadian exchanges (see instructions in the section "How To Use"): http://app.zimtu.com