Yesterday before market open in Canada, the shares of Golden Dawn Minerals Inc. were halted. Shortly thereafter, material news was published that is poised to ascend this $30 million CAD valued junior from an explorer to a producer; one that plans to pour its first gold bar in British Columbia later this year.
In the last decade, only around 20 significant gold mines were put into production in Canada. A general rule of thumb indicates that only 1 out of 1,000 explorers actually become a producer. Golden Dawn is on a fast-track to become the next one.
Right after a press-release was published on August 8 about the extension of deadline (to September 6) to exercise its option to fully acquire the Greenwood Project from Huakan International Mining, the sceptics took the upper hand and the stock corrected. However yesterday, a $2.4 million USD funding agreement with New York based institutional investor Lind Partners LLC was accomplished, which enables Golden Dawn with its cash position to bring the required $3.4 million to the table in order to acquire 100% of the project. This nowadays sensational bargain price was negotiated by German CEO Wolf Wiese in a perfect manner at the end of the gold price correction in early 2016. The time for Golden Dawn and its shareholders has come.
Rockstone's early covered precious metals juniors Gold Standard Ventures Corp. (current market capitalization: $650 million CAD) and Golden Arrow Resources Inc. (market capitalization: $100 million CAD) show quite plainly how strong and fast promising juniors can appreciate, once gold is in a bull market and institutional investors get in for the long haul as being convinced by the development potential and management of a company. However, Canadian gold mining projects typically trade with a premium as being favoured by investors thanks to the absence of currency and political risks while environmental protection enjoys a very high value.
Accordingly, the current market value of Golden Dawn Minerals Inc. ($30 million CAD) still offers substantial appreciation potential, especially when considering that the company is practically fully financed as of yesterday to move into production exceptionally fast. In July, Golden Dawn secured $4 million USD in 2 tranches from US institutional investor RIVI Capital; mainly for the required CAPEX to make the existing infrastructure ready for operation. Previous operators invested more than $40 million into the exploration and infrastructure of the project.
The enclosed graphs show the global trend of strongly dropping grades in existing gold mines (this trend has further intensified since 2012). As a consequence, senior mining companies are increasingly looking for new gold deposits and mines; while being ready, willing and able to pay high prices for take-overs. The number of new gold mines brought into production over the last 10 years in Canada is about 20 only.
The more the gold price rises the more pressure have seniors to act, respectively to buy new gold resources. Golden Dawn may become a highly sought- and fought-after take-over candidate over the next months, whereas it stands out that Kinross has been acquiring large land packages in the same area while being active with a few projects (see below map).
Considering that the impact of the July announced funding on the economics calculated in the recent PEA is minimal, that news was considered to be one the most vital milestones in the history of the company as Golden Dawn has stepped into the enviable position to breathe new life into a past producing mine that ran into financial trouble when gold was trading at $750 USD/oz some 8 years ago (June 2016 PEA states all-in sustaining costs of $820/oz). See Rockstone´s report here.
With gold trading almost twice as much today, the time for Golden Dawn to prove the profitability of the Greenwood Project has come, whereas CEO Wolf Wiese plans to put both the Lexington-Grenoble and May Mac Mines into dual production this time (both as early as September/October).
Massive gold-copper mineralization at the Lexington-Grenoble Underground Mine:
As soon as the company has received a blasting permit (expected any day), underground drilling at its 100% owned May Mac Mine is set to commence shortly thereafter. Up to 400 holes with up to 2 rigs have been scheduled to be completed in just 6 weeks. A highly increased newsflow, likely on a weekly basis, is expected. Previous drilling from surface at May Mac scratched a new high-grade gold vein (up to 9 g/t gold and 525 g/t silver) and as such the upcoming underground drilling may delineate a signifcantly increased resource estimate update.
The June 2016 PEA envisages owner-operated, 5 year underground mine projects encompassing 2 deposits: Lexington-Grenoble containing 356,000 tonnes of mill feed at an average diluted grade of 5.48 g/t gold and 0.90% copper, and Golden Crown with 191,000 t at an average diluted grade of 8.67 g/t gold and 0.48% copper. The PEA study also incorporates expanding the existing 200 t per day (tpd) mill to 400 tpd after the first year of operation. Annual gold production is projected to reach 27,000 gold equivalent ounces (oz) at the expanded 400 tpd rate (~104,000 gold oz equivalents within 5 years).
Preliminary Economic Assessment ("PEA") Highlights as of June 2016:
Rockstone regards Golden Dawn's projects as exceptionally attractive based on the following reasons:
• The gold price has moved into a new upward trend in early 2016; as such the surrounding conditions for approaching gold producers have improved notably.
• The company was able to secure vital funding agreements in July and yesterday in order to go into production, whereas these fundings originate from convinced institutional investors highly experienced in the resource sector.
• Permits already exist for mining and processing.
• Infrastructure is already in place and intact, including mining equipment, a processing plant and a tailings facility.
• Minimal pre-production development required to commence mine production.
• After-tax IRR of 62% and after-tax NPV of $23.2 million at a 6% discount rate and a $1,250 gold price. With an 8% higher gold price ($1,350), after-tax IRR increases to 75% (+21%) and after-tax NPV increases to $29 million (+25%). Hence, the project offers a major leverage with higher gold prices.
• Production costs ("all-in sustaining costs") during life of mine stand at $820/oz (including royalties), generating a healthy and robust operating margin of $430/oz with gold selling at $1,250/oz.
• Average metallurgical recoveries of 86% for gold and 87.5% for copper at Lexington-Grenoble, and 70% for gold and 82% for copper at Golden Crown.
• Initial capital expenditures ("CAPEX") of $9.6 million (including a 15% contingency, $3.4 million acquisition costs, and $6.3 million working capital needed to start mining from Lexington-Grenoble and processing at the Greenwood Mill facilities).
• Projected payback on CAPEX is a little less than 2 years.
• Gross revenue of $158 million and operating cash-flow of $45 million.
• 91% of the resource is categorized as measured and indicated.
• Excellent potential to significantly extend mine life for both Lexington-Grenoble and Golden Crown with new exploration, whereas management aims to double to more than 10 years.
• Excellent potential to further increase life of operation with the already fully owned, near-by May Mac Mine (not part of the option agreement with Huakan) and other prospective target areas near-by.
• May Mac has not been considered in the June PEA. This historic mine produced a total of 4,228 t ore, respectively 23 kg gold, 959 kg silver and more than 49 t lead, 26 t zinc and 864 kg copper. The mine is inactive since 1980s. Due to low metals prices, previous exploration had been neglected chronically. Water, electricity, tailings and a mill (100 tpd) exist (fully owned by Golden Dawn), as well as underground shafts and tunnels.
• May Mac Lower Adit: According to historic reports, approximately 35 t of material averaging 318 g/t gold was mined in 1903/1904. A new zone, discovered in 2015 at depth, indicate the remarkable potential for more resources beneath historic mine workings. An underground drilling program is ready to start once a blasting permit has been received. To date, 2 main veins besides 10 other veins, rich in precious and base metals, have been identified.
The May Mac Mine includes infrastructure and adits: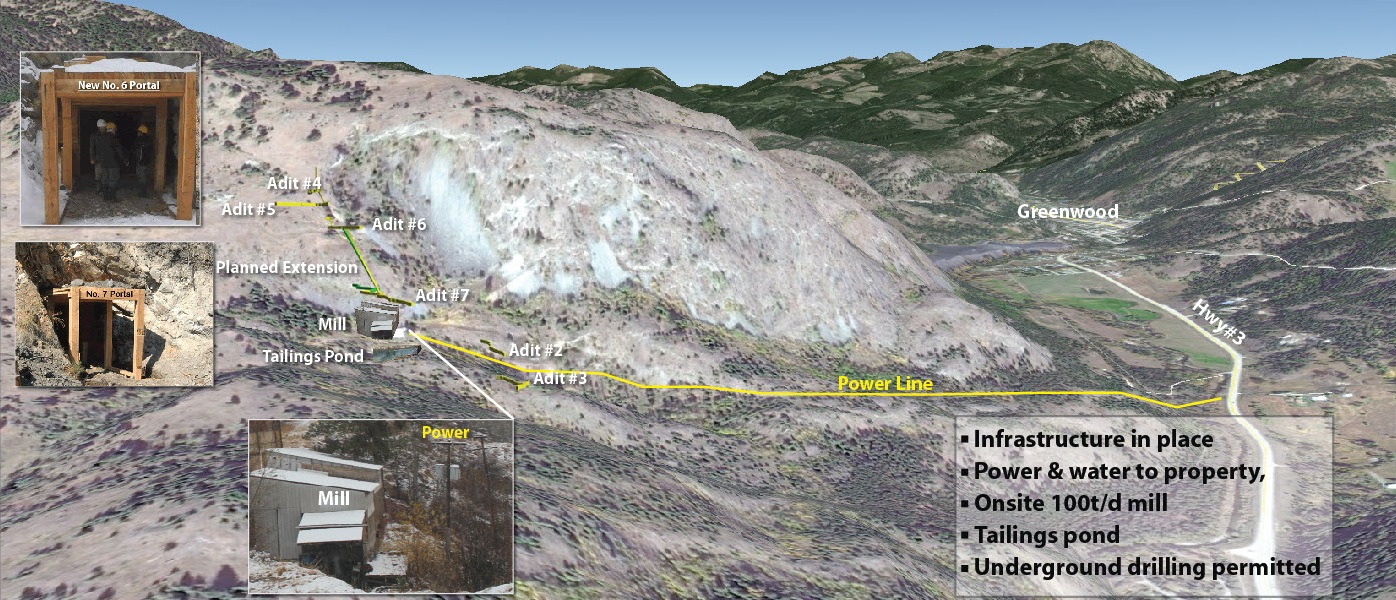 Below numbers shown in the figure to the right are drill hole intercepts. Numbers shown in the figure at the bottom of the page ("Golden Crown Vein System") are chip samples from surface trenches:
Mill Building and Site Area: The facility equipment was cleaned out and properly shut down at cessation of operations in 2008, although some of this equipment requires refurbishment prior to restarting. Auxiliary items, such as electrical and instrumentation may need alterations or repair. A list of the major existing equipment is outlined in below table:
Portal to the Lexington-Grenoble Mine:
The Greenwood Mill was built and commissioned in 2008 and is in excellent shape:
Conveyor Belts and Mill in excellent condition:
Rougher and First Cleaner Float Cells: Golden Dawn's state-of-the-art floatation circuit can produce gold doré bars to be sold directly to smelters:
Primary Ball Mill:
Larox Pressure Filter for reagents:
---
Company Details
Golden Dawn Minerals Inc.
Suite 900 - 525 Seymour Street
Vancouver, B.C. V6B 3H7 Canada
Phone: +1 604 221 8936
Email: allinfo@goldendawnminerals.com
www.goldendawnminerals.com
Shares Issued & Outstanding: 79.271.349
Canadian Symbol (TSX.V): GOM
Current Price: $0.38 CAD (August 29, 2016)
Market Capitalization: $30 million CAD
German Symbol / WKN (Frankfurt): 3G8A / A1XBWD
Current Price: €0.25 EUR (August 29, 2016)
Market Capitalization: €20 million EUR
---
Previous Coverage
Research #1: "Perfect timing to go into gold production in British Columbia" (Jul 14, 2016)
Research #2: "Golden Dawn secures funding to go into gold production in BC" (Jul 22, 2016)
Disclaimer: Please read the full disclaimer within the full research report as a PDF (here) as fundamental risks and conflicts of interest exist.
For smartphones, an APP from Rockstone Research is available in the AppStore for Apple devices and in the GooglePlayStore for Android devices.
Recently, Zimtu Capital Corp. launched the Beta Version of its Advantage APP, in which all interlisted stocks (i.e. all public companies listed in Canada and Germany) can be tracked. After a cost-free registration, the full features of the APP are unlocked, e.g. sorting all stocks with the biggest daily trading volumes on all German or Canadian exchanges (see instructions in the section "How To Use").